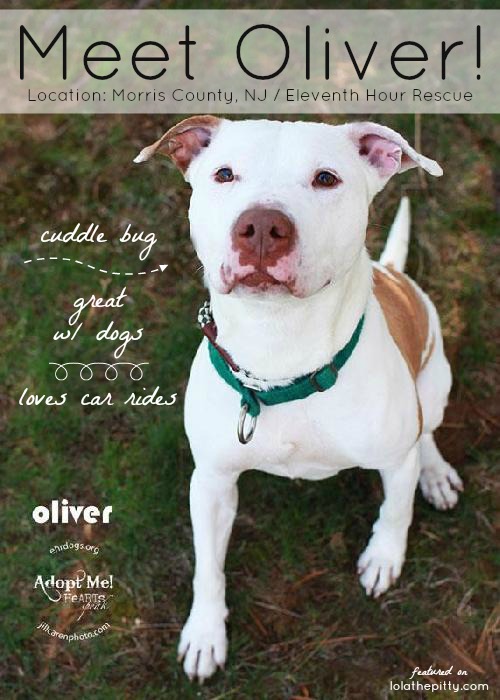 Last week we received a comment on our Facebook page from a page named "Outstanding Oliver". Here's what it read:
"Hi Lola – I'm Oliver! I read your story and you sure are lucky to be saved and living in your forever home. I was a stray, I was starving and Eleventh Hour Rescue saved me from deathrow and helped me heal. I am still waiting for my forever home and have been living in the kennel for two years now. I have wonderful volunteer friends who love me and take such good care of me but what I would really like is a family. Perhaps you can help me by sharing my page and story? I would be so grateful!"
Well, I thought we could do a little better than that and dedicate an entire blog post to Outstanding Oliver.
Quick Facts:
Located in Morris County, NJ // Good with kids // Good with dogs & cats // 6-7 years old
Oliver was extremely emaciated and sick with a lingering kennel cough. But that was nothing that a little lot of TLC from the amazing people at EHR could give and they slowly nursed Oliver back to health. However, he's still waiting for his perfect family to spend the rest of his life with. Please consider sharing Oliver's story so he can find a family to call his own.
Here's a little more about this cutie:
"My dedicated volunteer friends make sure that I get out of the kennel a lot. We go to fun places like the park, agility classes each week, on hikes, Dairy Queen, and they even take me home for visits sometimes!
I love to go for rides in the car. You should see my tail wag when I get to sit in the front seat! And if you pet me while you're driving- boy, am I in heaven! I like to go on walks and I try not to pull on the leash because I know that people don't like that. In fact, I enjoy taking time to stop and smell the roses and you may have to pull me a little bit to get me to go! There is just so much to explore – we didn't have all those great scents in New York!
I like to play in the yards at the kennel too. My favorite is when I bow down low to the ground and then pounce up and run around, watching if you're going to follow me. Sometimes I get to have play dates with some of my kennel friends. I enjoy being around other dogs and I am very mellow with them.
I'm great in a home environment; I just like to relax and be with you! My volunteer friends I'm so loving, loyal, and goofy – whatever that means!
While I don't like to live in the past, some things are hard to leave behind. Have you ever been so hungry that your body starts to eat itself? I have and it's a hard feeling to forget. When I see food in front of me now, I sometimes forget that I will never have to worry about having enough food again. I only ask that you don't touch my food or food bowl after you've fed me. I am currently working with a fantastic trainer who knows my past and needs, and is helping my volunteer friends work with me. I will need a loving owner who will be understanding of this and willing to follow plans set in place by my trainer."
*Oliver is good with kids, but it is recommend he only go to a home with older, respectful children because of the specific training protocols in place that younger kids might not be able to follow. The rescue would really like to see Oliver find a home in the NJ/NY/PA area.
Learn more about Oliver on his adoption page!
---
Fun dog recipes you'll love:
*Pumpkin Spice Puppuccinos
*Carob Pupcakes with P.B. Frosting
Tips:
*6 Remedies for Dog Allergies