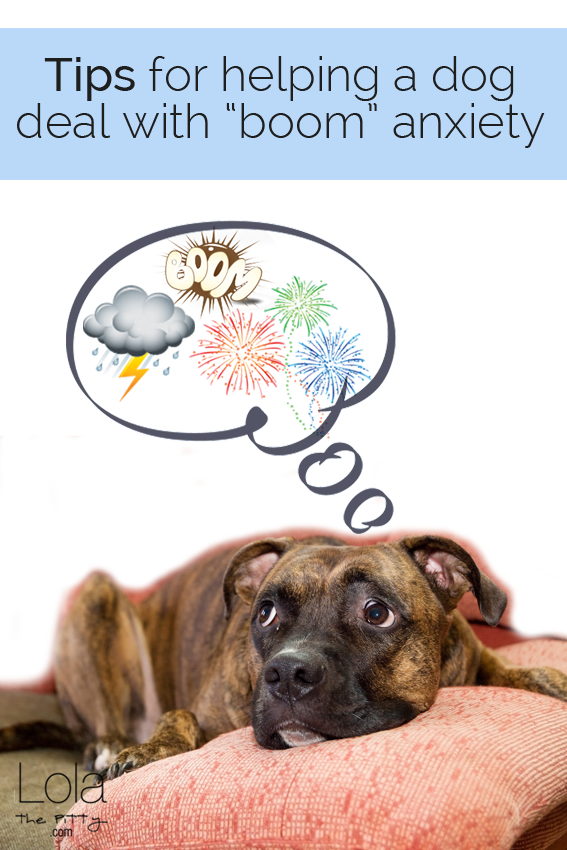 I have a special guest today sharing tips for dealing with storm and loud-noises-in-general anxiety. His name is Opie. Opie is a rescued, 15 year-old pup who is owned by a good friend of mine, Trish. Trish has pretty much "been through it all" when it comes to dogs and she is always one of the first friends I call when I have those, "Oh my gosh, this happened…what can I do!?" moments.
Luckily, Lola and Rio do not seem to even flinch with all of the crashes of thunder and lightning that have seemed to be taking over as of last week. And the sound of fireworks, lit off by our teenage neighbors quite frequently during any given week when the temperature is above 65, also doesn't seem to bother them. However, I know plenty of friends who dread storms, loud booms, and fireworks because their dog becomes a frantic mess! So…let's let Opie tell us a thing or two about what has and hasn't worked for them!
Thunder Days & Boomie Nights – by Opie Phillips
The white stuff is gone from the ground and the green stuff has arrived. That means it won't be long before the humans do their annual ritual of blowing things up and making loud noises when it is dark outside. Don't get me wrong, dawgs… the boomie holiday is great because humans move their kitchen outside and drop their burgers and hot dogs and potato chips on the ground. And they forget to watch the table sometimes so we can sneak some really good food, too.
When I was a young pup in Arizona, I actually liked thunder boomies, firework boomies, lightning and parties. I moved to Minnesota when I was about three years old and the first year Dog Mom took Gomer and me to the park for the fireworks. We loved it and had a great time. The second year on the boomie holiday, some teenagers threw some firecrackers at me while we were walking on the trail. I jumped in the air even though there wasn't a fence! I was really scared; after that, I wasn't the same. Anytime I heard a sudden loud noise – car backfiring, thunder, fireworks or even if Dog Mom dropped something – I kind of freaked out. Okay, to be perfectly honest, I really, really freaked out.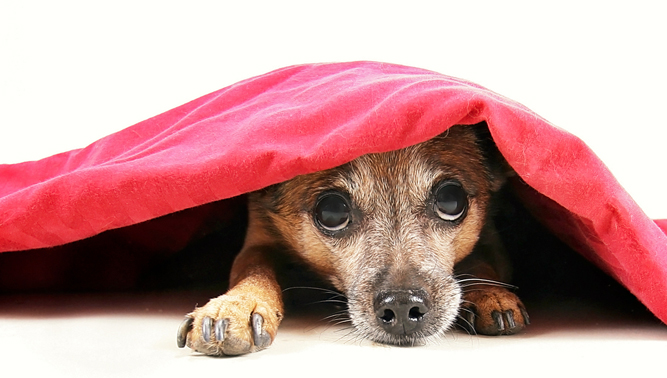 One time when Dog Mom wasn't home during the fireworks, I broke a window and got out of the apartment. Another time, during a thunderstorm, I pushed the patio doors out of the wall and ran and ran…and ran. I wore the pads off my feet that time; I couldn't help it. The noise was more scary than the pain in my feet. Dog Mom came home and she chased me for three hours. Truth is, I didn't hear her or see her, I was so scared. When the thunder stopped, I stopped running and she carried me home.
I guess what I'm saying, dawgs, is that I had a really bad case of crazy. We tried everything the people we knew would suggest to help me not be so scared. Maybe some of these things will work for you when you are scared… so I'm gonna list all of them even if they didn't work so well for me (they may for you!):
 Eat a filled Kong. Really, does any dog want to eat when they are scared? Well, if you do and it works for you, go for it!
Stay in your crate … I broke a tooth trying to chew my way out (even though I like being in it when it isn't loud outside.)
Wear a Thundershirt. (I chewed mine off…)
Drown out the noise with loud music – especially something like Through a Dog's Ear music CD.
Use ear plugs… those kind that humans wear on airplanes or the Mutt Muffs that dogs wear on airplanes.
Say yes to drugs. We tried Ace Promazine and Alprazolam. Both made me sleepy and drooly…but didn't decrease my crazy.
Then Dog Mom learned about a woman named Victoria Stillwell. She read her article, "Dealing with Fireworks Anxiety," and we tried some of the gradual techniques that Victoria mentions in the article. They started to work to calm me down… a little bit. The key is to start now – not when the fireworks boomies and thunder boomies are already here.
Wanna know what it was that really worked to calm me? It was a mix of Victoria Stillwell's conditioning techniques and the Peace and Calming Essential Oil Blend from Young Living. A few weeks before the boomies, Dog Mom put some on my dog bed and then on my collar when I was sleeping. Anytime I was calm, she would give me a whiff, but not when I was playing or being obnoxious. Then, she found these collar diffusers…and I have one on my collar all the time. I've had mine a couple of years now. Anytime I get anxious, Dog Mom puts a drop of Peace and Calming in my collar diffuser and I calm down. We love it.
I hope that you are not afraid of thunder boomies and firework boomies. But if you are, maybe you can share this article with your humans and they will learn something that will help you not be so scared.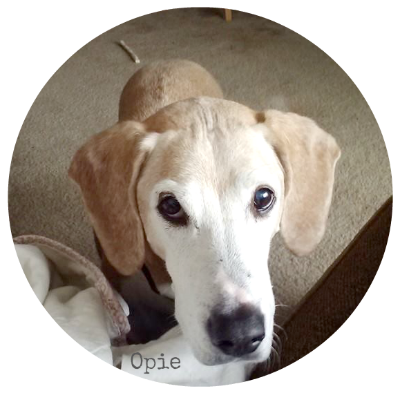 Dog speed, pups! See you at the dog park!
Wuf Ya! – Opie
related:
*Dog Thundershirt Reviews from ThatMutt.com
7 Tips for Crate Training // The Yellow Ribbon Project // 6 Remedies for Dog Allergies