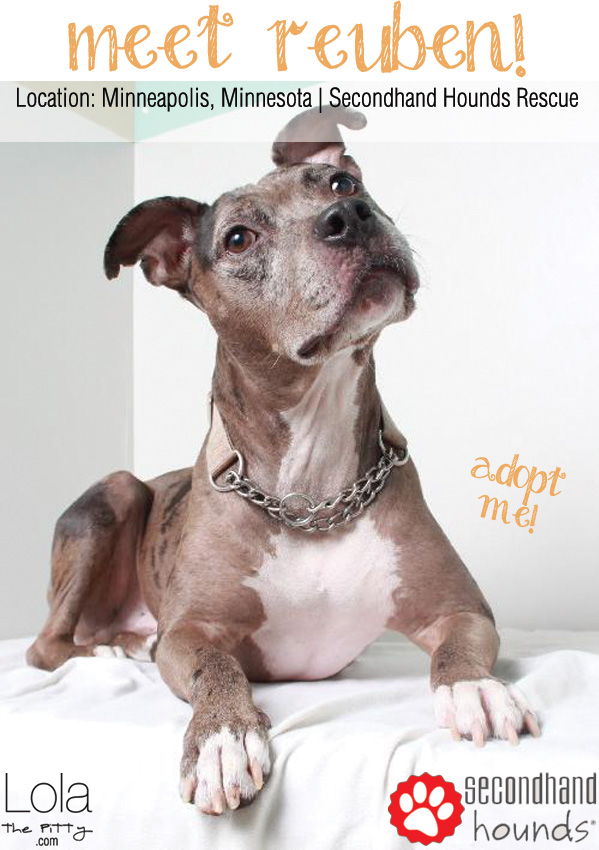 Look at this sweet face! I've been swooning over Reuben since the moment I saw him posted on Secondhand Hounds facebook page. Turns out Catahoula Leopard Pit Bull mixes are dang cute!
Reuben is house and crate trained, is around 3 years old and 45 lbs, supa' sweet and snuggly and does good with kids. However, no kitties please! He has done well with very playful and submissive dog friends but is VERY in your face and playful, therefore slow intros and monitoring is necessary at first to see how it will go!
Quick Facts:
Catahoula/Pit Bull mix | 3 years old | 45 lbs | house & crate trained | okay with playful submissive dogs | no kitties
Adoption Fee: $200
From the Foster:
"Reuben loves to go on walks and has an abundance of energy if you want a partner to go on hikes, runs, trips, etc., but equally enjoys cuddling in bed or snuggling on the couch.  He has proven to be great with kids and does well with submissive dogs, but does need slow introductions to them before he's comfortable.  He's done amazing with some dogs right off the bat and others not so much.  Because of this he is not a dog park candidate and will need a family familiar with how to slowly introduce dogs.
He is crate and potty trained, but prefers to sleep at night outside of the crate.  He really loves being with people and to be a part of the family.  If he is isolated he will bark, so apartment living will not work for him.   He really is a sweet buddy and a beautiful dog!  If you're looking for an all around great new member of your family, someone who is ready to do whatever it is your doing at the time (camping, running, napping, watching T.V.), Reuben is your man.  He just is waiting for that perfect family to come along and let him be a part of their lives forever!
Fill out an application on the Secondhand Hounds site to meet Rueben! Click Here to Begin Application
*Check out other adoptable dogs!
Plus, TIPS for helping a dog deal with thunderstorm anxiety!