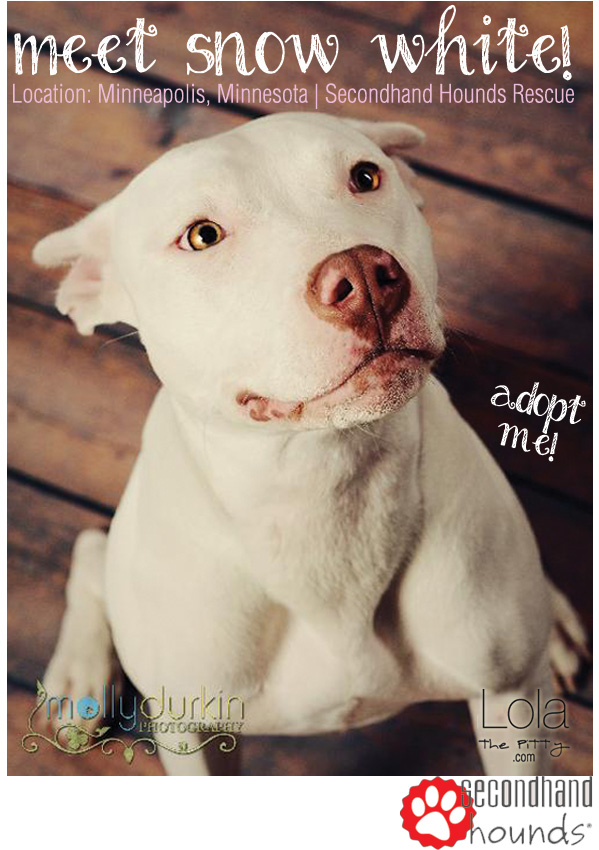 Our Adoptable Dog of the Week post is dedicated to special dogs who are in rescue but still looking for their perfect home. These dogs are often ones that are having a harder time than others finding the perfect home. Please consider sharing this post — you might help Snow White find her 'fur-ever' home!
We have been volunteering for Secondhand Hounds for about three years now and I actually remember the day Snow White was pulled from a shelter here in Minneapolis.
She was found with a horrible crop job on her ears, that was likely attempted with scissors, and her tail was literally still hanging on by a piece of skin…this poor girl did not have an easy start to life. She is now in safe hands but has been in rescue for a long, long time looking for the perfect family to adopt her.
Quick Facts:
 2.5 yr old Pit Bull | 60 lbs | Needs slow intros to dogs – no cats | Kid friendly – older children preferred | house/crate trained | Adoption Fee: $150
From the Foster:
"My name is Snow White and I am a two and a half year old pit bull. I came into rescue after someone had cut my ears and tail with scissors and then dumped me on the side of the road. Luckily Secondhand Hounds knew how special I was and took me in.
Despite how I was previously treated, I still LOVE people and greet everyone I meet with a smile.
However, dogs can make me nervous and I need a family who can make me feel safe and secure because sometimes I see dogs and I just can't help but stare and bark! I am learning that if I stay calm, I get treats and my foster mama and trainer say I am doing SUPER well!
I have had a lot of foster siblings and my best friend is a male pit bull who I play and cuddle with ALL the time. Sometimes, I even share my toys with him!
I have lived with little dogs and dogs my size. It took some getting used to, but eventually with proper introductions I accepted them into the house and we got along just fine. However, I would do best in a home with a submissive male dog.
I took a dog socialization class and recently finished dog obedience class. I love to play with my foster buddies, love water and love the sprinkler. I love a lot of things including snuggling under the blanket with you at night and giving you hugs.
If you are looking for someone who will love you unconditionally, be your stress reliever at the end of the day and want somebody who can be pretty comical at times, then I'm your girl!
I am so grateful that my prince came along and gave me another chance at life. My only wish now is that I find a home that I can finally call my own."
Click Here to Fill Out an Application to meet Snow White.