Welcome to Lola the Pitty, a dog blog which documents tips about dog ownership and training, shares dog treat recipes, and most importantly – raises positive awareness and fights the negative stereotypes towards often misjudged breeds.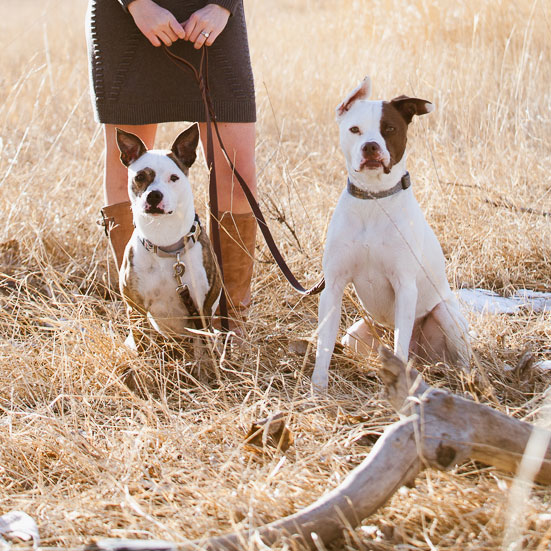 I'm Sarah, a Marketing Director by day, dog lover and pit bull advocate by night. I'm a Colorado native who is delighted to be back in my home state; I grew up with a passion and love for all animals and a huge weakness for dogs and horses. The first dogs in my life were two shelties named Boomer and Buster.
Life has since been on fast forward and has involved volunteering at a local animal rescue, fostering five amazing dogs, to ordinary life where I reside in northern Colorado…Greeley to be exact, with my two fur-kids, Lola and Rio.
The inspiration for Lola the Pitty began in September of 2013 when I began sharing our adventures with Lola on her Facebook page . I then took the leap of expanding our adventures into a blog, which showcases our positive journey that we'd love to have you with us on!
(Looking to read about the dogs behind the blog?)
Our mission is to change the perception of bully breeds by growing as breed ambassadors and share content valuable to our readers. We hope that with our stories and education, we can inspire others to adopt and rescue dogs like Lola, Rio and the millions of other dogs that simply want a chance at life.
*View my personal favorite blog posts*
I am also proud to announce that as of February 2014, I'm a contributor to Victoria Stilwell's Blog – take a peek at my profile on the Positively Expert Blog. 
……………………………………………………………………………………………………………………………………..
If you like what you read, you can subscribe to our email newsletter or follow Lola The Pitty on Bloglovin'!
I would also love if you'd connect with me on Twitter and Facebook! We have a lot of fun conversations and a great sense of community over there, plus – Lola is the main voice of our Facebook page. You can also follow us on Instagram for a behind the scenes peek into our crazy dog world.
Let's not forget about Pinterest. If you're ready to lose an hour of your life, check it out with us.
Thanks for visiting! I would love to hear from you, so please, comment away! No lie, I like comments almost as much as dogs.
……………………………………………………………………………………………………………………………………..
The fine print
The social nature of the internet and blogging community is truly amazing. It is a great honor to be featured on other blogs and websites. After all – it's meant to be shared; but please do so with integrity.
You may share, but… If you decide to share an image from this site; you must provide a link back to this site. Please do not repost a post or recipe in its entirety. You may share an excerpt or short preview, but do so with appropriate sourcing by providing a link back to this site.
Please do not edit any of my photos without my written permission. If you borrow a photo, a link to the recipe must be provided as well as a caption listing the source of the photo.
Watermarks…Please do not edit or remove any text or images included on the images to denote ownership, such as logos and other branding.
As a common courtesy, if you adapt or modify a recipe or idea you found from this site it would be appreciated if you cite Lola The Pitty as the source by noting "inspired by…" or "adapted from…"
Occasionally I publish content on this blog that is in the public domain or the intellectual property of a third party. In these cases I credit and link to the owner or source (if known). If you hold the copyright to any content on my blog and would like the credit or link modified or the content removed, please contact me.