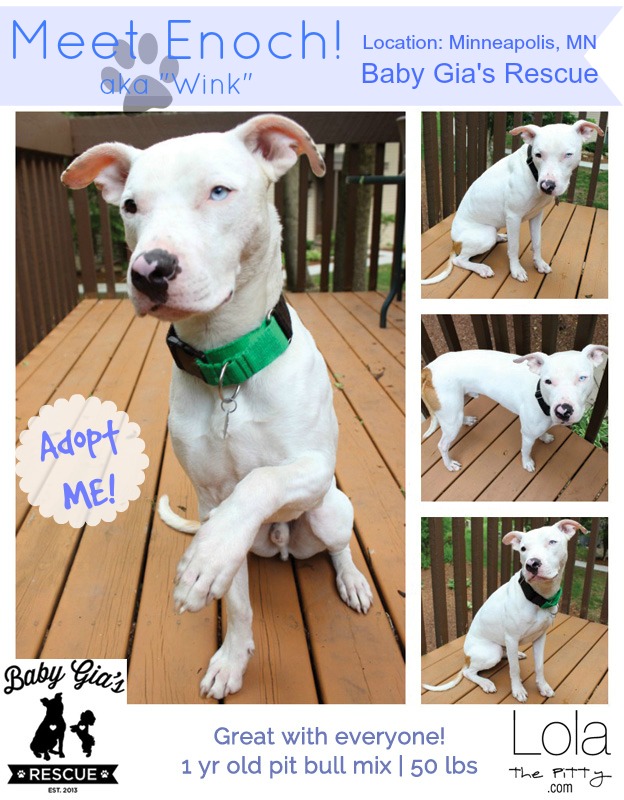 View Enoch's profile on Petfinder here!
This week's adoptable dog is extra special. Meet Enoch, aka "Wink". I call him Enoch though because that's what he knows and responds to. Enoch has been staying over at our house for a little while! I really was hesitant to post Enoch on here because I would truly like him for myself. Ugh – the hard part of fostering. I promise, I don't fall this hard for every foster. Maybe that's not entirely true, but…
Okay, so here's the scoop on Enoch or "Wink". Isn't Wink a cute name!? Totally adorable. Only problem is, he doesn't know it.
1 year old pit bull mix | house trained | great with everyone! | some crate anxiety that we're working on
Enoch is a total love bug. In fact, he's curled up next to me on our big chair right now. He is amazing with both of our dogs, even when Rio gave him a little "that's MY mommy" sass.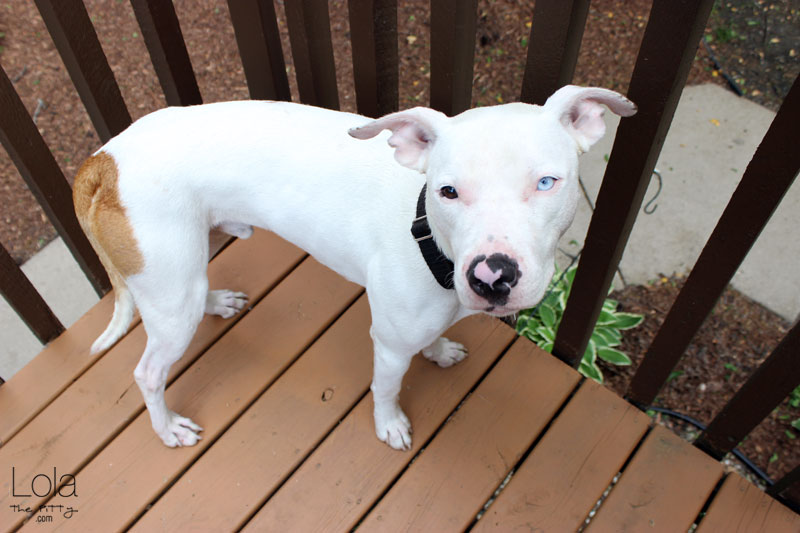 He is really a calm, relaxed boy and loves curling up next to you and following you around the house. He's also glad to go on a walk or to the park, although he hasn't quite figured out the whole purpose of 'fetch'. It's more like, "Umm, you go get it. I didn't throw it way over there".
Enoch also spent some time in boarding at a doggy daycare and he is quite the social butterfly. Does great with small dogs, large dogs, bossy dogs, you name it.
See why I'm in love? Still want more? Okay, here you have it:
potty trained

walks nice on the leash
does his business quickly (hey! It's always a plus when they don't dilly around. Psst, townhome/apt owners – you know what I'm talking about)
cuddle bug
knows sit, shake & down
smart & willing
I could totally see Enoch being fit for a therapy dog someday.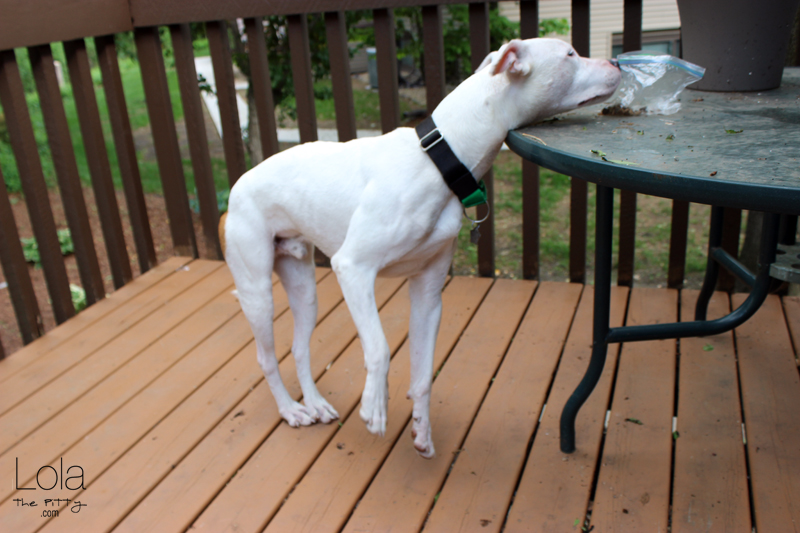 The one thing Enoch doesn't truly care for is his crate. You see, he has already had TWO previous owners and since he's been in rescue, has stayed with a few different families and at boarding. He needs consistency and someone to show him that his crate is a safe place, a positive place, and not a place where he is 'put' when someone is leaving for a long, long time.
If you're interested in Enoch, please visit the Baby Gia's website and fill out an application to meet him! Please, I'm begging you – we cannot have three dogs right now and if he's not adopted fast, well, he might just have to stay.