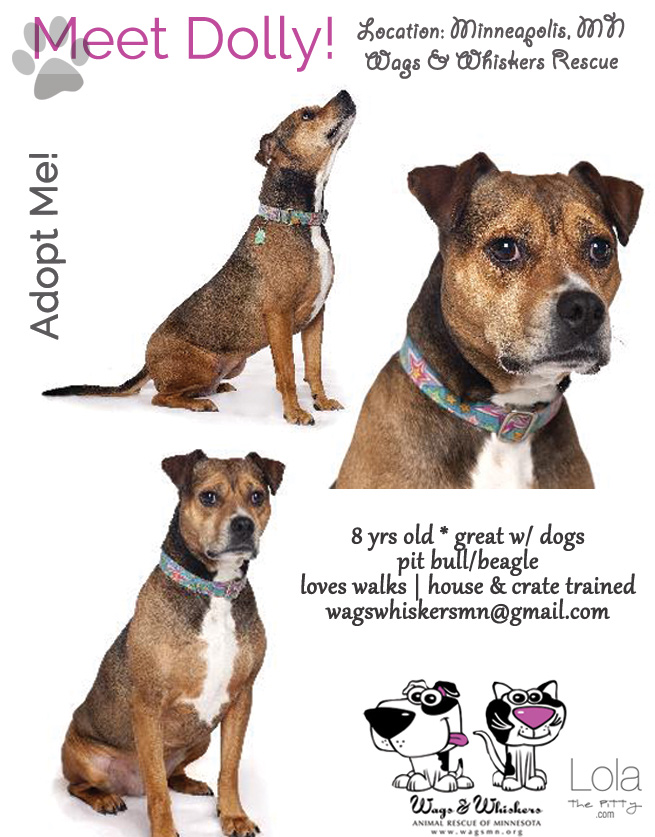 Our Adoptable Dog of the Week post is dedicated to special dogs who are in rescue but still looking for their perfect home. These dogs are often ones that are having a harder time than others finding the perfect home. Please consider sharing this post — you might help Dolly find her 'fur-ever' home!
View Dolly's profile on Wags & Whiskers
Oh my goodness. Beagle crossed with a pitty!? Total cuteness. Turns out Dolly is more than just cute, though. She's pretty much an amazing sidekick! She is a chill girl who loves going on walks and is one of those dogs that is so trustworthy that she doesn't even need to be crated (although she won't fuss if you do crate her). She is back at her ideal weight after having one too many cupcakes with her previous owner, so she may need some help avoiding all the tempting sweets (don't we all), but that's really the only challenge this girl is going to bring to you!
Quick Facts!
~8 years old | pit bull/beagle mix | house and crate trained | great with dogs | shy with new people | great walking companion!
From Dolly herself:
"Hi, my name is Dolly. These really nice people think I was born in about 2005/2006. For the first few years of my life, I lived outside in a kennel.  I wasn't treated very nice and was never really shown love.  I came to Wags & Whiskers rescue about 3 years ago.  I learned how to live in a house with people.  I did get adopted to a very nice lady about 2 years ago and she really did love me.  In fact, she spoiled me rotten.  But, she got really sick and couldn't take care of me anymore, so now I am back to my old foster mom's house.
Now, I am going to be honest here, I did come back to the rescue overweight.  But my foster mom put me on a diet and we go on lots of walks!  I am back down to a perfect weight and I feel so much better! I am 100% house trained.  I am also kennel trained.  I do not have to be kenneled anymore though because I am a very good girl.  I love going on walks, did I say that already?!  I hope I can continue that with my new family.  I also get along great with other dogs and probably would do better with another one in the home!  I am still shy in new situations and meeting new people.  I just get a little nervous and shake.
I think I'd do best in a less active home, with not that much commotion.  What I would like in my new forever home is a fenced-in yard.  It's not required, but I can't be trusted off leash because I have a hound nose and I might get carried away. All I really want is a family that will promise to take me out on walks! I also need my family to help me watch my weight.  What can I say, this girl likes her food!  I also love to cuddle on the couch and give lots of kisses.  Foster mom says I give the best kisses in the world.  If you think I might be a good match for you, fill out an application.  Then my foster mom will contact you and can answer anymore questions you might have!" XO ~ Dolly
If you are interested in meeting Dolly, please visit www.wagsmn.org and fill out an adoption application.
See our other Adoptable Dogs HERE and check out our fun & healthy Homemade Dog Treat Recipes!