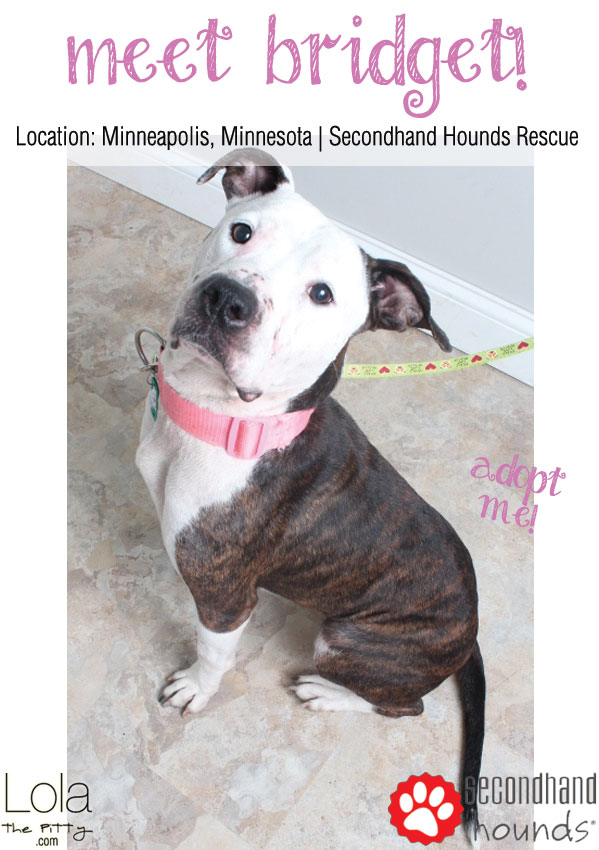 What a beauty, another brindle and white pup – my weakness! Bridget came into rescue with one of her puppies and is still looking for her perfect home. Please consider sharing so that Bridget may find her perfect family.
Quick Facts:
Birthday: April 2011 | Bulldog Pit Bull Mix | 60 lbs | dog selective, needs slow introductions | okay with cats but may chase | great with kids | house trained | $200 adoption fee
From the Foster:
"It took us less than an hour to fall completely in love with this dog! Bridget is a true gem. She's gentle and loving with my children, and would love nothing more than to just be a part of a family. She craves attention and gets it in full with us. She's a snuggler with everyone. We let her sleep in the kids' beds; she stays there all night and usually waits for whoever she's sleeping with to get up before she does. She would be miserable sleeping on the floor, so being in your bed is preferable.
We let her on part of a couch in our house and she loves to sleep there. She also loves to do a full body snuggle while you're watching TV. She's respectful of "no," and is tentative to try again. We have other furniture she does not get on, nor does she try and get on our bed after we told her no.
She doesn't beg at the table. She will sit well away and wait for you to be done. But if you leave something out on the counter, she might try and sneak it later! This has not been an issue for us, as we just make sure the counters are clean. Her shedding is minimal, as she has a short coat.
In our opinion, Bridget is the perfect family dog and would do best if someone is home during the day and there are multiple people to give her love and attention. She rarely barks inside, even when someone comes to the door. She is dog reactive on her leash and is recently having a hard time being introduced to other dogs. We use treats along with a trigger word as a redirect. She uses a body harness and that works well. It's possible with the proper introductions and the right dog she could be fine, but it will be an individual assessment with each family.
She can't be crated, she is too anxious, but she does perfectly left out. Or you can shut her in a familiar bedroom or office. She will whine for a bit, but won't bark, scratch at the door, or destroy anything. If Bridget sounds like your kind of dog, be prepared to have a 60 pound lap dog!
For information on adopting, please visit www.secondhandhounds.org or view Bridget's profile here.