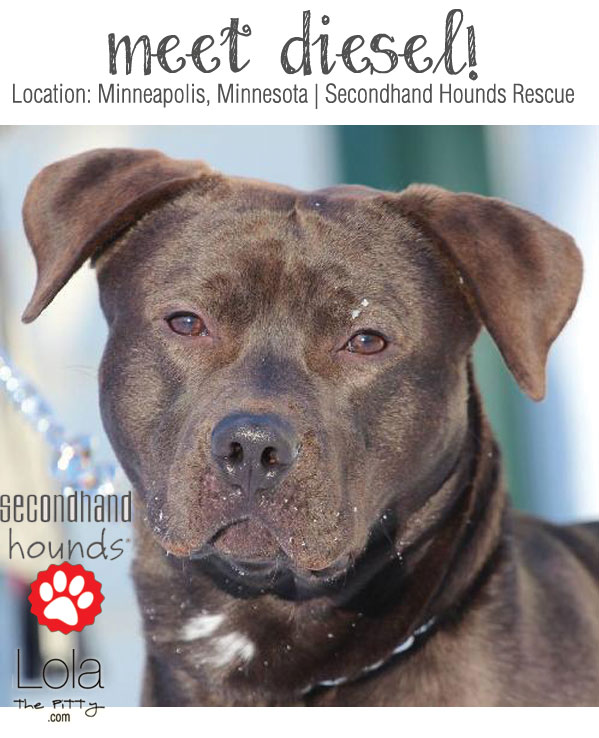 Our Adoptable Dog of the Week post is dedicated to special dogs who are in rescue but still looking for their perfect home. These dogs are often ones that are having a harder time than others finding the perfect home. Please consider sharing this post — you might help Diesel find his 'fur-ever' home!
Quick Facts:
2 years old // 65lbs // Dog friendly // No kitties please // Crate & house trained // Adoption Fee: $200
From Diesel himself and his foster!
Hey there everybody!  My name is Diesel! I am living with my foster momma, daddy & human brother, and I also have a fur brother and fur sister.  We love to run around the house and play tag and tug of war.  My foster momma says it sounds like a herd of elephants when we're all running, but she just laughs at us.  I don't mean to brag, but they tell me all the time what a smart and funny guy I am!  I know a bunch of commands plus I'm potty and kennel trained!  I am kind of a silly guy sometimes, when I need a break from playing, I love to watch t.v.!  I like watching the animal planet and Nat. Geo channels.  At bedtime, I get to snuggle with my foster momma and daddy and they pet me while I fall asleep….aaaaaahhh,  it is so cozy!  Oh yeah, one thing my foster momma says – no soft or squeaky toys for me!  I think they are more for eating than playing!  I love nylabones and the hard braided ropes though.My foster family thinks I am as close to a perfect dog as you can get!   Why don't you come meet me? I may be perfect for your family!
From the fosters:  Diesel is an amazing dog. What a terrific personality!  He is smart,  sweet, loving and well mannered.  It took him no time at all to warm up to us. He would do best with a yard he can run and play in.  This guy definitely needs a way to burn off energy!  I feel he would do best in a home with no cats but definitely needs brothers and sisters – fur or human.  Both would be perfect!
Fill out an application on the Secondhand Hounds website to meet Diesel!