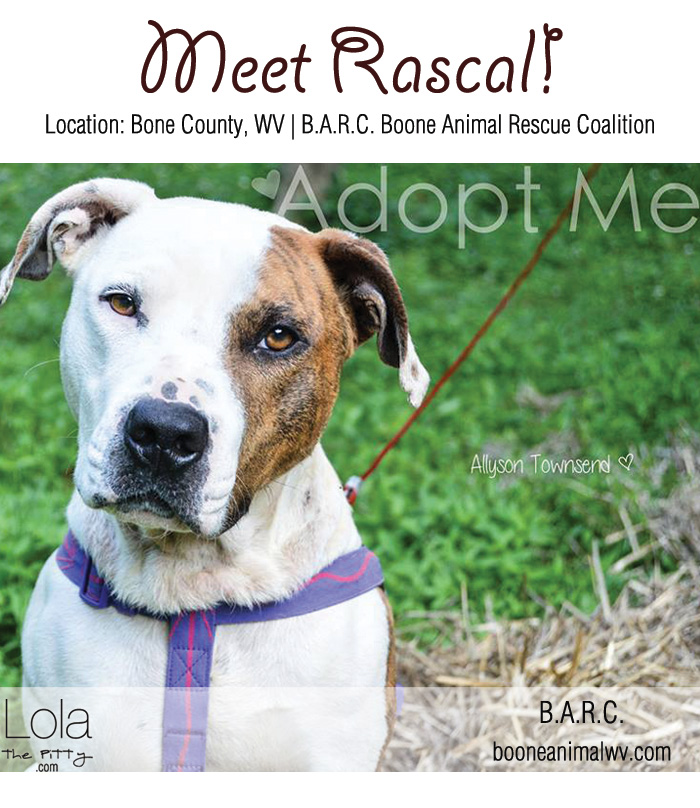 Wow…Rascal is stunning. Absolutely stunning. I'm such a sucker for that brindle/white combo. And to top that off, he's got an eye patch. It's a good thing he isn't closer, because I'd be really tempted.
Another awesome tidbit about Rascal? His foster mom is our friend, Allyson, aka Molly the Pit Bull's mama.
Quick Facts:
2-3 year old male Staffordshire Terrier | Loves people & other dogs | Crate trained | A little too interested in kitties | Adoption fee $75
From the foster:
"Rascal is such a great dog but had a not-so-great life before now. He came into rescue with his collar embedded in his neck! The rescue took care of him, placing him on antibiotics and preventing any further infection. Luckily he's doing great now and is just waiting for his perfect family to come along!
He rides in the crate when we take him to the park and it's so cute because he'll take off running to the car, jump in the crate and go to sleep until we get to wherever we're going. Rascal does great with other dogs, but he isn't a fan of cats (we're trying to work on that)! We have cats and he will chase them. He loves to go for walks and obviously loves his rides in the car.
Rascal walks well on a leash, but he's still working on not jumping on people. He does great in his kennel and he won't poo or pee in there so it'd be really easy to get him completely potty trained; he's still working on that. But hey, can you blame him? He's obviously never had a home to live in!"
I don't know about you, but I'm in love with this boy. Just look at those eyes. Let's help this boy out!
Email BARC_WV@yahoo.com if you're interested in meeting Rascal or view Rascal's profile on Petfinder!
B.A.R.C. is a 501(c)3 non-profit rescue organization made up of a small group of volunteers in Boone County, WV (south of Charleston)