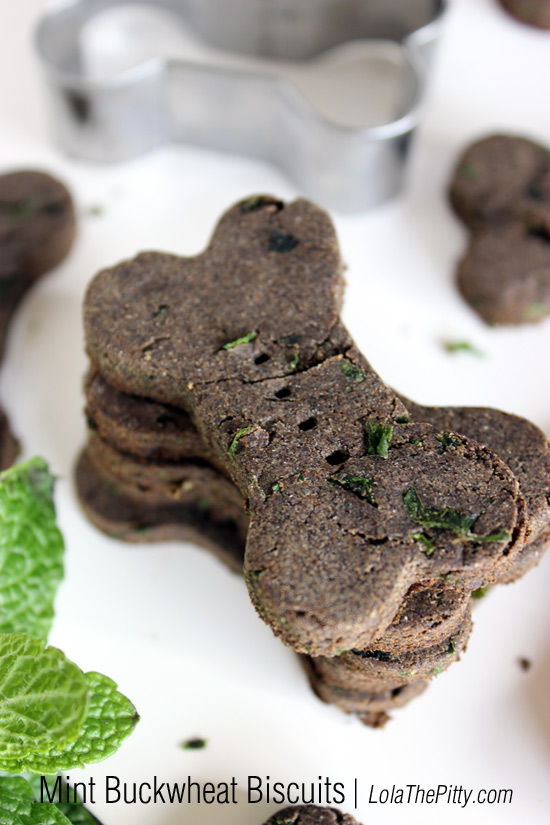 Things I like about these Mint-Parsley-Buckwheat dog treats:
The entire batch fits on one cookie sheet. (As you learned with my Peanut Butter Banana dog treats, I'm not a fan of rolling out dough for an hour.)
They help with stinky dog breath…'nuff said.
I have extra fresh parsley & mint to use for human recipes.
I was at a Pet Expo a few weekends ago with our friend Amaya and her SDiT Tater. We couldn't help but stop by the homemade dog treat booth and one treat that caught my eye was a dog biscuit made with buckwheat flour.
I've honestly never baked with buckwheat flour (partially because I tried buckwheat pancakes one time and umm, yeah….), but I immediately knew I wanted to try and create my own version but of course didn't have a recipe for one.
I played with the ingredients a little bit and initially tried to make it without the egg but it was too dry – so after a little trial and error I think I've perfected it! I hope your pups enjoy these as much as Lola & Rio.
Mint Buckwheat Dog Biscuits
I call these the dog's after dinner mints! The parsley and mint in these treats is great for helping with bad doggy breath!
Author:
Sarah at LolaThePitty.com
Ingredients
1½ cups buckwheat flour (I used Bob's Red Mill)
4 Tablespoons fresh parsley, finely chopped
2 Tablespoons fresh mint, finely chopped
1 Tablespoon pure honey
2 Tablespoons olive oil
1 egg, beaten
water (approx. 1-3 tsp)
Instructions
Preheat oven to 400 degrees F.
In a large bowl, stir buckwheat flour, parsley and mint leaves together until combined
In a small bowl, whisk together olive oil and honey.
Pour olive oil-honey mixture into the flour and stir. Add egg and stir until well combined.
Knead dough with hands to thoroughly mix the ingredients together. Add a teaspoon of water at a time to help the dough come together. This should take about 3-5 minutes.
Using a rolling pin, roll the dough out to approx. ¼" thick.
Cut into desired shapes with cookie dough cutter.
Place biscuits onto a nonstick baking sheet and bake for 15 minutes.
Notes
Store biscuits in an airtight container in the fridge to keep fresh.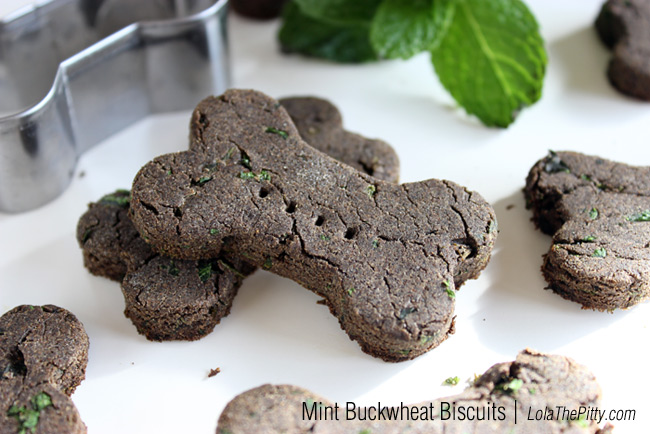 This recipe yielded exactly 21 treats for me, using a 2″ cookie cutter.
They are a thin, crispy biscuit and are very easy to break into pieces.
I've been putting one on top of Lola & Rio's dinner and they love it!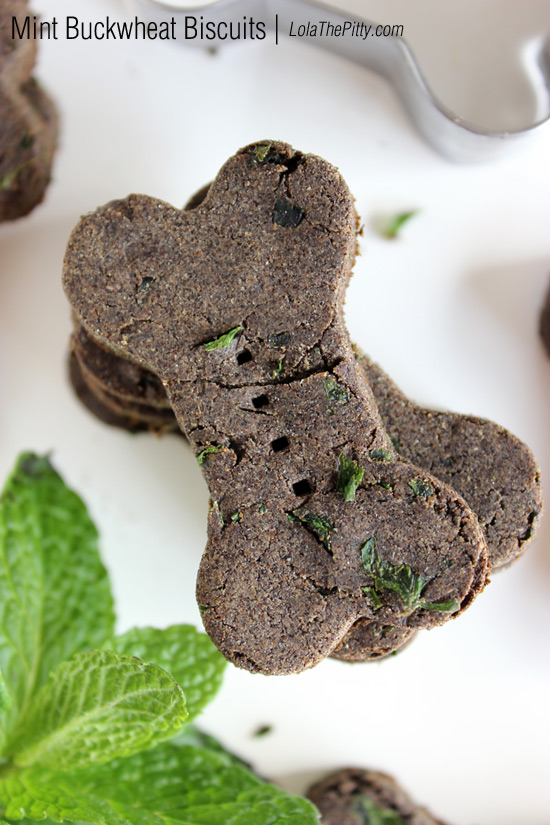 Related Posts
   Yogurt-Carrot Puppy Smoothies   |  Peanut Butter Banana Flax Seed Biscuits  |  Dog Safety with Children