Happy New Year, friends!
Did I tell you we move in less than four weeks? I cannot wait and the negative-whatever temps in Minnesota have just been helping that urge.
I hope y'all had a great Christmas – we spent ours in Colorado and (of course) took Lola and Rio with.
Which brings us to this months My Pittied Life.
A White Christmas
Okay, not so much. It did snow the night of Christmas and the next day if that counts. Otherwise it was 35-50 degrees the entire time. Not too shabby – I'll take it.
We were able to stay for just over a week as I had some work to do with my new marketing position. Lola and Rio did great on the 13-hour road trip (probably better than me). But we have our perfect system figured out with the dogs – might be another blog post someday, *wink, wink*. Of course when we got to my father's house they were ready to run!
Here are some pics from our little mini vacay.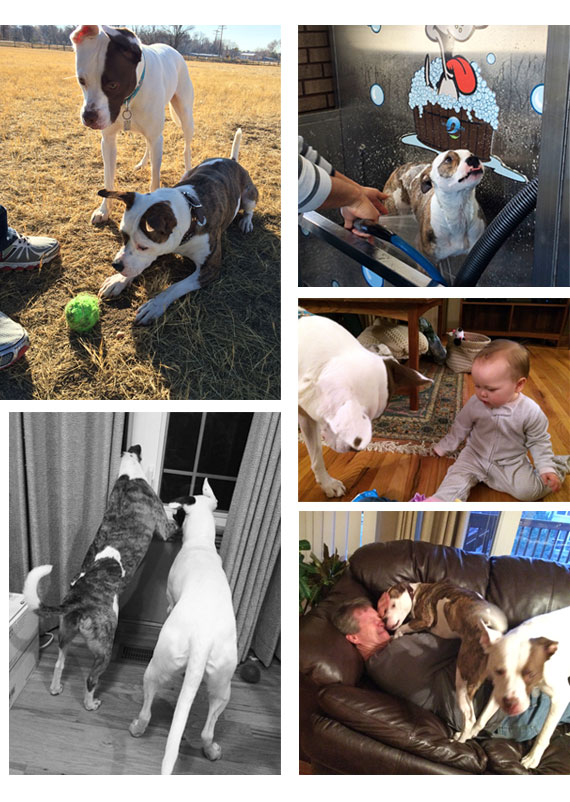 Flyball
We are going to miss our flyball team when we make the big move but have connected with another team in northern Colorado. Here is a little video that was taken with a Go Pro at our team practice.
Lola is so close to being able to compete, in fact she made her first (practically) full run in warm-ups at a local tournament.
After you watch that video, you have to watch this spoof. Promise you'll laugh.
Blog-iversary – LolathePitty.com turns ONE!
I completely passed over my own blog's anniversary… shame. Lola the Pitty has now been up and running for over one year! Pretty exciting if ya ask me.
On the Blog
Besides all the craziness that the holiday brings, we have a Paw Care Kit giveaway for your pooches! So if you haven't entered, please do – featuring awesome products from Natural Dog Company.
Plus, save this article, you'll need it someday. Or at least we have. 5 Tips for Treating Dog Diarrhea. Did I tell you finally know how to spell diarrhea? It's one of those funny words that I used to look at every time I'd spell it out because it just didn't look right…
p.s. look for an update on the Monster Holiday Drive – we are just wrapping up details on the fundraiser and plan to share soon! One thing I can tell you – we raised over $5,000 worth of products for dogs in need. I'm astonished. Thank YOU.