Welcome to another edition of our "pittied" lives. These months just keep passing me by…

Besides Googling things such as "how to express your dogs anal glands", August was a fairly exciting month.
Well, in my life – not so much the dogs' lives. Their lives are pretty consistent and really just vary on how many times they make it to the park that week.
Photo Shoot
I am in love with this photo of the four of us! These three make my life complete. Big thanks to my friend, Stephanie of YBF Photo for the awesome photo shoot.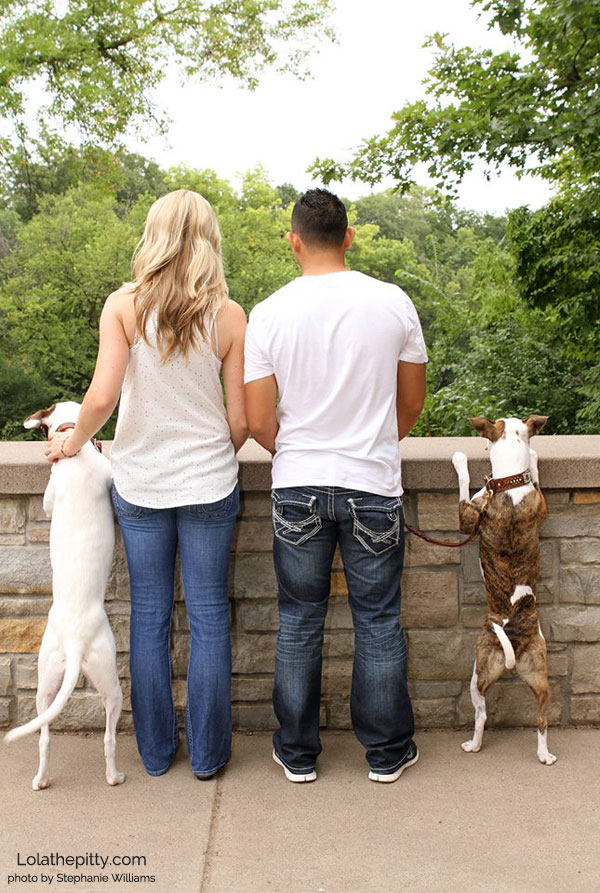 Resigning…
I made a big decision. A life changing decision. On August 15th, I resigned from my full-time position as a Marketing Director. It was time to put myself first, move on and accomplish my life goals. I can't say too much yet, but I'll be sure to keep everyone posted as I'm excited for the future.
And to be honest – I'm a little scared at the same time.
Park Time!
The weather (for once) has been awesome and so we've been taking advantage of park time with the pups.
Fairly certain I love the Minnehaha park as much as the dogs do…
Hiking trails, river access, off leash park = happy us and pups.
Lola and Rio usually leave looking like this: sand filled, wet, and dirty.

Blog Life:
Besides entertaining the two mutts, working on a couple web design projects, and working (yes, I had two jobs prior), I usually spend my nights parked on the couch with a laptop close by.
*We wrote about Natural Flea & Tick Preventatives, including the products we've tried and what's worked the best.
*Gave away an awesome Kong Prize Pack filled with Lola's Favorite Dog Toys…
*Upped our popularity by sharing these 5 Simple Dog Treat Recipes on Victoria Stilwell's Positively.com site – check 'em out!
Thanks for reading!