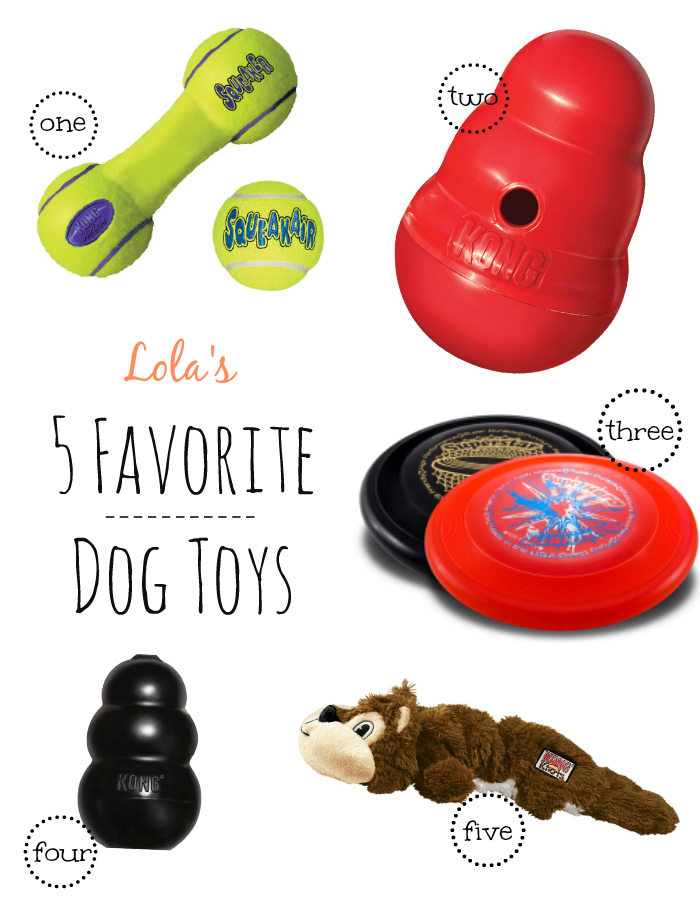 Lola and Rio love their toys. But we've definitely learned a lesson or two on toys that work for them versus others that leave shreds of mess around the house. Or yard.
It is also no surprise that Lola loves tennis balls. But squeaky tennis balls are a whole other story. The peanut butter to her jelly.
So can you imagine the look on her face when her grandma brings over a double-sided tennis ball? Yeah, we have a couple of these laying around our living room at all times.
Which brings us to our first of five of Lola's favorite dog toys.
One: Kong AirDog Dumbbell
Double-sided tennis ball. Squeaker. Unpredictable bounce.'Nuff said.
Two: Kong Wobbler
We just finally got our hands on one of these a couple weeks ago. I'll admit, I was hesistant to purchase one because they are around $20, but let me tell you – they are well worth the cost. I fill these with tiny little training treats or even kibble and watch her push this giant toy around the living room. Onto the tile. Down the stairs. Down the second set of stairs. And repeat until all treats or food is gone.
It is hilarious to see the different styles of retrieving treats out of the Wobbler. Lola literally slaps it with her paws and muscles it around until the treats magically pop out. Rio takes a more methodical approach; sniffing the hole, attempting to reach his paw inside the tiny hole and slowly pushes it around with his nose or paw.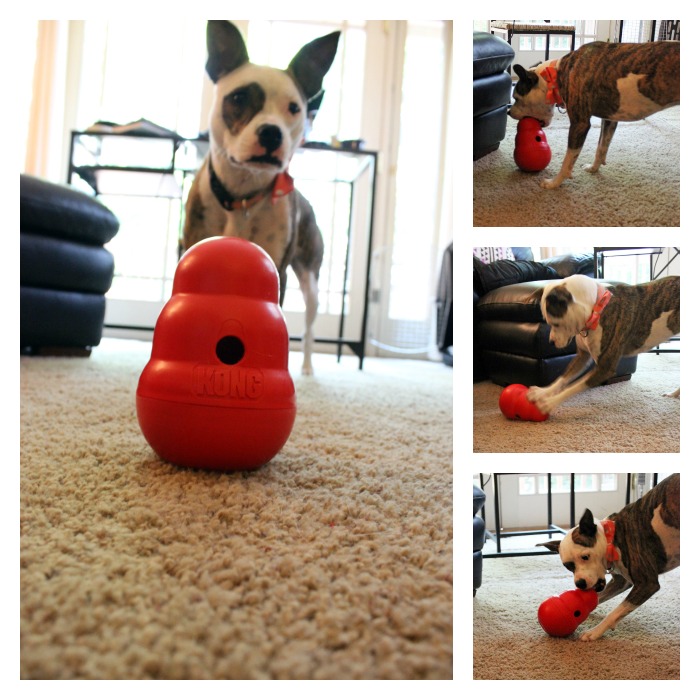 Three: Hero Discs
We had a little trial and error phase of which canine discs to use that lasted longer than five minutes. Hero brand disc (and a couple others) are our favorites! We have to use a slightly heavier/thicker disc due to her intensity and eagerness to catch the disc. But bring these to the park and you'll have Lola's attention over everything else!
Four: The classic Kong
This has to be on the top of the list for Lola and myself. Fill it with peanut butter, kibble, or treats and entertain the pups (or throw around for a fun toy to chase). We probably use our Kong more than any other dog toy in the house. A classic favorite: frozen peanut butter stuffed Kongs when we are going to be gone for a few hours.
Five: Scrunch Squirrel
Stuffed animals have very short life spans around our house. Luckily this is a un-stuffed animal and has an elastic cord in it, making it extra fun to fling around! This squirrel was actually one of Lola's first toys as a pup. There isn't much of "Stretchy" left, but we cannot throw him away. Any time we bring Stretchy back out of the dog toy box (yes, this exists), Lola's eyes light up!
---
Now, what better way to end an article (teasing you with all these awesome toys) then with a giveaway?
The KONG Company has offered to giveaway an awesome prize pack to one lucky winner consisting of the Kong Wobbler, Classic Kong and the Kong AirDog Dumbbell!
If you aren't interested in winning these gifts for yourself, please still consider entering and "paw" it forward –  donating the gift to a special dog in need.
Contest open to U.S. Residents only. Some of the products used in this post were donated by KONG Company. All opinions are honest and my own.