Many of you have been following the story of the two strays that we took in earlier in April.
If you have no idea what I'm talking about you can catch up and begin by reading 'an eventful week'.
Well, Mama Emma delivered her pups this weekend! 10 of them. When we found out she was in labor, we immediately drove down to her whelping foster's house. What an amazing experience is all I can say…
Life being brought into the world right in front of your eyes.
For more photos (and videos!), you can check us out on Instagram and Facebook!
All of the puppies were healthy and Emma did practically all of the hard work herself. A new puppy was born just about every 30 minutes since she went into labor. There are seven boys and three girls. No wonder she is passed out…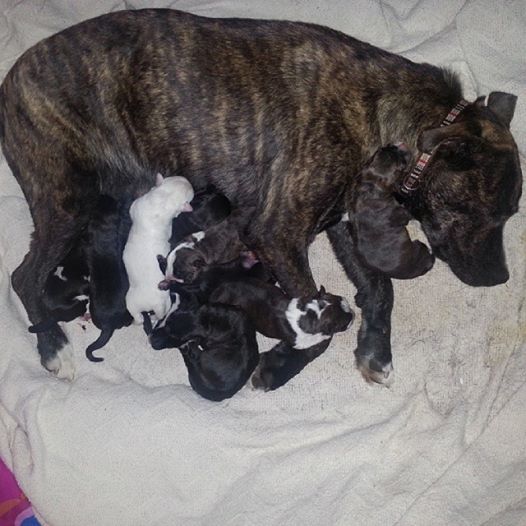 Look at the little white one!
I am so relieved that this is over for Emma, she was clearly quite uncomfortable the last couple weeks.
Not to mention the last couple days – she looked fit to burst! She gained approximately 15 lbs from the first week we had her. After the pups are weaned she will never have to go through this ever again.
So glad we found Mama & Rusty – everything that day was truly meant to be. I cannot even imagine their lives if things had turned out differently that day.
Emma and her puppies will be available for adoption through Secondhand Hounds at the end of June.