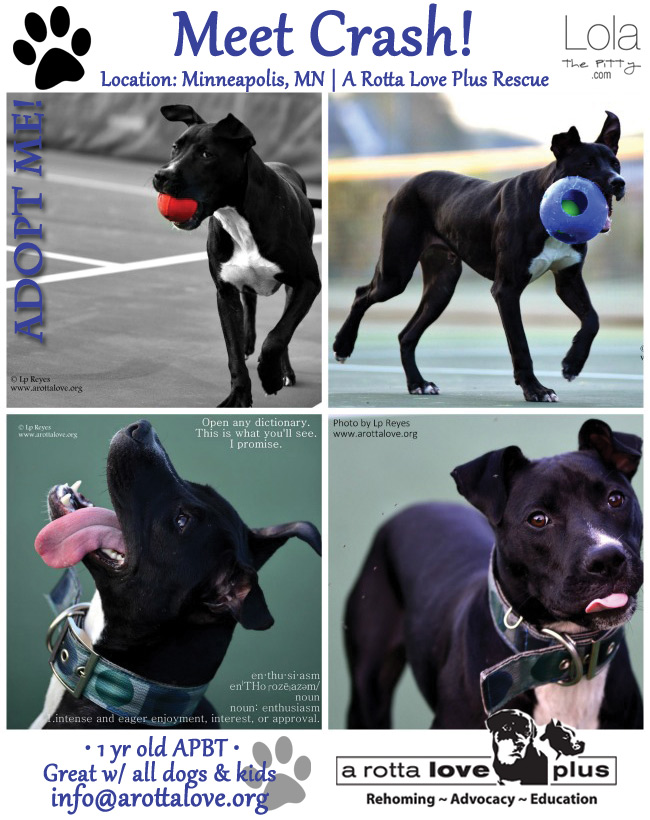 View Crash's profile on A Rotta Love Plus
As I was putting together the photos and making the collage for Crash, I'm quickly falling in love with this boy! I mean really…how cute can you get!? And according to his photos, it looks like he has a love for playing disc and fetch! Can you help us SHARE this black beauty?!
1 yr 5 mo old | American Pit Bull Terrier | Great with dogs | Great with kids | Potty & Crate Trained | Completed Beginner Obedience | No Kitties Please | Adoption fee: $300 |60 lbs
From the foster:
"Looking for a little more tall, dark, and handsome in your life? Dashing young Crash is waiting for you!
Crash came from a fighting bust on the west coast, but you'd never guess it – he's outgoing, happy, and people make him wiggle from the inside out. He's never met a human or a dog that he didn't love, and you'll never meet a dog more thrilled to be alive. Crash loves to play: his favorite game is fetch, followed closely by any type of learning.
Print an adoption flyer for Crash!
Crash has graduated from Level I Obedience class, and has been working hard at Rally class and on getting his Canine Good Citizen certificate. He's mastered many commands, including sit, down, leave it, stay, come, watch, front, finish, heel, and a bunch of other fancy tricks. Crash is also crate trained and housebroken! He's a sharp, eager boy who has earned the nickname "Genius" for his brilliant ability to work hard both on and off-leash.
Outside of the classroom, Crash is a world-class snuggler, enthusiastic entertainer, and all-around superhero side kick. If you rescue Crash, he's the type to rescue you right back.
Does Good in the Car, Does not require a yard, Cratetrained, Plays fetch, Likes to play with toys, Likes to be in your lap, Obedient, Playful, Affectionate, Eager To Please,Intelligent, Goofy."
If interested in adopting Crash, please visit www.arottalove.org/info/adoption