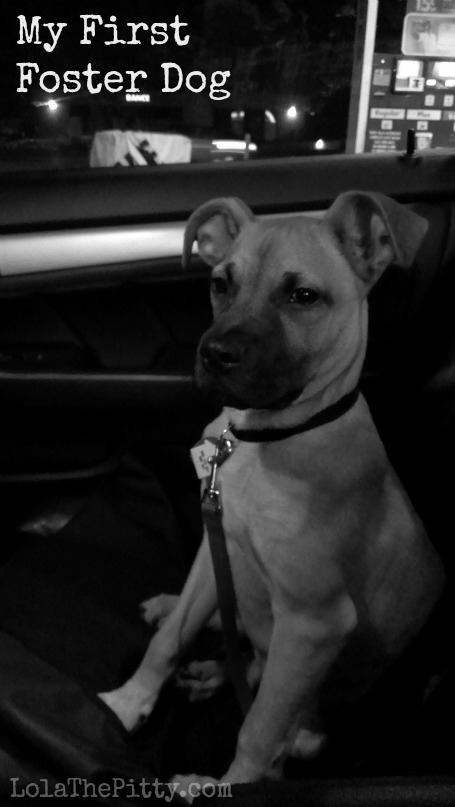 I found myself tearing up as I was looking through photos from the couple months that we had Weeser. I had a lump in my throat when I would find myself talking about him, thinking about him and I couldn't help but wonder – did I make a mistake? Should we have kept him?
Weeser was a weak four-month old pup when he was transported from Kentucky to Minnesota. The first photo I saw of him is burned in my head. He was in a dark dungeon-like shelter hiding behind rusty bars. He was just standing there on the concrete floor looking up into the bright flash of the camera. He looked helpless, miserable and he needed us.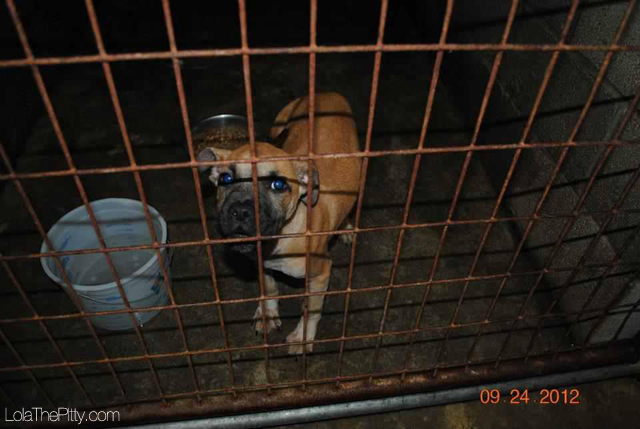 We contacted the rescue that was going to pull him from the shelter and said, "We'll take him, we can foster him!". That was all it took, we just saved his life…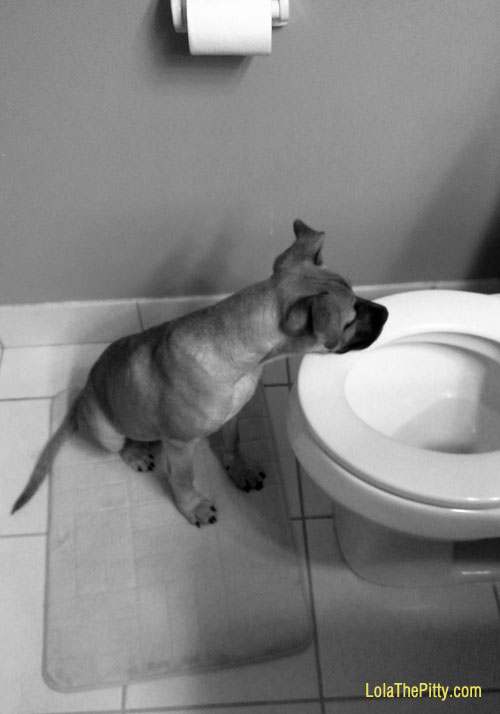 Lola had just came into our lives a couple months prior and this whole idea of fostering was very new to us. I will never forget the day we went to the rescue and picked up Weeser. He was so weak. His legs bowed outwards and he looked like a newborn foal when he would run. He had virtually no muscle development. But after all, he had been living in a DARK dungeon with minimal exercise.
Lola and Weeser bonded immediately. They had so much to 'talk' about. They would wrestle, play (pee on the floor) and then recharge their little batteries like any two puppies would do. They were two peas in a pod and literally inseperable.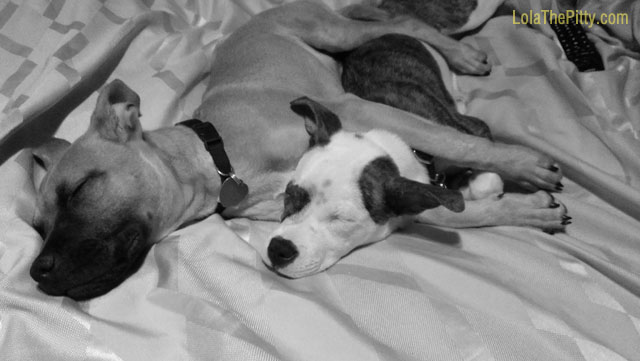 The question began to enter my mind, how I am ever going to let him go?
Is it going to be like this with every dog that we foster?
Can we afford to keep two dogs?
Will Lola bond with another dog like she has with Weeser?
I still remember the moment when I received the first email with the subject line, "Adoption Application – Weeser".
I'll admit, I was basically conducting a thorough search of the applicant…stalking them as if they were applying for a job with the CIA, trying to figure out if they could ever possibly be fit to take care of my precious Weesy boy. Because how is anyone ever going to give him as good of a home as we can? Will they leave him home alone all the time in a crate? What if he ends up back in a shelter? The questions would not stop flooding my mind.
Two other applications came in and well, as much as I hated (yes, hated) to admit it…there was one family that sounded perfect. A mother and her three children – Weeser would receive lots of exercise and hardly ever be left home alone. So we agreed to meet them and it went wonderful. They loved him, he loved them. Of course they did, it was Weeser. It was bittersweet.
Another email came in from the rescue organization requesting for me to let them know how everything went with our meet-and-greet. I was hesitant – should I tell them it didn't work out and we'll be adopting Weeser? What should I do!?
Well, I replied and told them that I liked the family and everything went well – the truth.
Next, an email copying me, it read, "Congratulations, your home visit has been approved!".
NOOOO… I had just approved the adoption and it hit me like a ton of bricks. Thirty minutes later another notification on my phone, an  email outlining the details of the adoption:
NEXT STEPS…
1) Adopter makes payment with a debit/credit card through our website.
2) Vetting Manager signs the adoption contract electronically via
Right Signature AFTER this animal is spayed/neutered and vaccinated.
Vet records will be emailed to the new owners
after an adoption is finalized.
3) Foster signs the contract electronically by opening the email from
Right Signature and clicking on the link. Please make sure to check
the boxes and fill in every blank next to the check boxes.
4) Adopter signs the contract electronically by opening the email from
Right Signature and clicking on the link provided. Once adopter signs
the form, another email from Right Signature will be sent to all
signers with the completed PDF contract attached (adopters, please
save this email since it's proof of adoption).
5) Foster contacts Adopter to pick up new pet AFTER the adoption
contract is signed by everyone and payment has been made.
WAIT, what is happening. Can I have a few days to let this soak in? I WANT Weeser, I want to adopt him! I called my mom, distraught and upset. I think I just made the biggest mistake… Weeser is PERFECT. The bond between Weeser and Lola was truly one of the most precious things I have ever seen in my twenty something years of existence. How would we ever find another playmate like him? I cannot let him go…I can't. But I have to. I broke down, my heart felt heavy and tears flooded my eyes, I had a giant lump in my throat.
Lola loved him so much. She even went into a mini depression period when he left. She would sulk around, head hanging and would lay in his favorite spot, waiting for him to come back… but we both knew he was gone. I cannot bring myself to delete any of his photos. Yes, I know I have 15 photos of one pose where his head may be turned slightly different.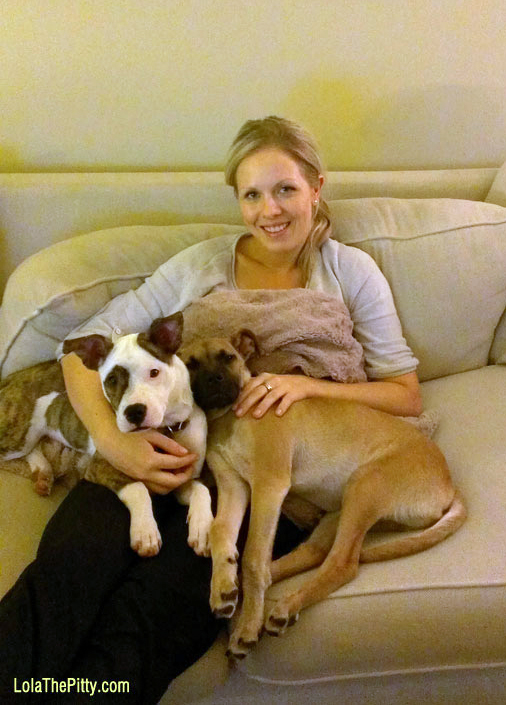 And to answer my own questions:
Is it going to be like this with every foster? > No.
Could every dog we have fostered fit into our family? > Yes.
Could we have afforded Weeser? > Yes.
Will Lola bond with another dog as she did with Weeser? > Well, no – not yet.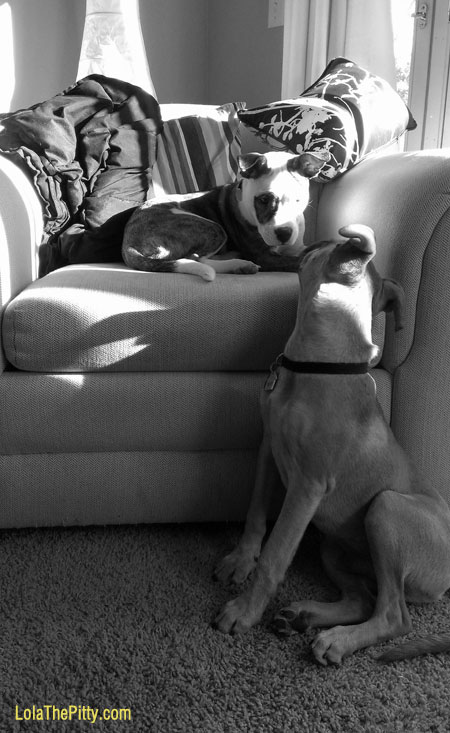 I still miss Weeser, but we saved his life. He is living a beautiful life now and I know that he is loved – loved as much as I love him. I am still in contact with his family and they send me an occasional photo of Mr. Weesy.
I have to look back and remember that moment, that moment that we said we could foster him and those few words changed his life forever. And while I am tearing up as I write this, I have to accept that what I did was right. I loved him, I cared for him, I helped him grow strong and I ensured that his perfect family found him, my job here was done. I believe that Weeser came into our lives for a very special reason and I feel fortunate to have made an impact on his life and in return, he made one on mine.
And the moment I knew it was right was when his new mom walked in the door to pick him up. Weeser greeted her with a wagging tail, excitement, and tons of puppy kisses. We said our goodbyes and then they left and suddenly I knew everything was going to be alright…
*Read my other favorite blog posts*
Link up to Dachshund Nola and Sugar The Golden Retriever to share your Black & White Sunday.