Dog Fighting Awareness
Dogfighting. It's everywhere. It's sad to think about, it's downright sickening, but it's happening and right under our noses. The ASPCA has dedicated April 8th as National Dog Fighting Awareness Day, so a few bloggers and I have got together to help spread the awareness. #NDFAD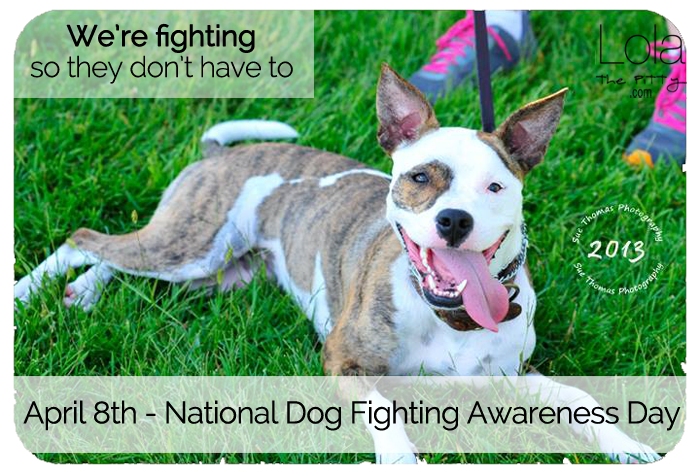 So…how can you help!?
If you see a dog on Craigslist or posted anywhere on the internet (especially for "free") – notify local animal rescues that may be able to help. Rio was a CL puppy who was pulled off of the site by a local rescue. Bullies on Craigslist = no bueno.
If you come across a profile or account on Facebook/Instagram/etc. that is clearly a red flag, DO NOT report the page or add your own comments. Save the photos, the information and contact local authorities. Banning the page/reporting the person does nothing but make it disappear from your eyes however many miles away on the internet. The evidence given to the right people can do a heck of a lot more. Dog fighting is a very secretive enterprise that is hard for law enforcement and investigators to infiltrate.
If you know of or have suspicions that someone might be involved in dog fighting, report it to officials.
Remember: dog fighting can be taking place anywhere. Whether in a basement, a remote area, a planned location, your neighbor's house. Anywhere. Also, the dogs used are not necessarily all kept in the same location. They come from houses, apartments, condos…And large operations travel across the U.S.
Look out for heavy scarring on a dog. Fighting scars are typically found on the face, front legs, hind end and thighs, and can include puncture wounds, torn/mangled ears, and facial swelling.
Things to remember:
– There are many breeds of dogs used for fighting worldwide. Breeds include: Fila Brasileiro, Dogo Argentino, the Tosa Inu and the Presa Canario. The dog of choice for fighting in America? The American Pit Bull Terrier and other pit bull type dogs. But this doesn't mean that other breeds or mixes are exempt.  Other breeds, even non pit bull type dogs may be used in street fights or as the "bait" dog which is used to train the fighting dogs. Often these dogs are stolen (or 'found' online – see above). M.K. Clinton is all too familiar with this. Dog fighting is rampant in her city and she suspects that her dog from college was stolen and used as a bait dog.
According to the ASPCA, law enforcement has divided the most common types of dog fighting into three categories: street fighting, hobbyist fighting and professional dogfighting*:
Street fighters engage in dog fights that are informal street corner, back alley and playground activities.
Hobbyist fighters are more organized, with one or more dogs participating in several organized fights a year as a sideline for both entertainment and to attempt to supplement income.
Professional dogfighters often have large numbers of animals (50+) and earn money from breeding, selling and fighting dogs at a central location and on the road.
– Not all dog fighters treat their dogs the same; street fighters may starve their dogs to increase aggression, unlike many professional fighters who invest a lot of time and money in conditioning their animals. The dogs are commonly given quality nutrition, steroids and muscle supplements. Narcotic drugs are also commonly used to increase aggression and mask pain or fear during a fight.
Other resources: 
Download the Humane Society's dog fighting poster – print & distribute.
Watch the dogfighting video from the Humane Society.
Download the Humane Society's "How to spot signs of dogfighting" flyer.
Get the ASPCA's toolkit.
Meet Vinny & Crash – two adoptable pit bulls through A Rotta Love Plus rescue in Minnesota. Crash was actually pulled from a dogfighting bust on the west coast.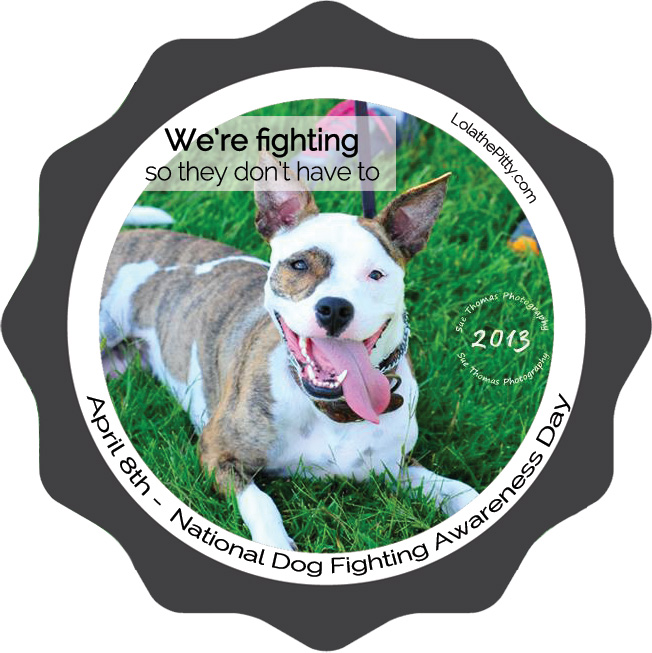 Join myself, Melissa at Barking from the Bayou, Sue from the Talking Dogs Blog and Jenna from Love is Being Owned by a Husky on Dogs n' Pawz Tuesday's Tails Blog Hop dedicated to raising awareness for dogfighting and special bullies in need of adoption.
Feel free to share dogs (especially pit bull type dogs) in need of adoption and your dog fighting awareness posts below: