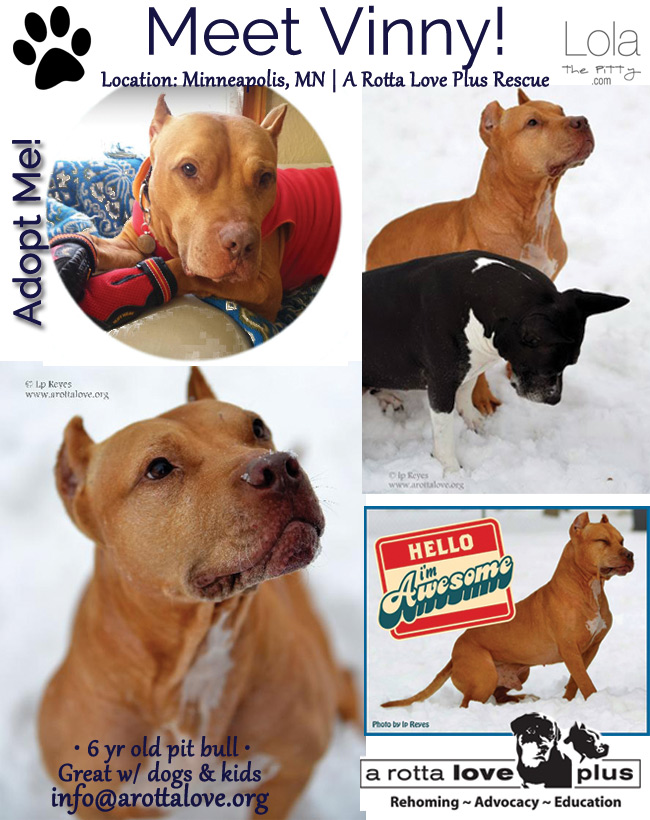 View Vinny's Profile on A Rotta Love Plus
60 lbs | 6 1/2 years old | Good with kids and dogs – cats unknown | Canine Good Citizen Certified! | Crate & Potty Trained
Vinny sounds like my kind of guy. He likes going on walks, sleeping, eating followed by a little play time…yep, I could totally deal with that. Now, Vinny just needs a home to call his own. He sounds like the perfect, easy going buddy. Before I forget, you have to check out Vinny's before and after photos on his profile – such a transformation! Here's a little more about Vinny…
[Tweet "Vinny- Adoptable Dog of the Week in MN from A Rotta Love Plus!"]
From the foster:
"Hubba Hubba this hunky fella is one big teddy bear.  Vinny, aka Captian Naughty Pants (CNP), is our resident charmer who can melt even the coldest of hearts (which comes in quite handy during our MN winters).  A perfect day for CNP would be a nice walk, a snack, a snooze, some scratches from his people, then repeat, repeat, repeat. So…why CNP? Foster mom says that sometimes stubborn, sassy, and too big for my britches gave him the nickname!
Did we mention that Vinny thinks that walks are just about the best thing ever.  Happily trotting along wagging his tail as he goes, he greets new people with an easy affability.  If you are looking for the perfect passenger in life and in your car Vinny was born to be your copilot.  Road trip, anyone!?
When he isn't taking a stroll or riding along in your automobile, during his down time Vinny is quite content curl up in his kennel or invite you to join him on the couch for some R & R. And because we love him dearly, we can freely say that Vinny can be a bit of a dork – a smart, lovable, stubborn, funny, silly, dork.
Vinny is a total catch!  What are you waiting for?"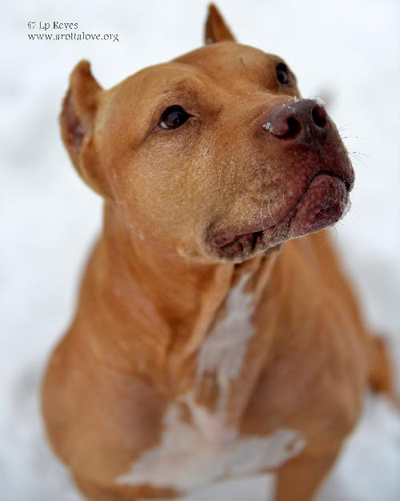 We will turn this over to Captain Naughty Pants to answer some FAQs:
Do I know any tricks/commands?  I am all over sit, down, stay, kennel, still "learning" to walk nicely on a leash but I can pull and I am very strong. I recently took the American Kennel Club "Canine Good Citizen" test and passed with flying colors.
Am I crate trained?  I absolutely love my crate and will go in there all by myself when I want to chill out and relax.  However, I really prefer not to be locked in – please leave the door open as I think I must be what is called claustrophobic/  My foster mom has been working with me on this and is hopeful that I will one day be able to comfortably be in the crate with the door shut.  For now my foster mom leaves me in the guest room with an open door crate and I am the perfect gentleman.
What is my activity level?  Moderate.  I like to walk – but I am so not a runner. A couple of nice long walks each day make me really happy as I love to be out and about with my people.  Another dog to hang out with would be nice, but is not necessary. I like very short play sessions with my friends.
What are some fun things I do? Exploring the outdoors, laying in the sun, baking bread, eating, hiding my toys, and going to training class to learn new things.
Oh, yes! I almost forgot to tell you, Vinny has his very own Facebook page to keep you apprised of his latest adventures. Stop by and say hi!
Our Adoptable Dog of the Week post is dedicated to special dogs who are in rescue but still looking for their perfect home. Please consider sharing this post — you might help Vinny from A Rotta Love Plus find his 'fur-ever' home!