Behind the Scenes of an Animal Rescue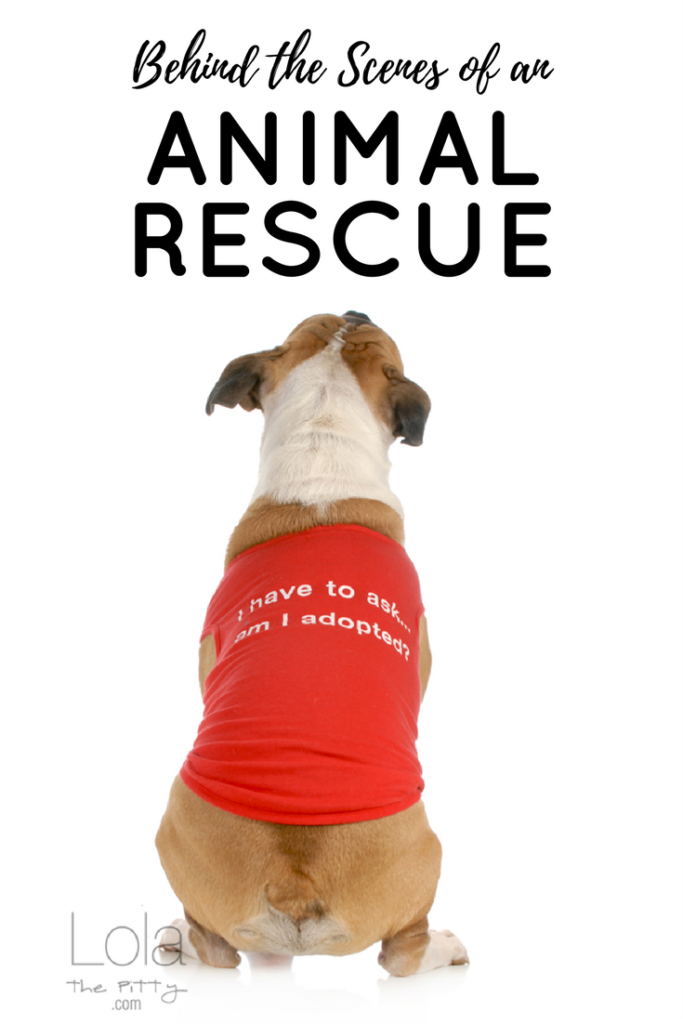 It hit me the other day when I was talking to someone who wasn't a "dog nerd" (yes, I'm categorizing myself as a dog nerd) that not everyone is sure how animal rescues operate. So while this may be common sense to many of my friends, I think there are many people that can benefit from this little inside scoop. Just as I've learned with everything in life, you can never assume. Plus, I figure the more information we can get out there about rescuing and adoption animals – the better.
Much of this information I've learned from volunteering and fostering with a rescue in Minnesota, Secondhand Hounds, and I've also consulted with another friend of mine who is a director of an animal rescue.
So here's the low down:
What does an animal rescue do exactly?
Animal rescues are essentially the 'middle man' for dogs, cats, and other animals that for whatever reason, do not have a home. They network the animals and find them temporary (foster) homes until they are adopted into a permanent home. Some rescues have limited shelter space for a small number of animals if they cannot find a foster immediately.
Is there something wrong with the animals that are in rescue? Why are they in rescue?
Dogs do not always end up in a shelter or rescue because they have some kind of freakish disease and no one wants them (yes, I've been asked this). So no, not necessarily. Sometimes yes, sometimes no. They are just like any dog you buy or adopt. You may not always know their past and you may want to get a DNA test done if you are concerned about the breed, but being in rescue does NOT automatically indicate that there is anything 'wrong' with the animal – their lives just didn't have as fortunate of a start as others.
Are these animals "put" in rescue because there is something wrong with them? No, they did not choose to be in rescue, they've just somehow ended up there because of one of the following: they were abandoned, they were surrendered by their original owner, they were lost and their owner never came to claim them from the shelter, they were seized from a hoarding situation, they came from a breeder that was shut down, they were saved from a dog fighting operation, etc. These are just a handful of the reasons that a dog may have come to be in rescue.
Shelters and rescues have a great selection of adult dogs, puppies, and even purebreds for adoption. According to ArfDogs.org, on average, purebreds account for about 25 to 30 percent of a shelter's dog population. And the fees are usually much less than the purchase price from a pet store or breeder. Plus your dog comes vaccinated and spayed or neutered.
Where do rescues get their animals from?
Rescues have animals come in from many different places. Here are just a few:
– Animal shelters
– Owner surrenders
– Craigslist or other online sites (There are many dangers of 'selling' a dog for a small re-homing fee online)
*View the adoptable dogs of the week that we feature every Thursday*
What is the difference between an animal shelter & a rescue?
An animal rescue makes sure that the animal finds a family to adopt the animal. Rescues do not euthanize a dog in order to make room for another (however they may put down a dog that is seriously ill). These rescues have very limited space as most of the animals are kept in private foster homes (just like yours and mine) and are supported primarily by grants and donations.
Shelters handle the stray dogs within the community and receive animals affected by state cruelty and neglect laws. They also receive pets that are dropped off by their owners for various reasons. There are two types of shelters:
No-kill shelters: accept animals on a voluntary or space available basis. A no kill shelter does not euthanize animals who can be adopted or when the shelter is full. They may euthanize animals who are terminally ill or considered dangerous.
Traditional/open admission shelters: accepts any and all companion animals regardless of health, temperament, or space available, with no limitation. These shelters have high euthanasia rates to make room for incoming animals.
Why does it cost so much to adopt a dog?!
It doesn't. I can tell you first hand that it is actually A LOT less expensive to adopt a dog than buy one elsewhere (or even be given a dog). Lola did not technically come from an organized rescue group (rather we intercepted her before she ended up in one or somewhere else) and the first year we had her, we spent over $1,000 in vet bills. Mind you, this was just your basic vaccinations, deworming, blood tests, spay, etc.
This illustration below shows a rescue dogs true cost:
How do I find a dog that is with a rescue group?
Dogs that are available for adoption within a rescue are often found on Petfinder.com, public adoption events, social media sites, or on the rescue group's website. You can do a Google search for rescues in your area and then follow them on Facebook – trust me, you'll soon find yourself involved.
Why do I have to go through an adoption process? Why can't I just go and see the dog I want to adopt? 
Most rescues do not have a physical location where they keep the dogs. The dogs are kept in individual foster homes, sometimes very far away. Also, since these animals are already very likely on their second (or more) home, there is a screening process. A potential adopter must fill out an application to meet the animal and the rescue will then (most commonly) distribute the applications to the adopter who will then arrange a 'meet and greet' with the interested adopter and the rescue dog. This may take place over one or more meetings. Typically we have just met with the potential adopters once and we then both decide if it went well and if we would like to proceed and fill out the adoption paperwork.
Quite often though, rescues have adoption events where the fosters and volunteers will bring the dogs to a central public location for the public to meet the dogs.
What is required of a foster? How do I get involved?
A foster provides in-home care for animals in need until they are adopted. To become a foster, you first fill out an application with the rescue group and the rescue will then make sure that you have a safe home for the animal – that's it. This is usually a very fast process as rescues are very short on foster homes. Oh yeah, and it's free with most rescues. Yep – that's right, the rescue pays for the vet bills of the animal, the food and even the crates/toys/etc. You just provide the shelter, care and love!
*Read the story of how we rescued two stray dogs.
How long can an animal stay in rescue?
Once an animal is placed with a rescue group, they will stay in the foster home until they find a home. Sometimes this takes years. Sometimes the dog is transferred to a new foster home. While the dog is in rescue, the rescue group is responsible for all the costs of owning a dog – as you can imagine, this can get very expensive with as many animals as rescues have!
In these next couple questions I've consulted with Darren, who is the director of a local rescue in Minnesota, Across America Boxer Rescue.
How do the rescues learn of the dogs that are out of state that need rescue?
"This varies by rescue and how involved they are in social media. Most rescues get info from their members/friends/acquaintances or cross-posters (this is the most prevalent one) tagging them, posting to their page or individual pages as well as emailing them of available dogs. These dogs can be in a shelter or on Craigslist.

Most rescues also have several shelters they either work with or have a relationship with. Those shelters then know what breeds they pull and will give them heads up when they have a dog come that is in need. For instance, our rescue has a great working relationship with Indiana Animal Control (IACC) and Chicago Animal Care and Control (CACC), two VERY large Midwest ACC's that many dogs go to and thankfully many get saved!" – Darren Alick, Across America Boxer Rescue
Who do the rescues work with to transport dogs from state to state? Are they all volunteers or are there people whose job is just to transport?
"It depends on who you are using and where the dogs are being transported from and to. I personally do not know of a rescue in our area that uses paid transports. There are three main transporters for the southeast, south and midwest that I know of. I have worked alongside of two of them when they transport for my rescue and rescues I also volunteer for. All three are volunteers who fully coordinate a transport form start to finish. Meaning they layout out the distances, the stops, arrange for overnight homes as well as ensure all drops-offs go smoothly and everyone is sticking to the schedule. Each segment or "leg" of a run is calculated for distance and time to help everyone keep to that schedule. The drivers within that pool and who drive each leg are also volunteers, doing it for the love of knowing they're contributing to saving dogs from otherwise terrible situations and euthanasia. Lori Weese, who transports for our rescue, also runs dogs for several other rescues within that same transport. Sometimes the dogs may be going to several different rescues, the transporter is just responsible for that portion of the rescue process." – Darren Alick, Across America Boxer Rescue
Do you have any questions about animal rescue? Ask away!