Emma's Journey
I'm sitting here with that same lump in my throat I had when our first foster dog, Weeser left. It's been an eventful couple of weeks but I would do it all over again in a heartbeat. Emma left our home last night and went to stay with a whelping foster family.
(Read first >>> 'an eventful week' and 'an eventful week continued' to catch up to speed on this story.)
Since we found out last week that Emma or "Mama" was indeed pregnant (and an estimated 20 days away from having her puppies), the rescue and I have been reaching out to find a whelping foster. Meanwhile, I had grown so attached to Mama so I was also trying to see if we could somehow make it work to whelp Mama and her puppies ourselves. But ultimately I knew that I would have to recruit the help of several friends (yet to be determined), to help fill in the gaps of my schedule and then there was still that week that I was out of town…But I wanted to try. This could be a very rewarding and beautiful experience and one that doesn't always come around.
I also questioned if the rescue would even be able to find another foster and if that foster would be willing to work with her. I did not want to risk her being 'returned' – too much moving around is not good for any dog, let alone one that is carrying a litter of puppies. I was getting to the point where I was beginning to prepare having her in our townhome until she and the puppies went to their 'furever' homes. I haven't gone into too much detail about mama, besides that she is one of the most loving, precious and sweet dogs I have ever met. Truly. However, Mama is very timid and protective of that belly. She is a dog that needs very slow introductions. She has many traits which are indicative that she spent some time as a stray. It worked well with our dogs, but after several slow and controlled introductions. While she's not aggressive, she is definitely not the type to run up and play with another dog. After all, she barely knows what a ball is and really doesn't know how to play. She thought that Lola and Rio were fighting when they were wrestling and became obviously bothered.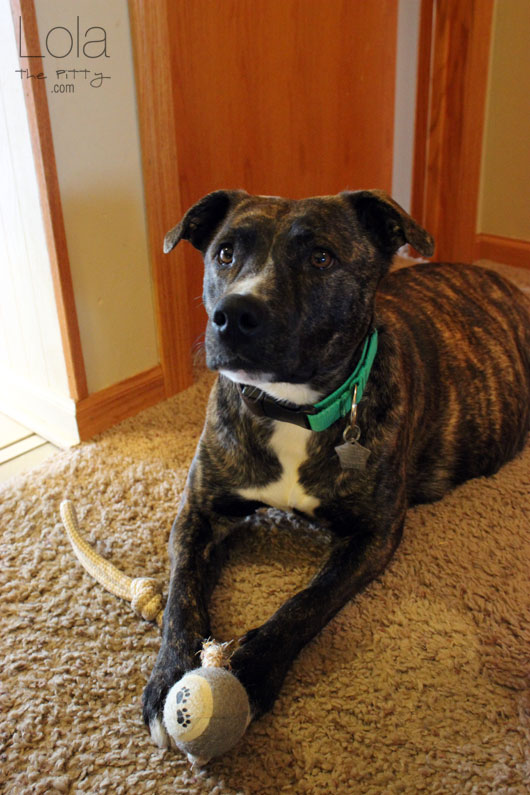 (I have set up a fundraiser for mama Emma. Please consider donating to her YouCaring fundraiser.)
The first couple nights, she would lightly growl at Rio and Lola if they came into her 'bubble'. She wouldn't lunge, she would just warn. Lola knew and respected this and Rio quickly learned not to bother a pregnant mama! I was constantly working with her and we made so much progress in the two short weeks that she stayed with us. I had to show her that Lola and Rio are our friends and good dogs also. They were not there to hurt or harm her. And she slowly learned to trust them. Mama and Rio even played a quick game of tug until Rio chickened out after a play-growl, lol. Every single day meant progress and it was such an amazing thing to witness.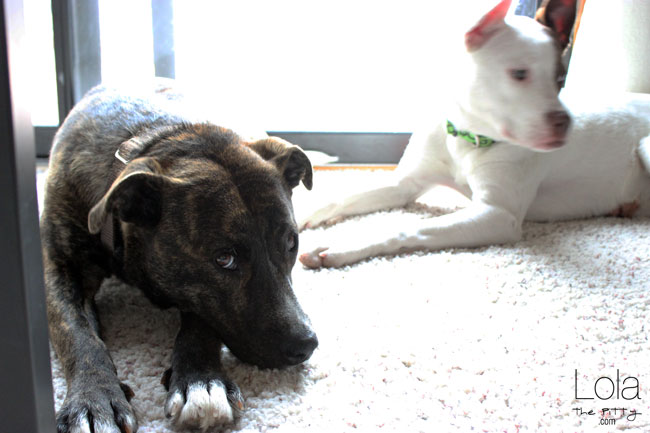 But every day also meant she was that much closer to having her pups and there's no doubt that she was feeling it. Her belly grew bigger and rounder every time I saw her, or so it seemed. I knew that if a whelping foster was going to be taking over, it needed to happen fast. I did not want to be moving mama around the last week that she was expected to deliver. She needs time to settle into her new place and a family that is home enough to monitor her. She needed someone with this patience and understanding. I had to move my heart out of the way and do what was truly best for Mama and pups, who could give her the care that her and the newborn pups would need.
Then Sunday rolled around and I received a text message from the foster coordinator who said she had found a family who could take Emma. As soon as I was off work, I called the family and spoke with them on the phone for about 30 minutes – it was definitely a good sign. They came over to meet Mama that night and as expected, she was fairly shy but I was completely open with them about her "issues". They were willing to do everything they had to and sounded like they would be able to give Mama and pups more care and attention that possible for us, as hard as it was. Had it been anyone who I had any doubts with, Mama would still be with us. So as rewarding of an experience this would have been for the human involved (me), I had to think about what would be best for Mama. After all, this is about the welfare of the dog, Mama…
Please consider donating to our YouCaring fundraiser where 100% of the donations will be used towards medical expenses and goods needed for Emma and her pups.
In the meantime, I'll be curled up on the couch with Lola, Rio, a spoon and a jar of peanut butter. Or ice cream.
P.S. I will be visiting Mama (and the puppies!) and will continue to keep everyone updated. And who knows, we may even foster Mama once the pups are gone – we'll see how the story unrolls. Thanks for all of your support.