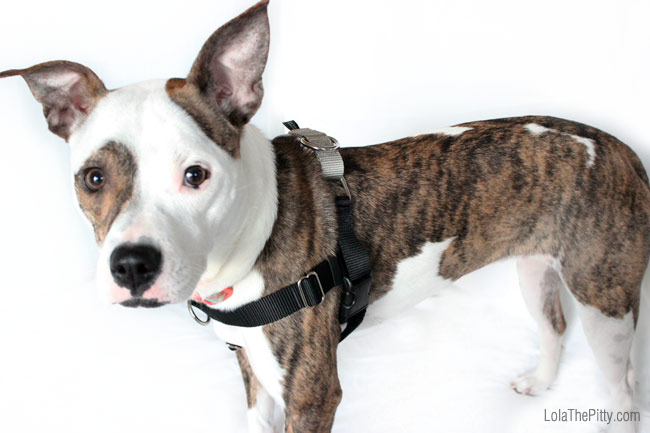 Finally. A harness that rocks my socks off.
As you might have read in my collar debate post, we've had quite the experience with 'tools' for dealing with Lola's pulling. This one pretty much solves all of our problems and this is what we used when teaching her how to walk on a loose leash. Until this harness (the Freedom No-Pull Harness from 2 Hounds Design), we had been making due with our other harness known as the Easy Walk. While it did help the pulling – if she became squirmy, she could squirm her way right out of it. Not to mention it was somewhat restricting when she was running, so it was really only good when we were walking. Then there was that time that she tried to jump into the back of the car…she almost landed on her head because of the loss of movement in the front shoulder/chest area.
But this harness literally solved all of our issues. It has an option for a front attaching leash (I typically walk Lola using the front attachment with a two or four-foot leather leash), or you can use the D-ring attached to the martingale style loop on the back of the harness (which tightens to a certain point when the dog pulls), OR attach a leash to both. Plus, it does not restrict her movement so she is even able to jump up in the back of the SUV and we even wear it to flyball class! The 'handle' on the back works perfect ;).
This is probably one of my favorite features – a velvety padded strap that goes under the belly and front legs. Your short haired dogs will thank you.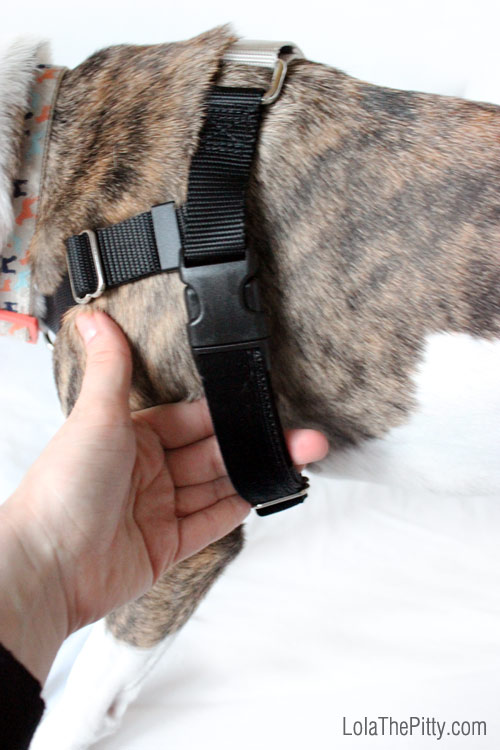 Another one of the features that you won't find on other similar harnesses: the martingale loop which tightens to a certain point if the dog pulls.
I also love that you can get just about any color combination you want. I'm totally lovin' the turquoise and silver one!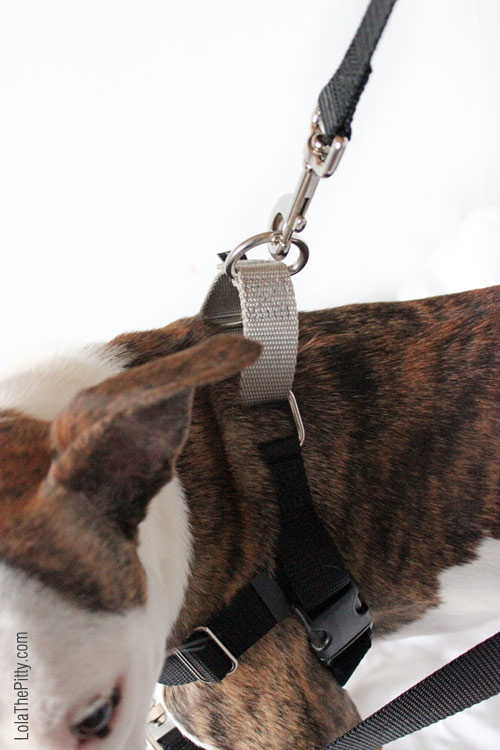 You can add this training leash to your order: it is a one-handle leash that has two straps: one attaching to the front of the harness and one to the back. I took Rio out on this and while it was nice to have it attaching to the front and back of the harness for additional control points, I found myself fiddling with the leashes, tightening up one while letting the other a little looser – so I ultimately ended up having to hold onto the actual leash part vs. the handle. (But that was just with Rio at a public event where he was very interested in everything going on around us.)
Just an added bonus, Alisha was awesome to work with and 2 Hounds Design is all about giving back by donating & raising money for adoption groups!
(Read: 10 Signs You Should Not Adopt a Pit Bull)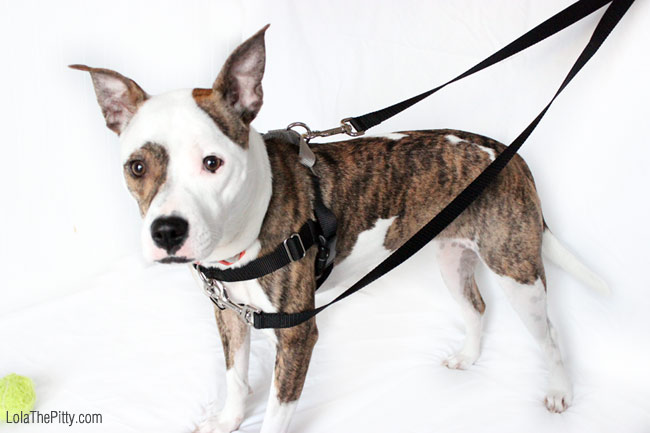 Check out the Freedom No-Pull Harness and while you're at it…the amazing collar collection from 2 Hounds Design.
Okay, I think Lola is beginning to get a little bored of our mini photo shoot, hah.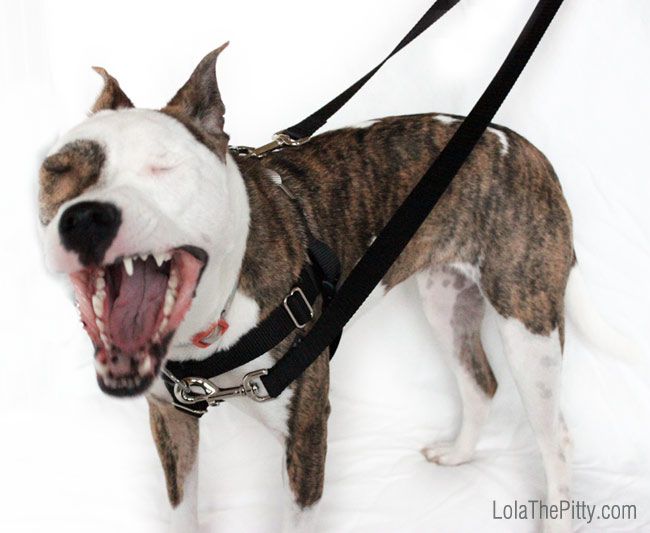 *Make your own dog treats -> Small Batch Peanut Butter Banana Dog Biscuits!
I received this harness from 2 Hounds Design at no charge for my honest review of the product. All opinions are my own.