Prada: Adoptable Dog of the Week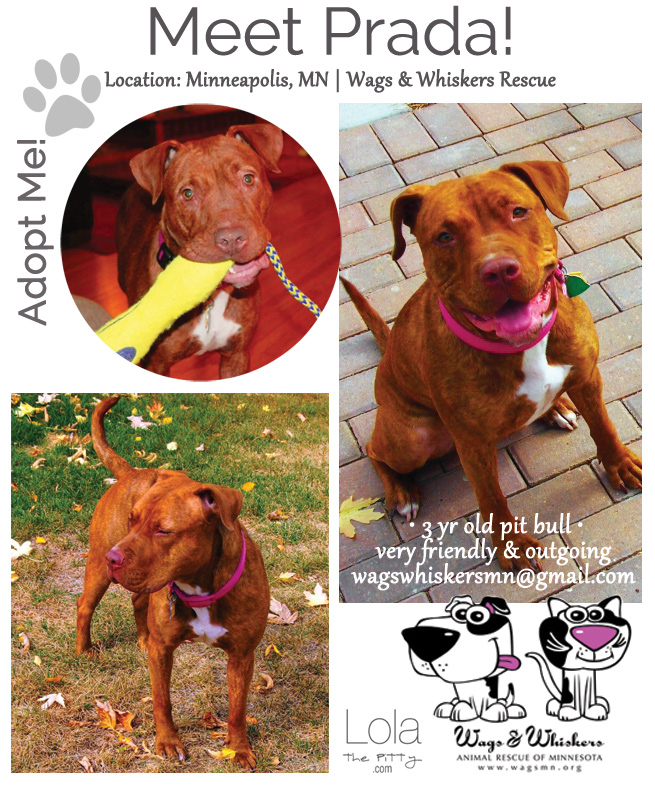 Our Adoptable Dog of the Week post is dedicated to special dogs who are in rescue but still looking for their perfect home. Please consider sharing this post — you might help Prada find her 'fur-ever' home!
View Prada's profile on Wags & Whiskers
Prada's story breaks my heart…She had been used primarily for breeding before being brought into rescue. Then in November or 2011, Wags & Whiskers brought in Prada and her ELEVEN puppies. All of her puppies are now grown up and have been in their forever homes for some time, but Prada is still waiting. It's now 2014 – that is an awful long time to wait. Let's help this sweetheart's perfect family find her.
Prada | 3 years old | House trained | would make a great running partner! | friendly with other dogs (but gets too excited sometimes)
[Tweet "Meet Prada! The Adoptable Dog of the Week. Let's help her get adopted by sharing!"]
From the foster:
"My name is Prada Jane, but I also have the name PJ, Peej, Prada J, Prodigy and the list goes on.  If you call me any of these names, I will wiggle my butt and give you kisses if you let me!  I am a three-year-old pit bull and I have had a rough start to life, but I don't let it get me down.  My previous owner used me for breeding. My most recent litter was 11 puppies and my owner got rid of all of us.
I am a happy ball of energy and I would do best in an experienced home where I can get lots of exercise. I would make a great running buddy! I know my basic commands and how to walk nicely on a leash.  I get along with other dogs, but sometimes I get a bit too excited.  I am just so happy to get to be a dog now.
I am still learning some of the joys of being a pet, and it makes me grin from ear to ear.  I would love it if you came to meet me and considered making me a part of your family. I promise to greet you with a wiggling butt and a wagging tongue ready to give you kisses."
If you are interested in meeting Prada, please fill out an application on www.wagsmn.org or use the contact form on their website.