Chicken Wild Rice Dog Treat Recipe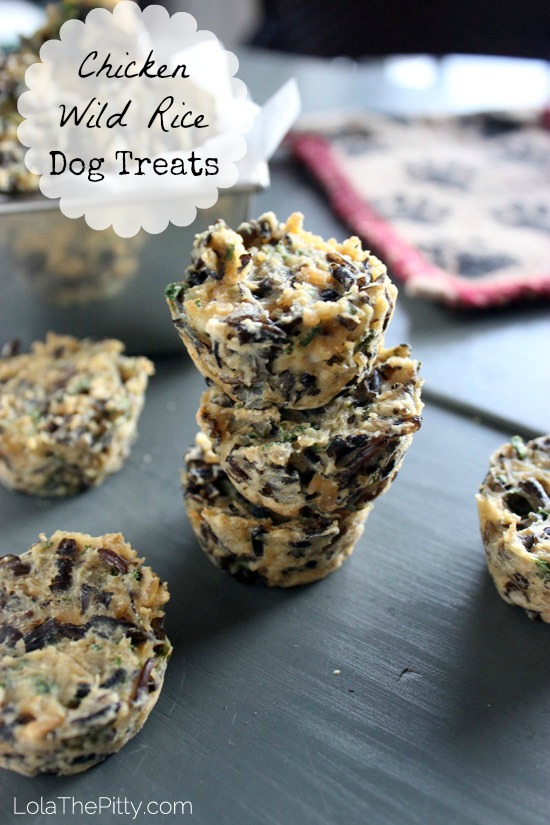 A couple months ago, I asked our friends on Facebook what type of dog treats they'd love to see and we received a ton of requests. Carob cupcakes, carrot treats, chicken wild rice, and so many other great ideas.
And then…life happened.
We had a few eventful weeks presented to us and before I knew it, I never shared this recipe with you. But I feel like I'm finally able to breath, regain focus and get back into a normal routine with life and this blog.
Lola and Rio literally sat in front of the oven the entire time these were baking. When I had to photograph them they were both on pins and needles waiting for me to give them one (I might have snuck them a little taste). If they could talk, I'd be willing to bet they'd tell you this is their favorite dog treat recipe yet.
Other dog treat recipes you'll love: DIY Peanut Butter Banana Flax Seed Dog Treats
I loved making them, too. As you know if you've read my previous DIY dog treat recipes – I love simple. And healthy. You will not see me feeding Lola and Rio a cheeseburger, ice cream cone, or french fries (I save that for myself). I'm not judging you if you do, but I just don't think they need it and I want my babies to live a long, healthy life.
This recipe was inspired and adapted from Kol's Notes.

Chicken Wild Rice Dog Treat Recipe
Your pup will love these DIY chicken wild rice dog treats that resemble mini muffins!
Author:
Sarah at Lolathepitty.com (adapted from Kolchak Puggle)
Ingredients
1 cup wild rice, mashed (may sub with another rice)
1 cup chicken, diced fine or shredded
3 Tablespoons rice flour (I used Bob's Red Mill)
1 Tablespoon fresh parsley, diced
1 egg, beaten
Instructions
Preheat oven to 350 deg F.
Combine all ingredients in a medium mixing bowl and stir until well incorporated.
Using a spoon, press mixture into each cavity, packing tight and filling nearly to the top.
Bake for 25 minutes or until top begins to turn golden brown.
Let cool completely before serving.
Notes
Store in an airtight container in the refrigerator for 3-5 days (or freeze).

Recipe from LolathePitty.com. All images and content are copyright protected. Please do not use without prior permission. If you want to republish this recipe, please re-write the recipe in your own words & simply link back to this post for the recipe. Thank you.
The rice flour was just brown rice flour from Bob's Red Mill (if there's ever a specialty flour you need, I guarantee they make it and it's at most grocery stores).
To save time, I actually used canned chicken in this recipe. I was able to find an organic, canned chicken without any preservatives so I gave it a go.
And if you're like me ten years ago (prior to living in Minnesota) and are going, "Huh? Where the heck can I find wild rice…wait, what is wild rice?!" just substitute with brown rice or whatever rice you'd like.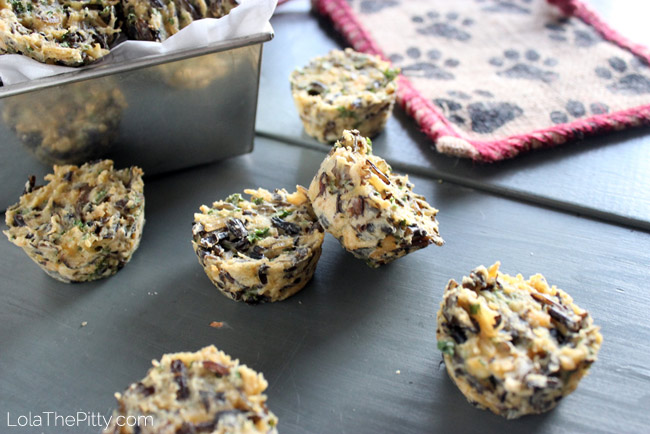 Enjoy!
Other treats you'll love: