Ginger: Adoptable Dog of the Week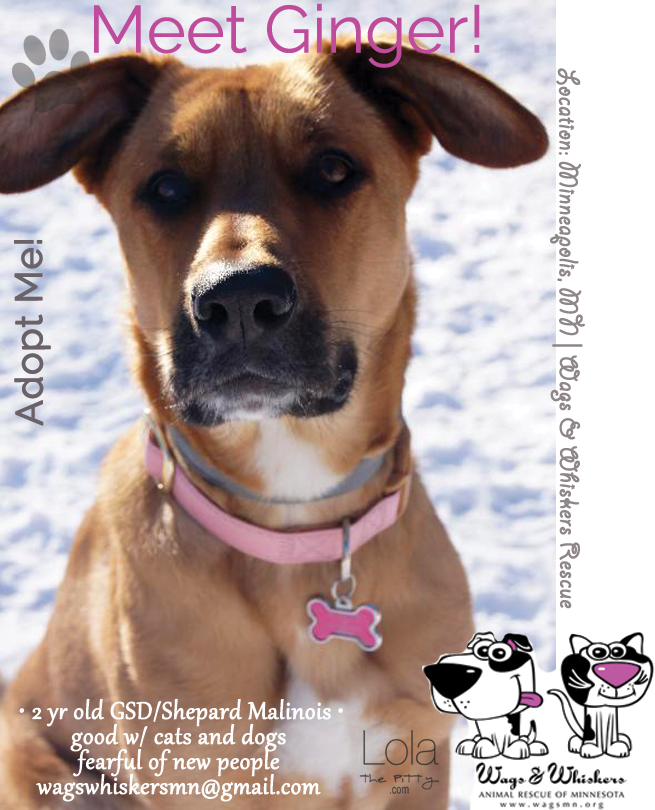 Our Adoptable Dog of the Week post is dedicated to special dogs who are in rescue but still looking for their perfect home. Please consider sharing this post — you might help Ginger find her 'fur-ever' home!
View Ginger's profile on Wags & Whiskers
I know Ginger isn't a "bully breed" but Ginger needs our help. She needs a family that is willing to work with her little quirks. She's not a bad dog, she just needs patience, persistence and a caring family. Her past is unknown but it has somehow affected her. She is great with other dogs and cats and would really like a cuddle buddy! It's people that she is uncertain of. Strangers are questionable to her and even a simple body movement is scary to her. Read more about Ginger below…
GSD/Belgian Shepherd Malinois| 2 yrs old | crate & house trained | Good with dogs & cats | Fearful of new people
[Tweet "Meet Ginger! Adoptable Dog (GSD/Malinois) of the Week from Wags & Whiskers in MN"]
From the foster:
"Ginger has a medium energy level Ginger is not demanding of your time or attention and would be perfectly happy chewing on her Nyla bones and sniffing around the yard all day.  She can be convinced to chase a few balls (especially if it is a big Jolly Ball) in the yard but is also content to chase bugs.  One of her favorite games is Tug and she gets so pleased with herself if she can convince someone to play.  Ginger loves to wrestle with other dogs, play chase, and would love to find a dog who lets her snuggle with them.  She is also very well behaved with cats.  Ginger would do best in a fenced yard with a high privacy fence as she can get over short chain link fences.
Besides an hour or so of play time and regular exercise, this big lover is content lounging with you or other animals for the day and responds well to your energy level.  Ginger also rides well in the car and will look out the window or lay down for a snooze.  She is kenneled when the foster family is away from the house and like most dogs, needs to be supervised to make sure she isn't getting into anything she shouldn't when she is out of her kennel.
The most wonderful and special thing about Ginger is how incredibly sweet and loyal she is.  With Ginger, there is never a question if she likes you because her love and devotion for you are displayed so openly.  Every time you return to the house she greets you like she hasn't seen you for months and is so grateful you returned to her.  When sitting on her level she buries her head into you for ear scratches and will sometimes end up sprawled across your lap or at the very least with her head somehow resting on you as she falls asleep.
Ginger has both food allergies and environmental allergies.  She does great on Natural Balance Grain Free formula and her other allergies are beginning to get under control after seeing an allergy specialist.  She will need shots every month and possible medications when her allergies flare up.
Unfortunately we don't know everything about Ginger's past.  At 2 years old, she is very fearful of strangers and can have a hard time in new situations appearing aggressive.  She shows her fear by barking, and because she is a big dog, it's a big bark.  Ginger doesn't hide and cower but instead lunges and barks to signal to people that she wants them to go away.  She should never be off leash or loose around strangers.
She needs an especially dog savvy owner who can continue working with her reactive behavior to strangers and understand that it is not a behavior that goes away overnight. Before Ginger is comfortable with you even simple body movements seem scary and threatening to her.  Ginger will need a companion committed to working with her in training classes and being conscientious of what she needs in new situations and when meeting new people.  Ginger usually needs multiple meetings with a new person before she feels comfortable around them and may need a dozen or so meetings before they can even approach her or allow her to be off leash.
Ginger has met with a veterinary behaviorist and will be going on anti anxiety medication in combination with intensive training to hopefully help her overcome some of her fear.  This regimen began January 2014.
Ginger has not spent a lot of time around children but from what is known about her a home with children 14+ would be best.
When using a halti collar on walks Ginger walks nicely at your side.  With avoidance of other people and always being aware of triggers, Ginger is doing a better job on walks.  She is not capable of walking in a park or sharing a sidewalk with other people (it is still too scary).  At this time a crowded public park or dog park will be too much for Ginger and she should not attend either.  She does best getting her exercise and socialization at her current doggy daycare (Dog Days in St. Paul), playtime in the yard, and walks in a quiet neighborhood.
Ginger isn't perfect, but once you meet her, and she has the chance to trust you, she really is the most loving and wonderful dog in the world.  She has come such a long way but continues to wait for an adopter who is willing to embrace her behavioral imperfections, continue to work with her anxieties and show her the love that she will endlessly give to her owner every day."
If you are interested in meeting Ginger, please fill out an application on www.wagsmn.org or use the contact form on their website.
Check out our favorite homemade dog treat recipes!