We have a lot to catch up on. After all, we missed last month's issue of My Pittied Life…my apologies. I was most likely sorting through boxes of who knows what, taking car loads of crap to the Goodwill, or dragging 83 boxes of stuff down two flights of stairs in the process of moving.
Many of you know, we are now living in Colorado but we have quite a few other things to chat about. Did I mention, the whole moving part sucks?
Lovin' Colorado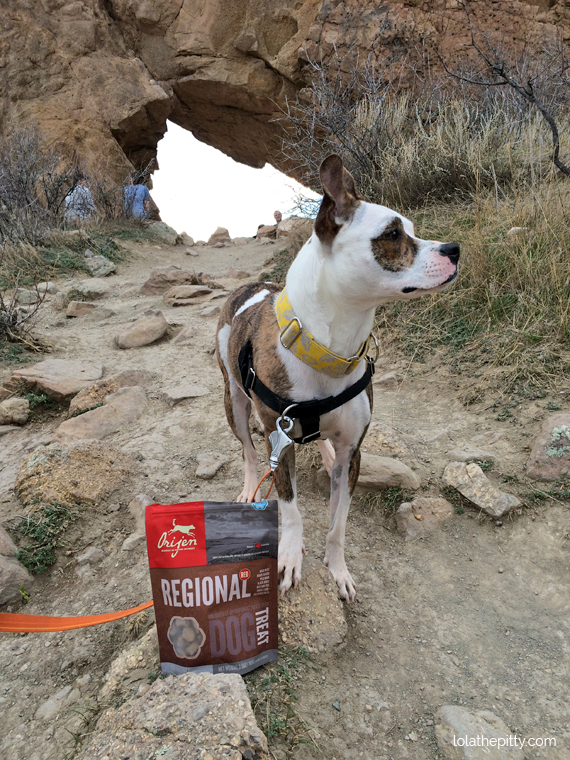 Colorado has been awesome and amazing to us since we arrived! But I really had no doubts. It's great to be back "home" and hey, with 70 degree days in February – no one can complain. This picture above was taken on Valentine's Day. Every now and then (okay, like every day) I tend to open my weather app and compare Minnesota temps to Colorado and then laugh a little and ask myself why it took so long to get back home. Lola and Rio are obviously loving it, too. We haven't had to bust out the dog jackets in quite some time. Although as I type, we're expecting a big snow storm – which I can totally handle. It's the extended stay of the negative temps that really got to me in Minne.
We're finally getting a fence!
This seems like a silly thing to get pumped about, but as of this summer we're finally going to have a YARD with a fence and we'll officially be homeowners! While the house is the highlight here, the whole fence + yard part is something I'm definitely looking forward to.
PetBox
It was a good month for the dogs as they received their very first PetBox (I was pleasantly surprised at the cute box, and how well-packaged it was) and, as you can tell, Lola was not shy about her excitement.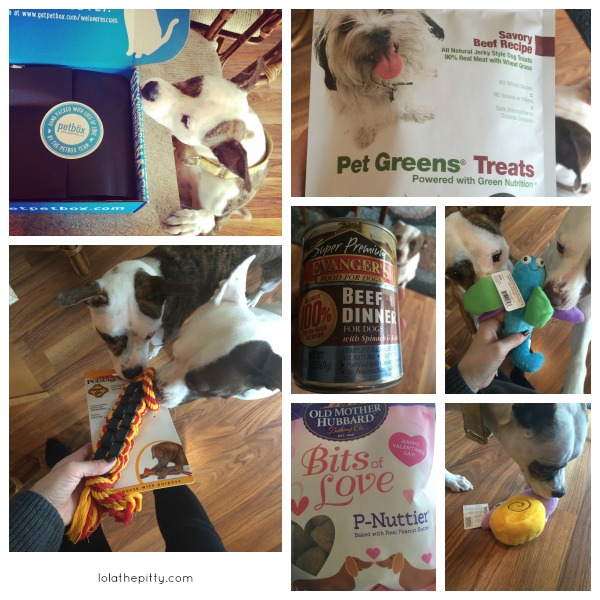 ZippyPaws Crinkle Dragonfly – This is a cute plush toy, but seems fairly cheap and I'm not really sure how it's still 'alive'…but it is. The wings are crinkly and there is a squeaker in the body of the toy so we have to watch the dogs with it to make sure they don't eat the squeaker.
Petstages Dental Twist – this was our favorite item in the box, but Rio has already shredded the bottom – we have to monitor him with any fabric as he'll most likely eat it. Lola is a little better, but he tends to steal it if she is playing with it. Siblings, haha.
Old Mother Hubbard P-Nuttier Treats – I'm sure Rio will enjoy these. Sorry, Lola – whole wheat flour and chicken are listed in the ingredients.
Evanger's Beef Dinner with Spinach and Kale – this looks like a good canned dog food that is well received on Dog Food Advisor – I'll be adding a spoonful or two on top of their food for a little extra treat. I was happy to see that it was not chicken and was grain free.
Fetch TopsyTurvies hippo snail dog toy – was this in the box? It last approximately three minutes. Sorry hippo-snail, rest in peace.
Pet Greens Treats – The dogs were crazy about these and I was happy to see a limited ingredient dog treat that contained no fillers or grains.
As you can see it was a busy month filled with adventures, settling into our new (temporary) home while our house is being built and fun packages in the mail (for the dogs anyways). Life is good. We'll catch up with ya next month!
Thanks for reading.
Stay up to date with our adventures on Instagram (@lolathepitty)!