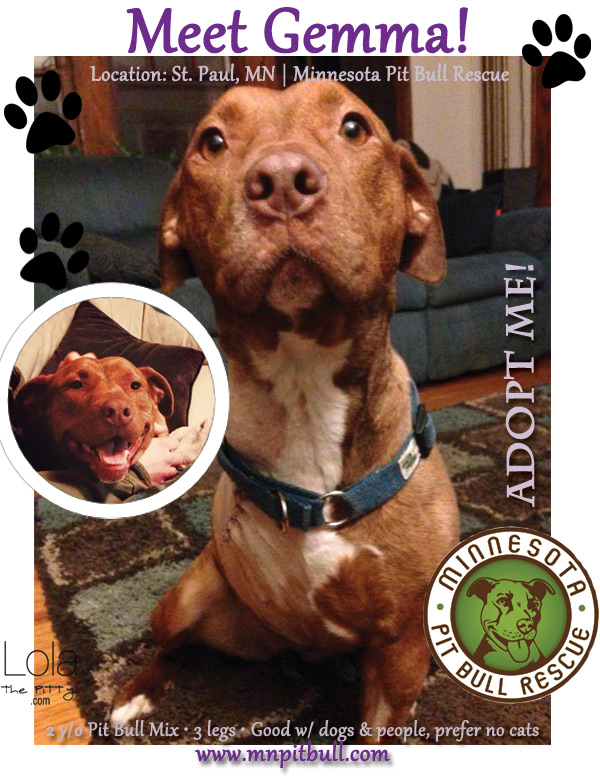 Gemma looks like such a sweetheart and I feel like we can really related to her! Remember when Rio needed leg surgery!? Well Gemma needed surgery on her elbow also – only the outcome wasn't as good. Her joint never healed properly and she ended up having to have her front leg amputated. But there's certainly nothing wrong with being a tripod (after all, if you follow Fifty, we all know that not only can a dog get along fabulous being a tripod, but with two legs)!
View Gemma's Profile on Petfinder
Here is a little more information about Gemma from Minnesota Pit Bull Rescue:
American Staffordshire Terrier & Pit Bull Terrier Mix • ~2 years old • Female • 55 lbs • Good w/ dogs with slow intros • Super Cuddler! "My name is Gemma!!! When I got rescued I had a broken elbow. The vet tried to fix it but it did not heal right. So I am now a 3 legged dog! Nicknames: My foster momma calls me a Gem! Profession: Professional Kickboxer
Age: 2 Activity Level: I am always very happy and bouncy and my tags wags so hard I'm afraid it might fall off!! What I like to do most in the world though is cuddle with foster Momma! Things I do in my free time: I love spending time with people. They make me so happy and my favorite thing to do is melt in my foster momma'€™s lap! I also enjoy chewing on bones and other toys! Things I know: I am fully house and kennel trained! I also know how to sit and mostly know my name. Kids: I have not been kid-tested yet, but I love people so much there is no doubt that I will also love kids. Dogs: I get along with other dogs, but I need a few days to get use to them. Cats: I would be best off in a house without cats. Size: I am full-grown and I probably weigh around 55 to 60 pounds."
Adoption fee: $300+tax All dogs are up to date on DHPP and Rabies, Spayed/Neutered, and Microchiped. (Gemma will be taken off Petfinder when no longer available)
Please visit www.mnpitbull.com for adoption details and the adoption application.
Not to miss: