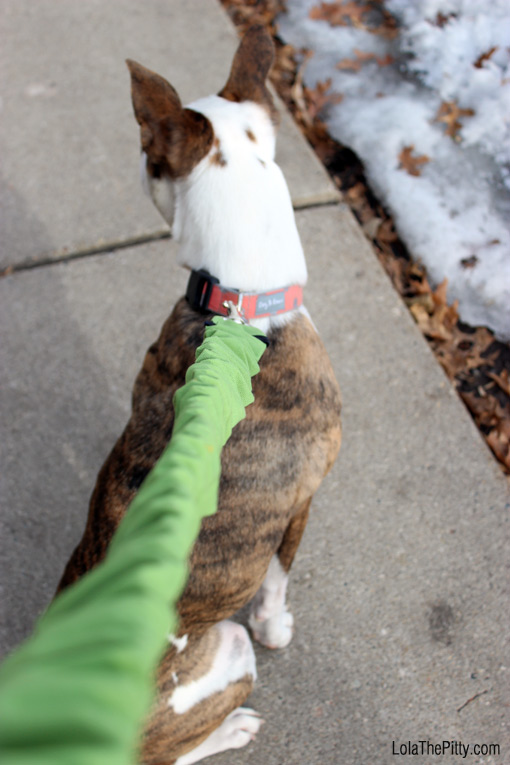 This leash is literally every extendable leash owners solution. (I'll admit, we used one but ONLY because we live in a townhome and have to go outside with our dogs every time they have to do their business.)
However, the Scrunchie Leashes are awesome because they stretch, giving your dog freedom to roam a bit (but without having to deal with a big plastic handle and buttons on those Flexi leads), plus they don't drag or get caught under a front leg.
What I loved about the leash:
It never drags or tangles between the dog's feet
Stretches out an additional two feet (great for taking our dogs outside for potty breaks – freedom to roam without going too far!)
Large hardware which is easy to clip onto the dog's collar (especially helpful when you have big bulky gloves on in the winter!)
Machine washable
Comfy to hold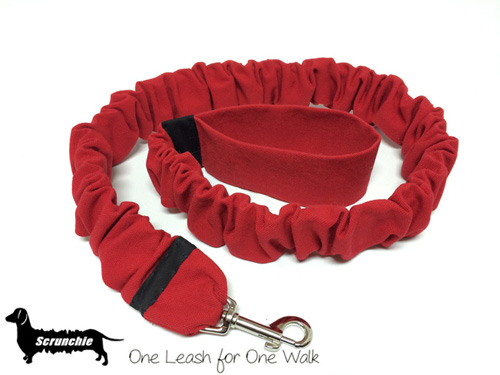 As much as I like my dog collars (as you may already know from my Dog Collar Obsession board on Pinterest), I also love leashes and have multiple leashes for different situations.
'A' and I stick to our leather leashes for walks (simply because we are still working on heeling and use a shorter leash). The only issue I could see with this leash is that is does extend and you would have to gather it up in your hand to get dogs that try to pull to stay by your side.
I've found for us this leash is perfect for the casual take-the-dog-out potty break – they're comfy to hang onto & have large hardware, for easy clipping on!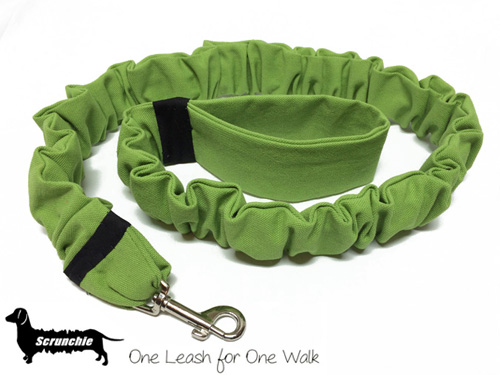 But one of the most important things about Scrunchie Leash…their ethics:
"We believe that business should be done with people who care about those around them.
We strive to show that we care in the following ways:
We pay double the cost of material in order to use Organic Cotton because we care about treating the environment with respect.
We manufacture in the USA because we believe business should be local and ethical.
We donate 5% of profits to local animal shelters because we care about helping the animals find a loving home.
We volunteer to give a shelter dog a walk every time a leash is sold, because we believe your time is the most valuable gift you can give."
Check 'em out & let me know what you think!
P.s. use the code 'Lola' for a 10% discount on ScrunchieLeash.com 
+ When you use that code, an additional 10% of that order will be donated to a local shelter!
 You'll also love:
Homemade Mint Buckwheat Dog Biscuits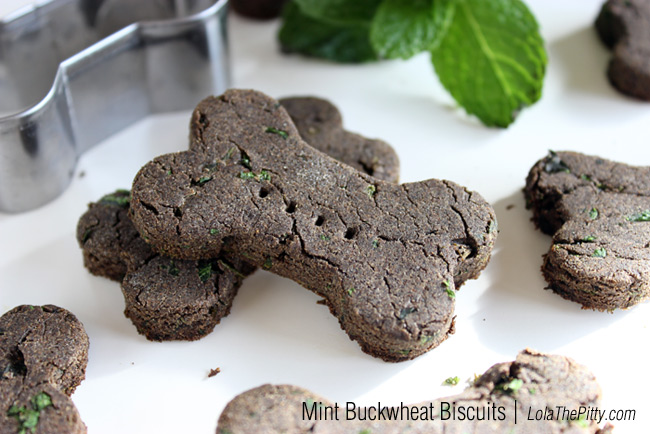 *I received two leashes from Scrunchie Leash at no charge for my honest review of the product. All opinions are my own.*