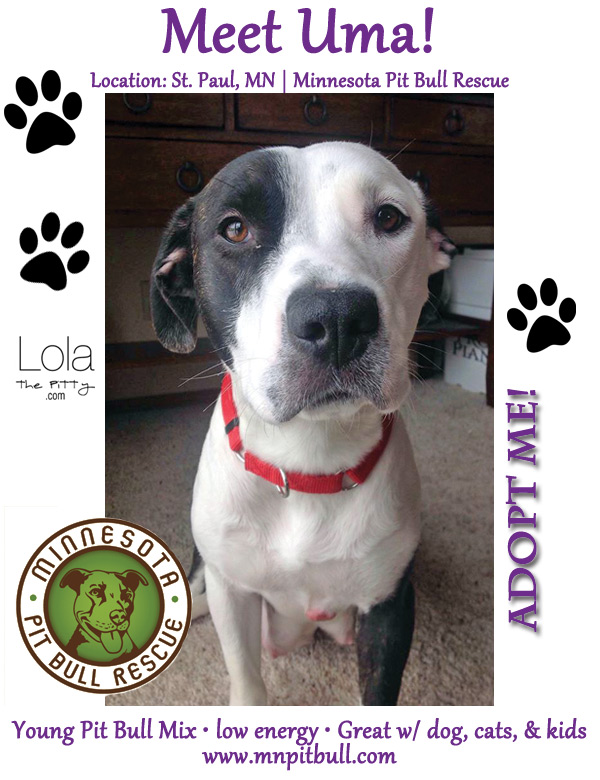 Not that every adoptable dog I post isn't perfect for someone….but Uma is truly an awesome dog. She was brought into rescue last December with her 10, yes 10(!), two-day old pups. Well the puppies are gone and Uma is still waiting. She is great with everyone – kids, dogs, and even cats! She is a young female that is pretty low key!
The best thing we can do for Uma is to SHARE her story and help her perfect family find her! Please share using the buttons above this post in hopes that this loving girl can find her fur-ever home. She truly deserves nothing but the best.
Below is more information on Uma and a little word from her foster:
Young Female| Pit Bull Mix | 60 pounds | Dog, Cat, & Kid Friendly | House & Crate Trained | Low Energy (but she still loves to exercise and play) | Adoption Fee: $300
From the Foster:
Uma came into rescue from the Bemidji area of Minnesota. The name Uma means "mother" which is fitting because Uma
View Uma's profile on Petfinder.com!
came to Minnesota Pit Bull Rescue last December with 10, two day-old puppies. She was a loving and attentive mother to her pups and needless to say, very busy.
Now that her puppies are gone, Uma'€™s personality has blossomed! She is a sweet, loyal dog who lives to please and loves being part of a family. Uma is a girl who likes the simple things in life: belly rubs, snuggling, chewing on bones, walks, and chasing after pine cones in the yard. Uma is quite tenderhearted.
She cannot tolerate yelling or angry words and must go to a household that is committed to positive discipline. Uma is an extra special dog (the kind that doesn't'€™t come around very often) and she deserves an extra special home! Uma would be a wonderful companion for gentle, respectful children.
The dog will be taken off Petfinder when no longer available. Please visit Minnesota Pit Bull Rescue for adoption details and the adoption application.
View Uma's Profile on Petfinder.com or visit mnpitbull.com
Must read: "My Dog Bit My Child" – Dog Safety With Children