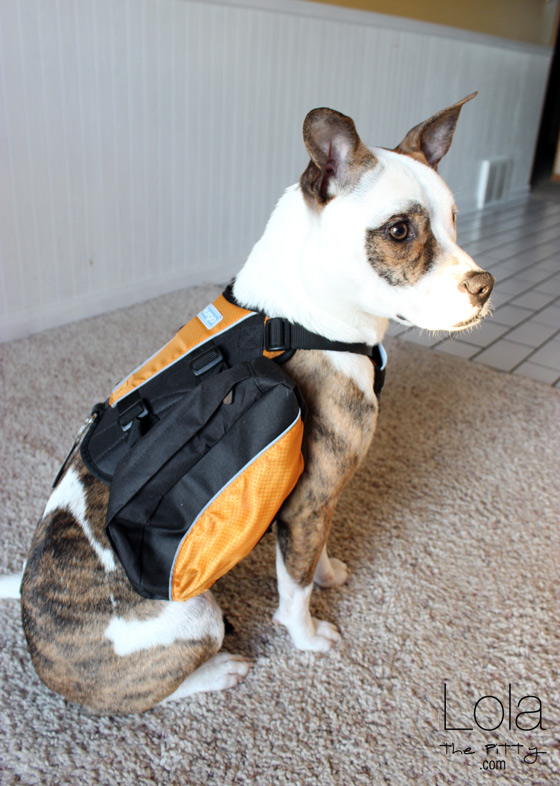 Lola is such a cooperative little model for me…I have to give her props. Doesn't she look cute in her new dog pack?
I'll admit, we already had a dog backpack that we bought last year and ended up wearing it TWICE. Ugh, don't you hate when you do that? Our excuse was it didn't fit right because it didn't. It sat there and flopped around on her back which was not at all what we intended.
Lola can be hard to fit because for one, she's a little pocket pitty and usually in-between sizes and for two, her girth(chest) measures about two to three times bigger than her waist. I know, I'm jealous too. But this makes it hard, especially when fitting a backpack.
The nice thing about this Kurgo dog pack is that it is fully adjustable. Seriously, I think it took me about 10 minutes to adjust all the straps (each strap adjusts on the top and the bottom) where it was snug so it won't bounce around, but not too tight.
Copy this code for 20% off:  KURGO20WIN  then click on the photo below:
The pack fits like a harness, with a chest plate and the straps are non-restricting. The top has an ergonomic padded/ventilated design and fit very comfortably.
The leash hook is on the back which also happens to double as a bottle opener. Nifty…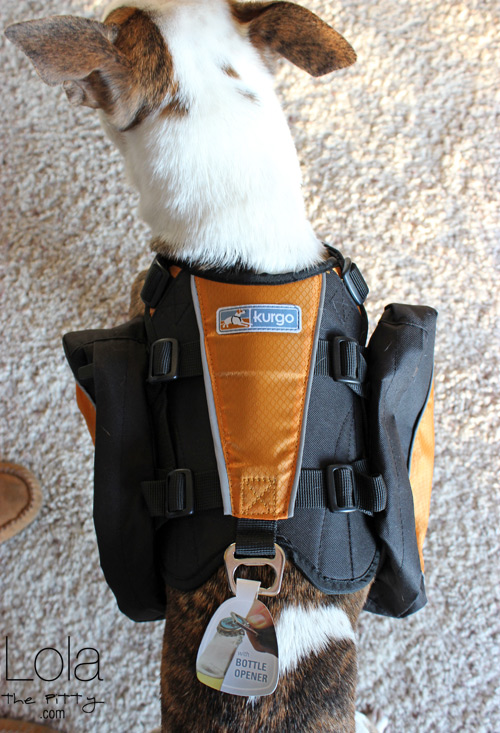 The pouches/saddle bags are a great size (and adjustable). They are big but not TOO big where they are getting in the way. As you can see, we have them adjusted so they sit right on the side of Lola's body.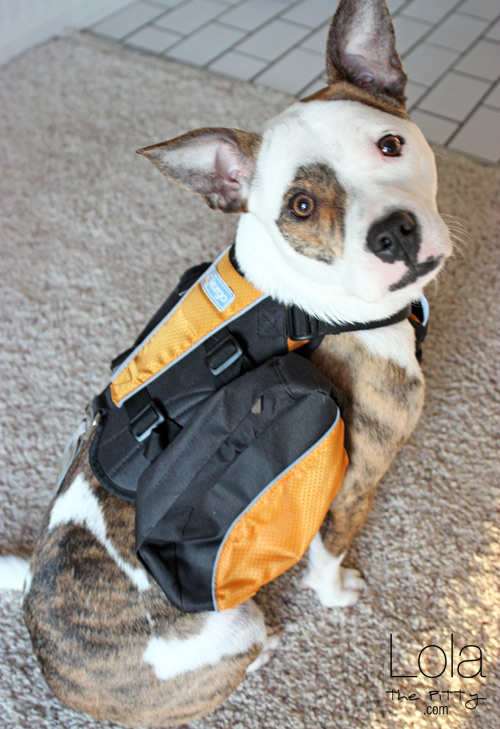 I could probably fit their dog food, water and any emergency kit supplies in it without weighing her down too much. I was chatting with Beverly over at Hiking with Fido and she mentioned that a good rule of thumb she uses is don't allow them to carry over 15% of their body weight. This of course depends on how far you are going, medical conditions that your dog may have and their activity level. If you want your dog to carry more, condition them to do so first.
update – after using this dog pack for a few months, I noticed that it can be difficult to 'balance' out. Either that or Lola walks unevenly. I also noticed that on long hikes it seems to rub under her arms and irritate her skin (after all, she has virtually no fur there) – I might try adding a fleece cover to the straps and prevent some of that rubbing.
Do you have a dog pack?! What type do you use?