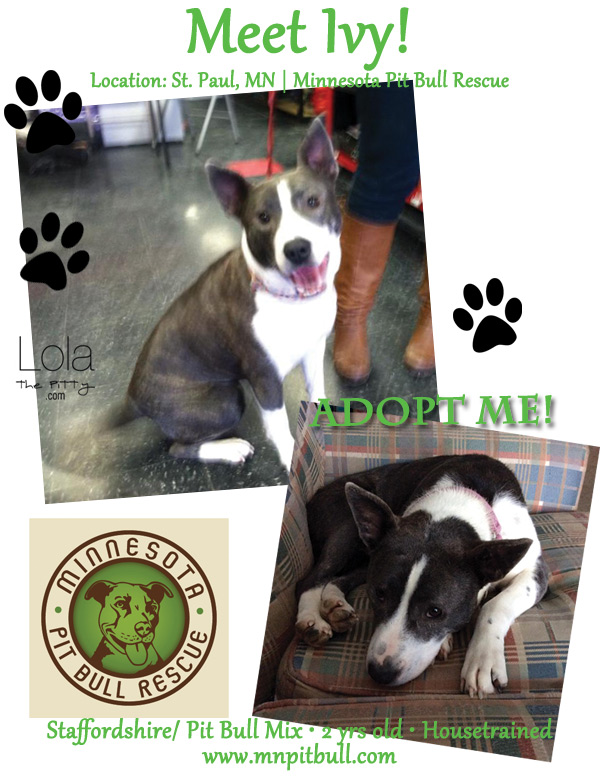 Click here for more information on meeting & adopting Ivy!
Look at this cute little pocket pitty! She reminds me so much of Lola…it must be the eye patch and size. Or wait, I think it's the ears. Yep – definitely the ears. She is a petite little thing weighing in around 40 pounds!
Oh yeah and she's good with other dogs (may need slow intros with new dogs), loves to play with her foster sister and had no reaction when she met the cat that lives downstairs in their house. Now the only thing I'm curious about – why oh why is this girl still available? Let's give her a helping hand and share her story wherever we can!
Here's a little more info about Ivy from her rescue, Minnesota Pit Bull:
American Staffordshire & Pit Bull Terrier Mix • 2 years old • 40 lbs • Female • House Trained • Crate Trained
Meet Ivy!
Nicknames: Sweet Girl, Ives
Profession: Snugglebug!
Age: approximately 2 years old
"Activity level: I have a pretty moderate activity level. I love to play my current foster sister, and can run around in the yard with her playing for a good long while. However, once I'm done playing I just love to curl up next to you or lay on the floor with a bone.
How I spend my time: When the humans get home, I get really excited and love to be hugged and snuggled right away. After greeting the humans, I like to play with my foster sister either by chasing each other in the yard or playing with toys with her. If I'm not playing with her, I like to snuggle up next to the humans for a good neck rub or just settle down by myself with a toy.
Things I know: I know what it means to go outside (and get very excited about it), and I am fully potty-trained. I know how to sit on command, too. I don'€™t mind being in my kennel and know to go in my kennel when foster mom opens the door and says so.
Things I am learning: I am still learning what 'come' means, but I'm getting better!
Kids: I don'€™t have much experience with kids.
Dogs: I play with my current foster sister almost constantly. We like to chase each other around the yard and play with toys together. Sometimes, it takes me a while to warm up to other dogs, but after time, I am good to go!
Cats: I met the cat downstairs a few weeks ago. All we did was look at each other for a few minutes, and then went our separate ways. I didn't have all that much interest in him, and he didn't have that much in me!
Size: I'm a pretty compact girl &€" I haven't been weighed yet, but I'€™m probably about 40-45 pounds, and I'm done growing!"
Adoption fee: $300+tax
All MN Pit Bull Rescue dogs are up to date on DHPP and Rabies, Spayed/Neutered, and Microchiped.
(please note: Ivy will be taken off Petfinder when no longer available.)
Please visit www.mnpitbull.com for adoption details and adoption application.
*Click HERE to view Ivy's profile on PetFinder.com*
Other posts you'd enjoy: