Ok, so we've seen those dog treat reward continuums, right?
Where the treats range from low to high value (to your dog's liking) and you decide what treats are appropriate for your dog due to the different distraction level. Well these treats are definitely on the far end of the "highest value" side.
It was a battle of who can do the coolest trick to get the treat as soon as they each got a taste.
Rio is hilarious, as soon as the treats come out, without any word from me, he begins his performance.
"I sat. Okay, that didn't work – how about down?! Roll over?! Bow? Shake! It's gotta be shake!  Momma, where are the treats!?!"
Meanwhile, I'm just cracking up at my oh-so willing little guy and Lola patiently waiting in her posture-perfect sit. They are complete and total opposites but I love them both more than I could ever imagine.
Okay, honestly though, I was about to dig into these Spot Farms dog treats myself. Here are the ingredients in the Chicken Strip with Glucosamine & Chondroitin treats:
Chicken, Brown Rice Syrup, Salt, Natural Flavor, Turmeric, Vinegar and Decaffeinated Green Tea Extract.
And the Hickory Smoked Turkey Bacon?
 Turkey, Brown Rice Flour, Honey, Salt, Vinegar, Celery, Natural Flavoring, Black Carrot Powder, Decaffeinated Green Tea Extract, Rosemary Extract and Beet Color.
What I loved:
Lola & Rio went bonkers over them, more than usual

Great ingredients (especially with Lola and her never ending developing allergies)
They're obviously made in the USA otherwise they wouldn't even be on this blog
The addition of Glucosamine (500mg/kg in the chicken treats), Omega-3's and other healthy goodness for your dog
Antibiotic-free meat
Simple, all natural recipes
100% human-grade ingredients
Resealable bag
They are on the expensive side though, at $15+ a bag. But that's really becoming pretty standard now with quality dog treats and these are a 12.5oz bag.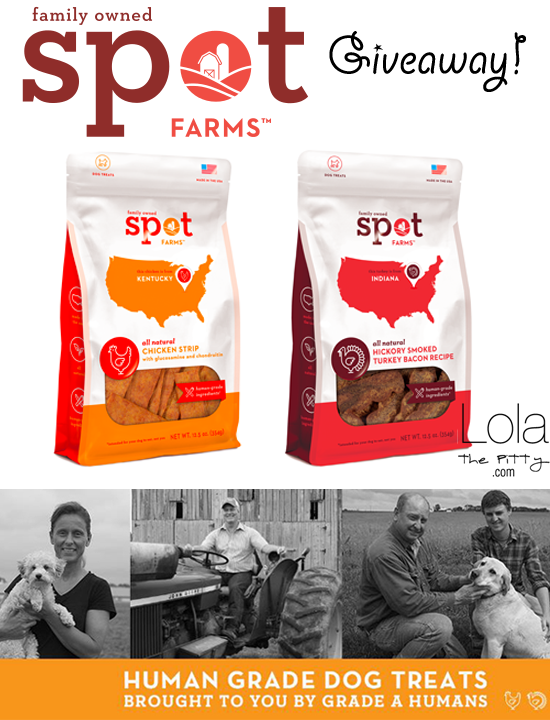 Okay, so let's get to the good stuff: treats for your pup! I'm giving away TWO large (12.5 oz) bags of Spot Farms Treats and ONE training treat pouch!
The two bags of treats are (1) Chicken Strip with Glucosamine & Chondroitin (2) Hickory Smoked Turkey Bacon
My favorite part about these treats though has to be the notice on the bag: *Made for your pet to eat, not you!. #Dangit
Check 'em out, their treats are now available at Petco, Unleashed by Petco and on wag.com!

The products used in this post & giveaway were donated by Spot Farms in exchange for my honest review.