(Small batch) Peanut Butter Banana + Flax Seed Dog Biscuits
Simple, small batch Peanut Butter Banana + Flax Seed Dog Biscuits! This recipe is a breeze to pull together and is a nutritious snack for your dog!
Author:
Sarah @ LolaThePitty.com
Ingredients
1 cup whole wheat flour (can be substituted with rice or coconut flour for a grain free option)
½ banana, mashed
⅓ cup peanut butter
2 Tbsp ground flax seed
¼ cup almond milk (unsweetened)
Instructions
Preheat oven to 350 degrees F.
Combine all ingredients in a medium mixing bowl.
Mix ingredients together thoroughly using a spatula until well combined.
Roll out mixture on a floured surface to approximately ¼". Cut into desired shapes. Repeat with remaining dough.
Place on a nonstick baking sheet and bake for 20 minutes.
Notes
*This yielded 24, 2-inch dog treats for me.
*Store in a airtight container.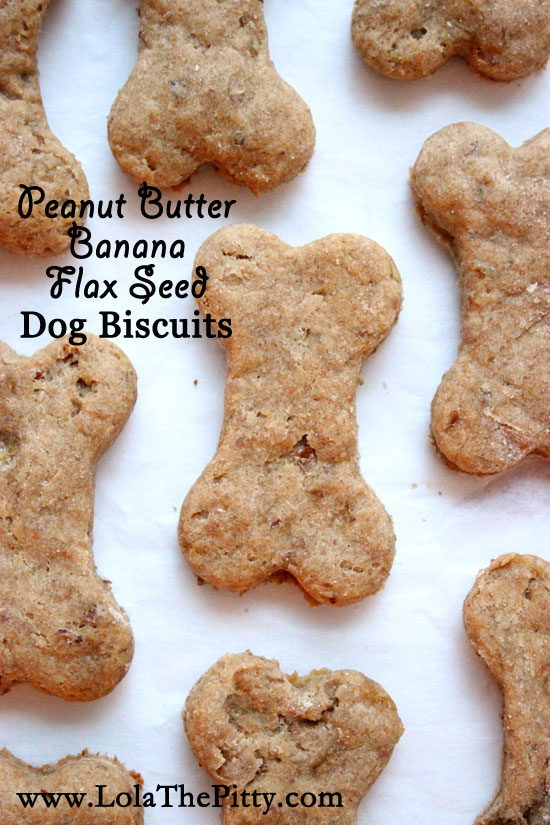 You know the best thing about these Peanut Butter Banana Dog Biscuits is?
Besides that they have flax seed in them obviously and that they yield ~24 treats?!
You only need one bowl, a spatula and 30 minutes to pull these off!
I love making homemade treats for Lola & Rio – don't get me wrong. But if the recipe yields 100 little dog treats, that translates to a lot of rolling dough, cutting cute little shapes out, and lots of dirty baking sheets. Then before you know it I'm ready to throw the entire piece of dough on the baking sheet and break it up for the dogs after it's been baked. Today was one of those days, so this recipe was perfect. I played with the measurements and really enjoy this simple dog treat recipe!
I included flax seed in this because it is a good source of omega-3 fatty acids, which are  good for your pup's skin and coat. You can omit this of course if you don't have any.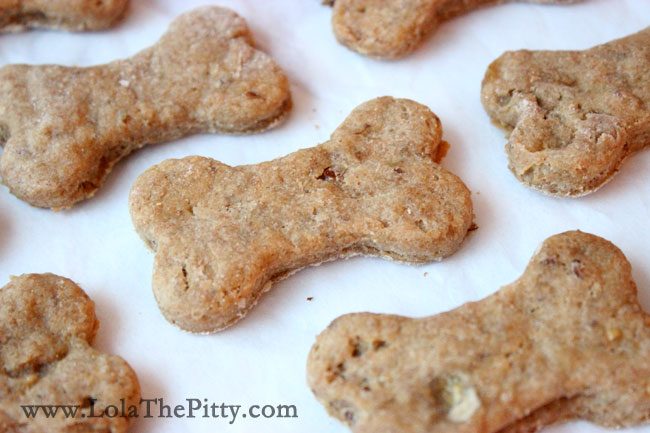 I baked these treats for 20 minutes – this resulted in a somewhat chewy yet still slightly crunchy dog biscuit. (My pumpkin dog biscuit recipe is baked for longer and produced a crunchy dog biscuit, similar to a Milk Bone or something similar.)
My taste testers would tell you they LOVED this recipe. But then again it does have peanut butter AND banana AND it came from a human hand. That pretty much guarantees it's being eaten.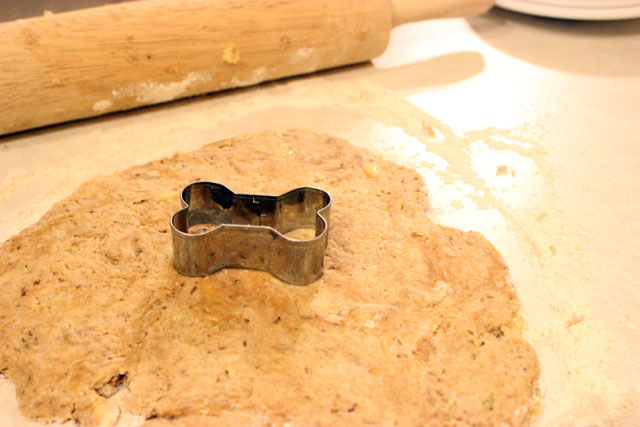 I hope your pups (and you!) enjoy this small batch peanut butter banana + flax seed dog biscuit recipe!
you might also enjoy this recipe:
Homemade DogNog – Doggy Egg Nog Recipe!