I love these treats! They are simple and super cute.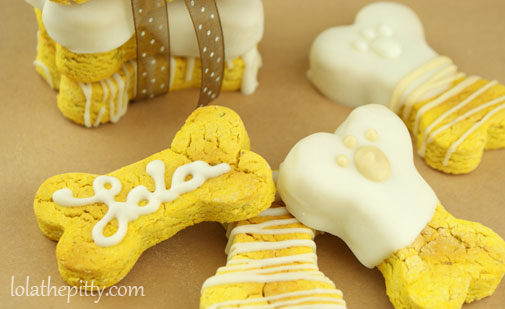 *I used rice flour and masa (corn flour), which can be found in the Asian & Hispanic aisles of most grocery stores. You can also use whole wheat flour.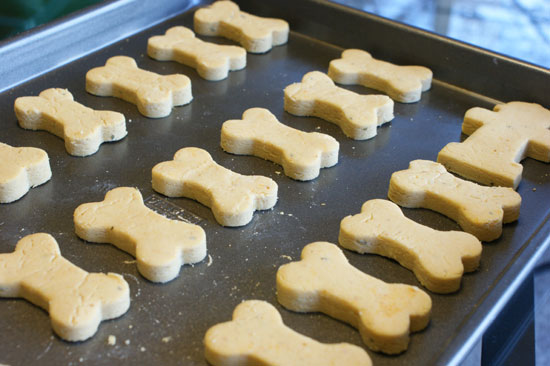 *If desired, once treats are completely cooled, you can melt some Vanilla Candiquik Coating and dip or drizzle the dog biscuits! Just use portion control if you choose to do this. I dipped about 1/3 of the treats, to give as gifts and a very special treat to Lola, but then left most of them plain.
Other fun dog treat recipes: Homemade Peanut Butter Banana Dog Treats
Have fun with these! Drizzle, pipe your pup's name on them, add little designs, etc.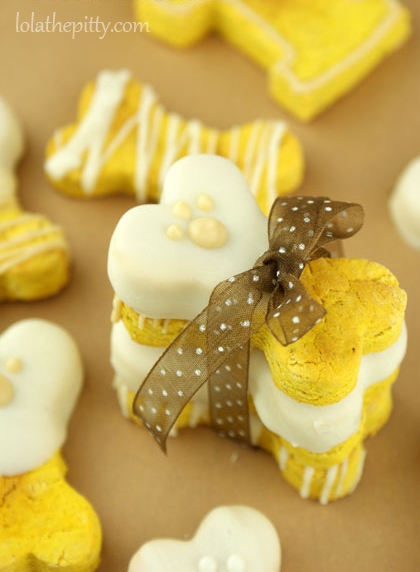 Easy as that!

Lola's Pumpkin Dog Biscuits
Author:
adapted from Simmer Till Done
Ingredients
2 eggs
½ cup pumpkin puree
2 tablespoons dry milk
⅛ teaspoon sea salt
½ teaspoon dried parsley
2½ cups rice flour, corn flour, or whole wheat flour
•Optional: 1 package Vanilla CandiQuik Coating
Instructions
Preheat oven to 350 degrees F.
Whisk together eggs and pumpkin in a medium bowl. Stir in dry milk, sea salt, and parsley.
Gradually add flour (corn or rice) to pumpkin mixture and stir until a stiff, dry mixture is formed.
Roll out dough onto a smooth surface, ¼ – ½" thick. Cut into shapes with cookie cutter.
Bake for 40 minutes, turning biscuits over halfway through. Let cool.
Optional: once completely cooled, melt Vanilla CandiQuik in tray, according to package directions. Dip dog biscuits in coating and place on wax or parchment paper to dry.
Notes
*If biscuits are sticky and hard to roll, add 1-3 tablespoons of rice or corn flour. *Please note: this is not professional advice, these biscuits are intended as a dog treat. If you have any concerns, you should always consult with a licensed veterinary professional.