I'm so excited about these collars. When I began looking on the dogIDs website, there were about 50 different things I could have ordered! I love the sleek look and design of their collars and the fact that the tags are built right into many of the collars!

Isn't this collar adorable!? Lola was wondering why I was creepin' on her and taking photos from behind; hence the laid back ears. She can never hide her emotions, which I totally love about her. She is 110% personality.
Anyways, here's what I love about the Soft Grip collar from dogIDs:
*Tough, yet smooth material with stainless steel hardware – I love the way it feels and it won't corrode.
*There are TONS of colors to choose from. I couldn't resist this gorgeous purple color for Ms. Lola.
*Waterproof and odor resistant – okay, let's be serious, you will NOT catch Lola jumping in the lake or swimming but she does manage to get dirty and this collar is so easy to clean – just wipe it off.
*You can change the text on the nameplate at anytime! I was a little worried about printing my phone number on the tag because what if I change it down the road!? But for five bucks, you send them the collar and they update the name tag. Sold.
*No tags jingling or being lost.
We used to have a super cute dog tag with 'Lola' printed on it with our phone numbers and yadda yadda, then we accidently hooked the leash to it versus the D-ring, Lola saw a squirrel and it went flying…into 6 feet of snow. Yeah, we never saw that tag again :(. Now I always keep their rabies tags in the car for this same reason, they'll lose them.

Yay! Rio got his first leather collar. Fancy schmancy, huh? In my opinion (as certified crazy dog lady), I believe every dog needs a leather collar. You know, for those special occasions like bringing them to the pet store to pick up poo bags. Rio has already received so many compliments on his collar and questions of, "Where did you get that!?".
I can't believe we had to order a 16″ collar for my baby! He's getting to be all grown up. Being that Rio is Rio and he has this super loving personality, I had to personalize his dogIDs nameplate to something bubbly so I chose, "Hello, I'm Rio". Whenever we are at the park, he greets every single person and does the 'lean-against-your-leg' for pats and rubs. This way, he gets to introduce himself!
This leather collar with last him forever and they get softer & softer with time. And this one is so unique because of the placement of the name plate. Rio is wearing the 1″ wide collar but they also have one that is slightly thinner. And again, you can change the name plate at anytime, so don't stress too much about what to put on it.
Now, onto the giveaway!
dogIDs.com was awesome enough to offer a matching Soft Grip collar AND leash (valued at $63), just like the one Lola is wearing above – but of course in your choice of color.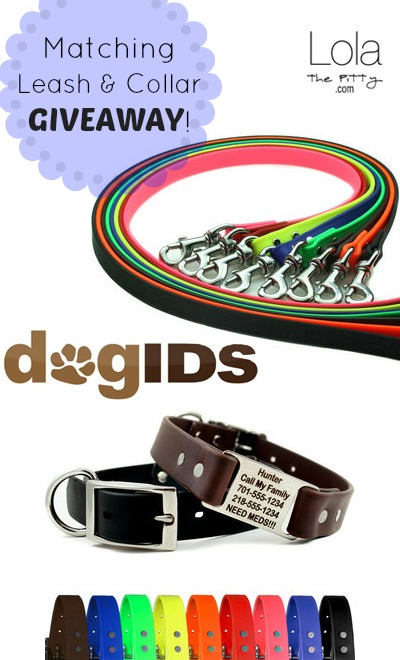 You may enter the giveaway using the rafflecopter widget below. Let me know if you have any questions. Good luck!
(Giveaway is open to US residents only. Winner will be notified via email and will have 24 hours to respond to claim the prize, otherwise an alternative winner will be chosen. Note: All opinions are honest and my own. DogIDs sent me the collars at no cost for my honest review.)