10 Must-Watch Dog Videos!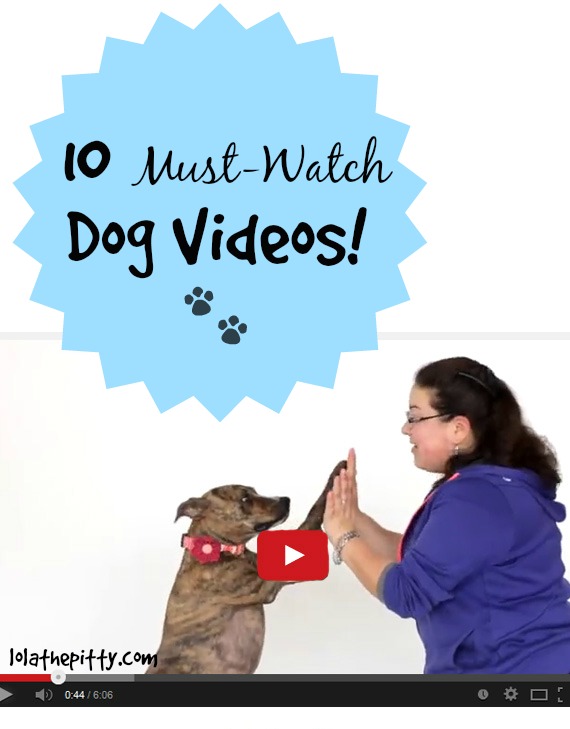 I'm a sucker for a good dog video. Totally different that cat videos, right?
I've listed 10 of my favorite dog videos that range from hilarious to total tear jerkers.
So if you are ever a little bored and have nothing better to do besides fold laundry or clip your dog's nails, why not watch a few videos while you're at it? I promise they're all totally worth it.
In no particular order…
1. Guy singing to his dog. I mean, how cute is this?

2. This next one made my eyes water, in a happy way. Totally worth 4 minutes of your time. Especially the last 15 seconds

3. If you haven't seen this bulldog's 'best day of his life' video, get on it.

4. Freakin' hilarious. 'Dog Wants a Kitty'.

5. Not much in life is cuter than a pitty pup…

6. Wallace's 11th Birthday. 'Nuff said.

Did someone say, homemade dog treats?
7. This dog is well, pretty amazing. We've got some work to do, boys and girls.

8. I love this story…it truly melts my heart.

9. This video gives me the goosebumps the moment the music starts playing. I couldn't get past 45 seconds when I tried to rewatch it, so you might want to grab a box of tissues right about now.
Wallace – you are loved, you are missed and you are awesome.

10. So much fun! If you watch at 0:43, one of my friends and her dog, Good Karma Rue make an appearance in the video!

What are YOUR favorite dog videos? Please share the links, I'd love to take a peak!
Other fun stuff: