Oh, hi!
I feel as if we're overdue to share a new dog treat recipe with you! Things have been a little nuts as we packed up all of our stuff and moved out of Minnesota the last week in January. However, life *should* be getting back to normal now that we're (somewhat) settled in Colorado. Meaning we'll be able to bust out a more regular treat recipe schedule for ya…
I'm excited to share this new smoothie recipe that Lola and Rio (of course) LOVED. It also happens to be pinkish-reddish in color just in time for Valentine's Day.
Not too long ago I found out about The Honest Kitchen's powdered goat milk called Bloom – have you used it? I love that it comes in a powder that you just add water to (less waste for us) and the dogs go nuts for it when I pour a little over their food. (No, THK did not pay me to say any of that.) Dangit.
Anyways, moving onward – this recipe is far from complicated and uses only three ingredients, I think it was completed from start to finish in 5 minutes. And that included washing my blender.

Raspberry Goat Milk Dog Smoothies
Raspberry Goat Milk Smoothies for your dog! A healthy, simple and fun recipe to make that your pup will love.
Author:
Sarah Lukemire of lolathepitty.com
Ingredients
1 cup goat milk (I used The Honest Kitchen's Bloom powdered goat milk)
½ cup frozen raspberries
1 tbsp peanut butter (without added sugar or salt)
Instructions
Combine all ingredients in a blender.
Blend until smooth.
Serve!
Notes
This equaled 4-5 servings for our dogs. Store unused smoothie in an airtight container in the fridge (up to 3 days) or freezer.
Enjoy pups!
Are you planning on giving your dog a special Valentine's Day treat?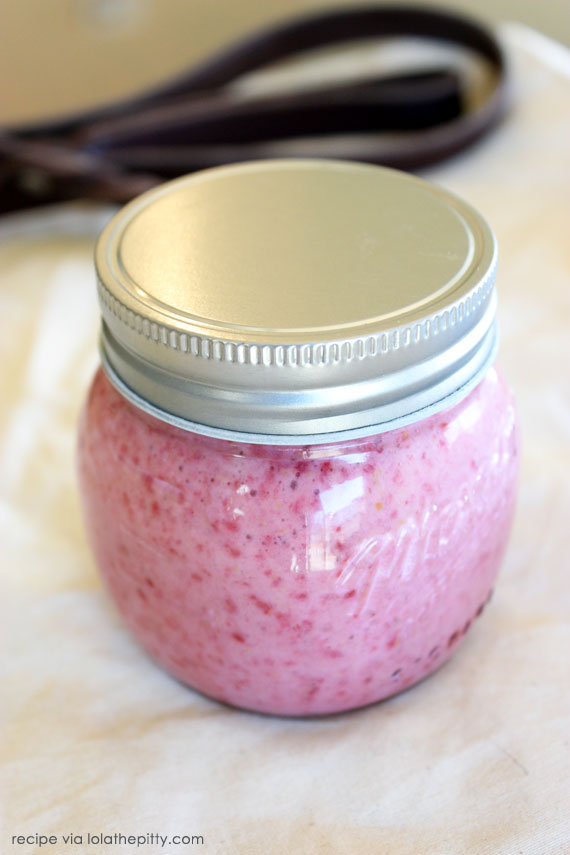 Check out these other great recipes:
*Frozen Peanut Butter Banana Pupcakes