'Tis the season for pumpkin-everything and we just had to jump on board, again.
I've been telling myself I need to get my hiney back in gear and baking for the dogs on a regular basis, but to be honest I've been kind of lazy/busy as all get-out.
So I decided to make a batch of pumpkin dog treats.
The best part?
Four ingredients.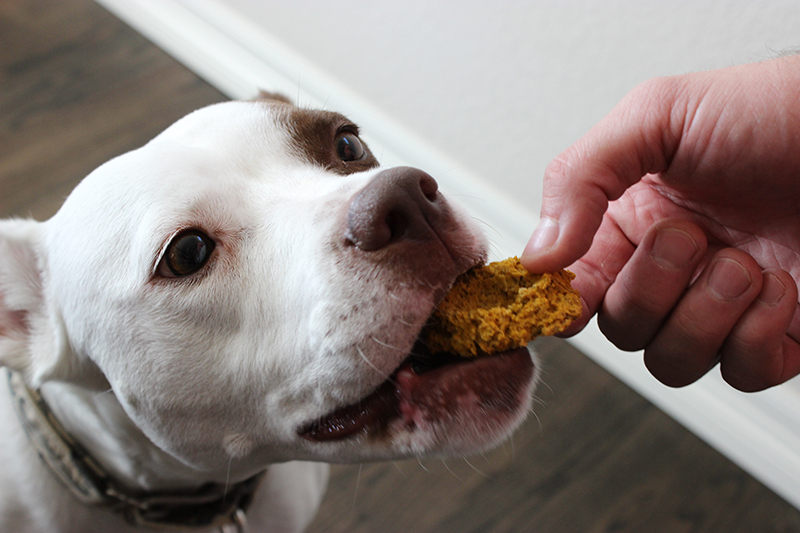 No rolling out dough – just mixing, scooping, and baking. These treats are made for those days where you don't feel like cooking but want to whip something special up for your pup.
Doesn't get much simpler than this, friends!

Pumpkin Dog Biscuits
Four-ingredient (five if you include the flax seed) pumpkin dog biscuits. Simple, healthy, crunchy, and a treat your dogs will love!
Author:
Sarah at Lolathepitty.com
Ingredients
2½ cups oat flour
1 Tbsp flax seed (optional)
½ cup pumpkin puree
2 eggs
¼ cup almond milk (unsweetened)
Instructions
Preheat oven to 350 degrees F.
Combine oat flour, flax seed, pumpkin, eggs, and almond milk in a medium-sized bowl.
Mix until well combined.
(Note: add a splash more of almond milk if mixture seems too dry - should be able to scoop into balls while still holding shape).
Scoop into 1" balls onto prepared baking sheet.
Bake at 350 F for 35-40 minutes, until golden brown on top.
*Store in an airtight container for up to one week.
Other treats you'll love: