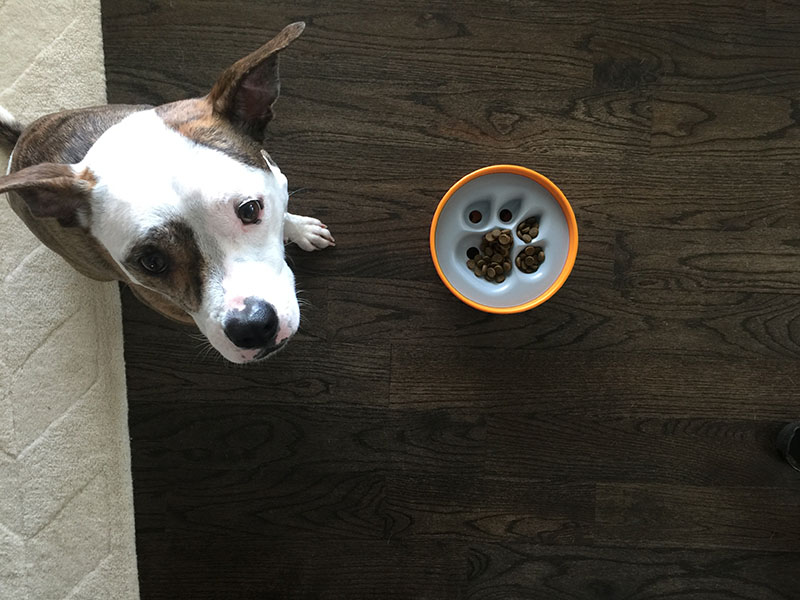 What could be more fun than testing something out which involves eating? If you ask Lola…nothing. Eating is by far one of the top three things she lives for. Along with tennis balls, disc, and sleeping. Good combo if you ask me.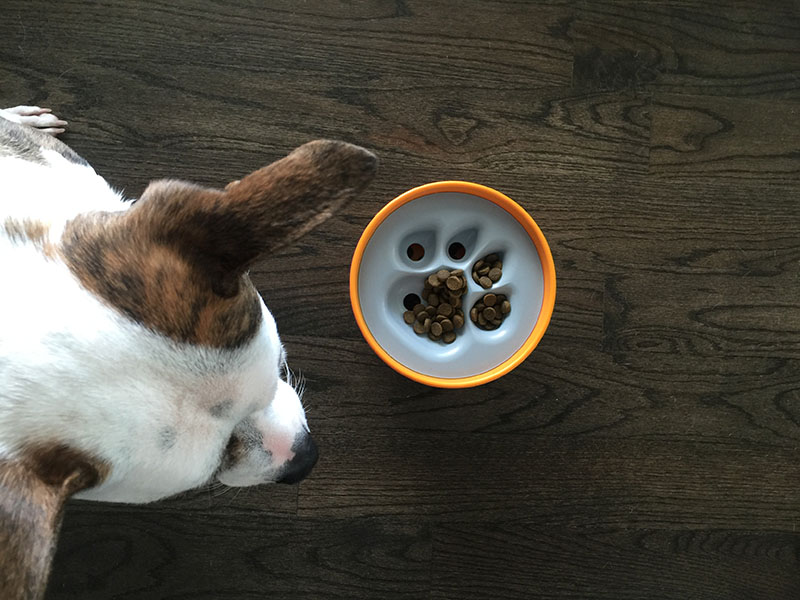 Well, recently we got the opportunity to try out PAW5's new puzzle feeder, the Rock 'N Bowl.
Isn't the orange color super cute?
I mean…if dog bowls can be cute, this is it.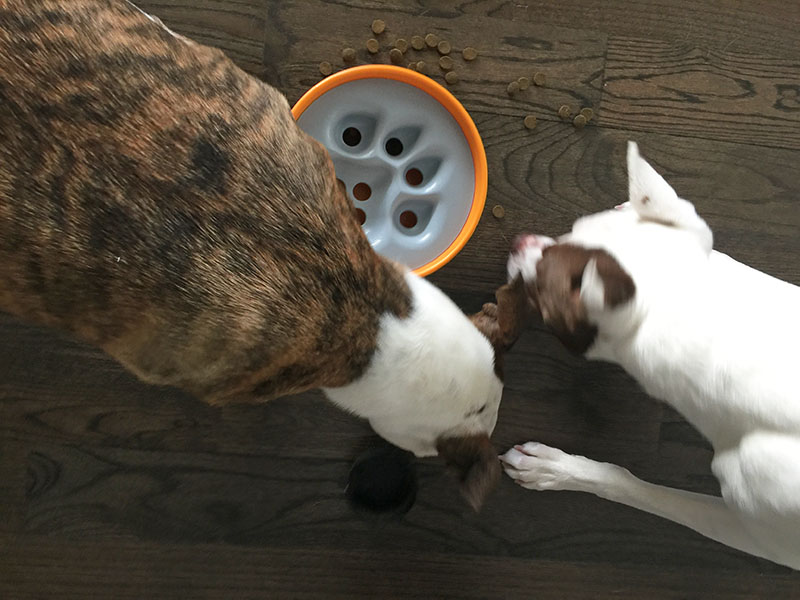 Lola: "What the heck, the food is coming out the bottom now"
Rio: "Lola…watch out, I'm all over this!"
Lola: "But you already finished YOUR food"
(I had to politely remove Rio from our little photo shoot, but no worries – he got to test out the bowl, too)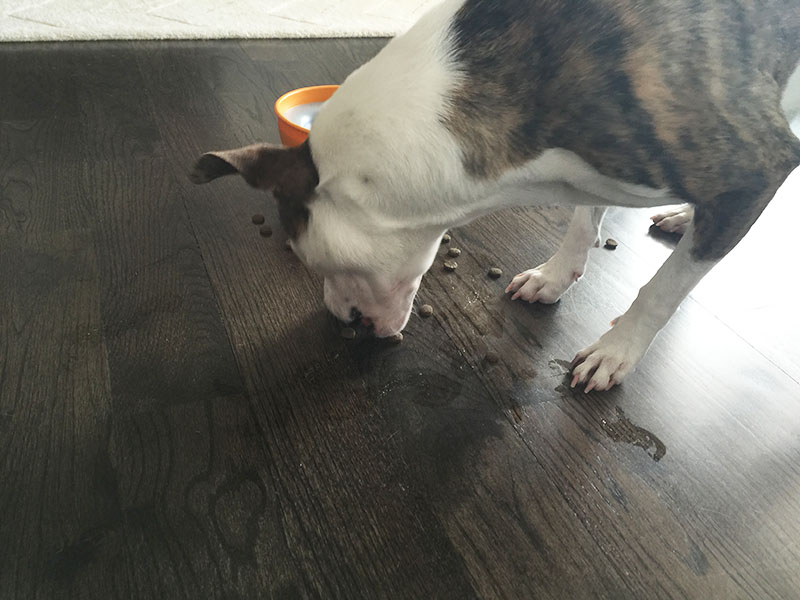 Om, nom, nom…
Meanwhile, I'm looking at all the slobber on my floor. Just another day in the Lola household.
"Dogs are incredibly intelligent and social creatures that need ways to think, work and be active. By adding environmental enrichment to mealtime, a routine part of every day, we believe we've made enriching dogs' lives easier for busy pet parents," says PAW5 Co-Founder, Dennis O'Donnell. "We designed the Rock 'N Bowl to create enriching opportunities for dogs to problem solve and grow, but in a way that fits into families' busy schedules. "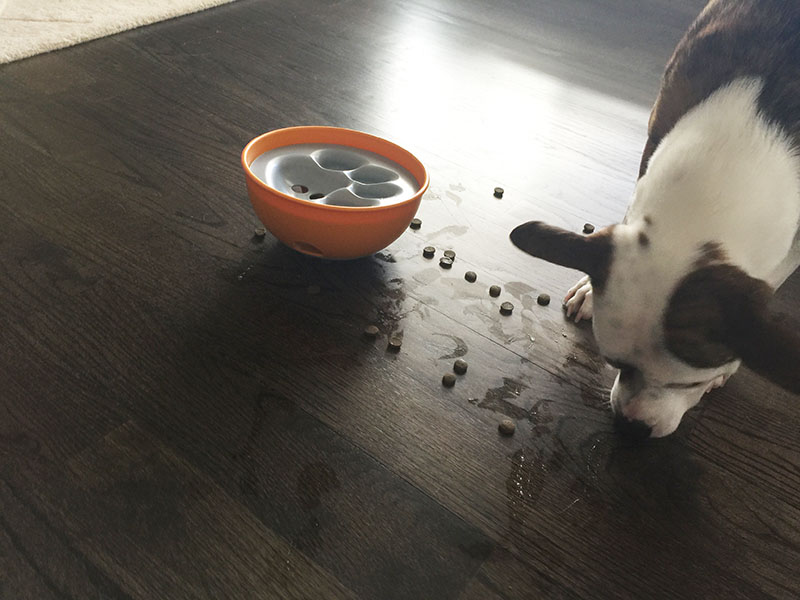 Food, food, everywhere.
Okay, so any time I see a new dog bowl with the intent of providing an enriching meal-time, while slowing your dog down (we need all the help we can get), I'm instantly intrigued. And the Rock 'N Bowl is a new bowl that we'll add to our feeding time around here.
The design allows food to be poured directly into the top, as easy as a normal bowl, and then funnels it into a hidden compartment, requiring dogs to paw, nudge, and play their way through mealtime (that's the challenging part!).
What I Love
The Rock 'N Bowl is made in the USA
Compact – this bowl is no larger than your standard dog bowl
Was shipped in a cute little box with a great informational brochure and nice packaging (I'm a sucker for presentation!)
Uses BPA-free and phthalate-free plastic
Breaks down to three dishwasher-safe parts
Holds up to four cups of food
Comes in two great colors (which just so happen to be Denver Bronco colors: blue and orange – hopefully they don't change them after this comment *wink, wink*)
Room for Improvement 
The only thing I noticed about this bowl, that could possibly be improved on, is the "escape" holes on the bottom which are slightly large (while Lola's food is quite small) causing the kibble to fall out rather fast once Lola figured out she has to nudge/push the bowl to toss her food out.
The Rock 'N Bowl retails for $29.95 and is available now for pre-orders through the PAW5 website
OR
Enter to WIN one right now as we're giving away a Rock 'N Bowl to one lucky reader.
Enter below and good luck!
About PAW5
Born from an innate fascination with the way dogs think, PAW5 products combine mental stimulation and environmental enrichment to support the overall well being of dogs. By turning routine activities into rewarding challenges, PAW5 gives busy pet parents simple ways to engage their dogs, both mentally and physically, every day. PAW5® is committed to their Four From Five™ promise to enrich the lives of their pets, employees, communities and world by building thoughtful products in thought-filled ways. PAW5 is backed by research and grounded in sustainability, with a heart full of fun. Learn more at paw5.us!
This is a sponsored post in which I received compensation in exchange for reviewing the Paw5 dog bowl. Although this post is sponsored, all opinions are honest and my own.