We recently had the opportunity to try out a new dog bed, but not just any dog bed…one from Molly Mutt. Their beds are a little different in that the filling is decided by you! Have you ever left behind a blanket with your pup when you've went on vacation? Same idea…to provide your dog with the comfort of familiar scents! Love that concept…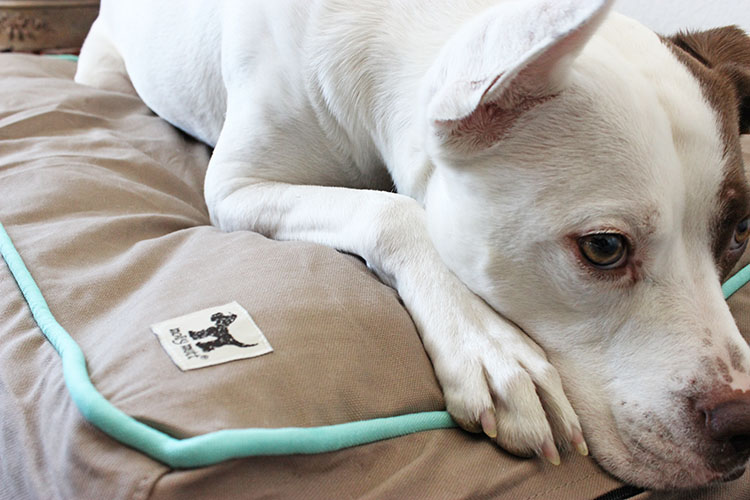 With Molly Mutt beds you purchase a duvet cover +a stuff-sack (which you fill on your own) to create your dog bed.
It was good timing too as Rio has this bad habit of chewing on beds…and rugs….and blankets.

We received a large duvet and "stuff sack" and although it took a lot of stuff to fill it – we managed to succeed by stealing from our Goodwill pile.
Pros/What I love about the bed: 
Durable, thick fabric
Washable cover (and pre-shrunk)
Variety of colors, patterns, and sizes
Smells like you when you add your own 'stuffing'!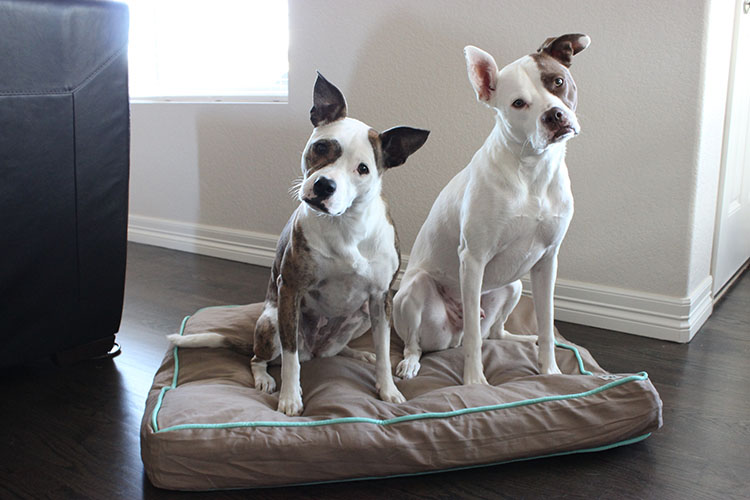 Rio's new favorite place to sleep. And (knock on wood) he has yet to attempt chewing it.
There were a couple things as an honest review I wanted to share. Definitely not quality issues, but more or less areas for improvement.
Cons/room for improvement:
Website is a little hard to navigate – no package option for 1 duvet and 1 stuff sack (nothing to do with the quality of the product) and no prompt to add the stuff-sack when you add a duvet to your cart (could be forgotten).
Took a lot of clothes to fill the medium/large bed! And as you can see, mine could probably use a little more stuffing.
Was a little lumpy, so I had to carefully arrange the clothes in the stuff-sack before pulling the duvet cover over.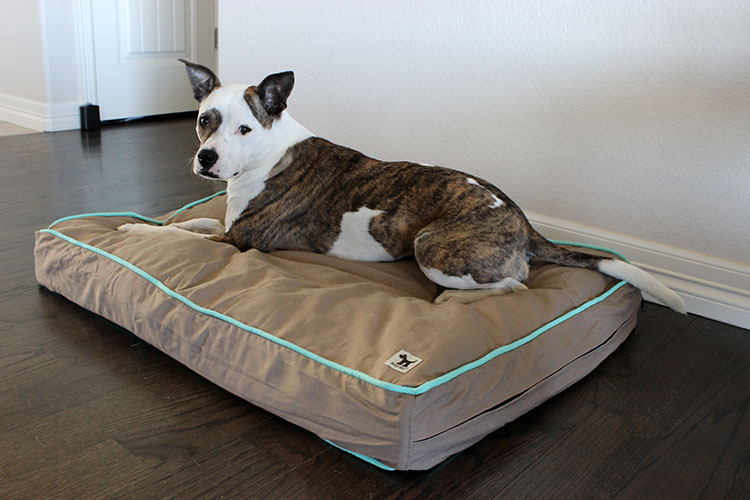 Lola's face in this photo…priceless. Let's just say this bed is Lola AND Rio approved and now we're checking out which fabric we want for our water-resistant dog bed for the patio.
Now onto the best part, the giveaway. Yes, one lucky reader gets to pick their own Molly Mutt dog bed!
Can't wait? Visit MollyMutt.com to see their other products and learn more about this great company.