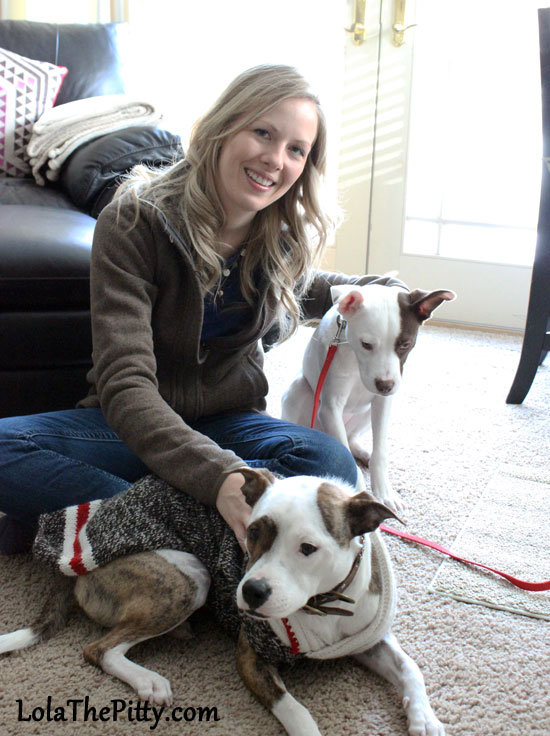 You know you're living in Minnesota when…it's 40 degrees outside and it feels like a heat wave. We soaked up the much-needed sun today, especially after the holidays and all the craziness.
I was beginning to get slightly frustrated with both Lola and Rio lately.
It seems like Lola has been rebelling lately which has led us to taking away her roam-the-house-when-we're-gone freedom. Last week she pulled a pack of gum off the counter and managed to eat half of it and the pieces of gum that she didn't like, well…those were in the carpet. Then take that last sentence and repeat – she did the exact same thing a few days later. On Friday, while I was showering (which takes a whole 15 minutes) I thought to myself, "She'll be fine, I'll leave her out" and proceeded to bring Rio in the bathroom with me. Well, I come out only to find my notebook with a piece of paper shredded on the floor. That piece of paper was my blog post idea with all of my notes jotted down on it. Joy. And if that wasn't enough, Lola helped me finish my cookies & cream smoothie from Caribou – dumb on my part for leaving it on the table, but sheesh. Just thankful there wasn't enough chocolate consumed to make her sick. :/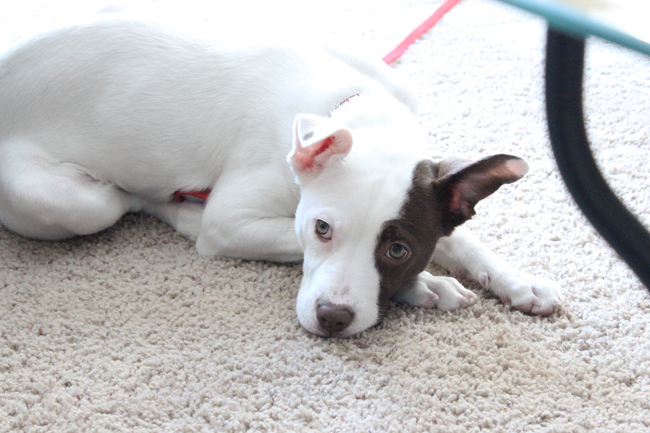 Then on top of that, Rio peed in the house last week. Twice. I think Rio's two accidents were just a freak occurrence because he has been potty trained since before his leg surgery, or at least we thought so.
But when it comes down to it, I think the real problem is simple. I am not the only one that is going stir crazy in the winter. The week before Christmas was insanely busy and bitter cold here. I was working 12 hour days and 'A' was the only one to really tend to the dogs. When it's in the negative temps, the dogs can't really stand to be outside for too long because their paws get too cold, too fast. Yes, we have booties for them but they are pretty worthless. So on those days we practice training inside and go outside for 5 minute spurts, lol. But what they really need is a good exercise!
But today, today was good. I took Rio out for his own walk and it was probably the best walk we have had. He stayed close to me, paid attention to me and we practiced "sit", whenever a car would drive by or whenever I would stop walking. Then Lola and I went up to the park, played disc for a little bit and went on a short trek. She absolutely loved it. They are SO much better behaved once they are able to get out, run off that energy and just be dogs.
I will never underestimate the importance of physically exercising your pets. It's good for their health and mind as well as yours! So not only for the new year…but for life – resolve to keep your dogs (and other pets) in good shape!
Here is a short video taken on my cell phone of Lola today:

psst – I'm on Bloglovin' (a great way to keep track and follow your favorite blogs) and I'd love if you followed me!
*Join the BLOG Hop hosted by Keep The Tail Waggin' and SlimDoggy below:
Click here to enter your link and view this Linky Tools list…