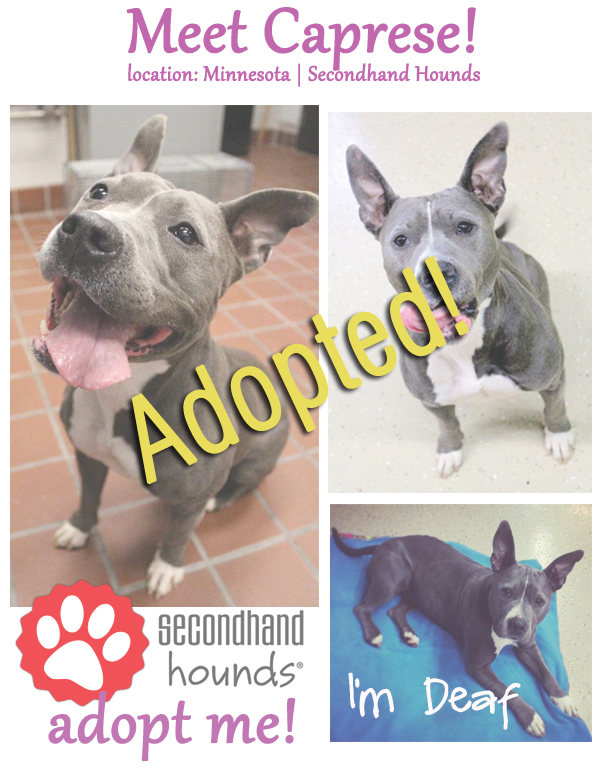 UPDATE: Caprese has been adopted!
This is Caprese! She is a 4.5 year, DEAF, pit bull that has been in rescue for MUCH longer than most dogs at Secondhand Hounds.
Maybe it's because she is deaf(?), I really can't figure it out because she's as cute as a button! Plus, being deaf doesn't mean she is not trainable. There are several trainers in my area that work with you on hand signals and training your deaf animal and TONS of videos on YouTube to help as well.
The best thing we can do is SHARE this post to get the word out about Caprese. Her family IS out there waiting for her and once she gets adopted another dog will be saved!
From the foster:
"Meet Caprese! This happy, tiny bundle of pittie love is always smiling and ready for action. Even though she is deaf, Caprese won't let that get her down. She's ready for an active family who wants to keep her busy! Caprese was saved from a local animal control, and during her temperament test we realized she couldn't hear a darn thing. This means she will require some extra training on hand signals, but Caprese is smart and will learn fast. She has already picked up the signal for sit, and if you point to her kennel she goes inside of it. She's drawn to people, and will run to you when you open your arms and smile at her. She's learned quickly her kennel is a great place to be, she might give a few barks but then settles down and goes to bed. Caprese attends doggy daycare, and she's good with dogs big and small. Sometimes when she plays, she needs people to help guide her when a dog does or doesn't want to play with her. She just can't hear their signals. She easily redirects though, sometimes with a squirt of water on her foot, and goes back to running laps like she loves to do! She really loves the GIANT dogs, her best friends are a mastiff mix and pyrenees mix. The only negative behavior Caprese shows is some resource guarding with food around other dogs, (NOT people though). Being that she was so skinny when we rescued her, it's not surprising. To remedy this behavior, we only do meals and bones in her kennel. If she was an only dog, then this behavior would not affect her. She loves to go on long walks and keeps her nose to the ground as she sniffs along. She'd probably make a cute little jogging partner and enjoy that too! Caprese is so affectionate, like a true pit bull should be. She loves leaning into you for love and lets you give her kisses on her snout. She's not a nervous or under-confident dog even though she lacks one of her basic senses."
Apply to meet Caprese today through Secondhand Hounds Rescue!
Related posts:
10 Signs you shouldn't adopt a pit bull – a must read, not what it may seem like!