Bear – Adoptable Dog of the Week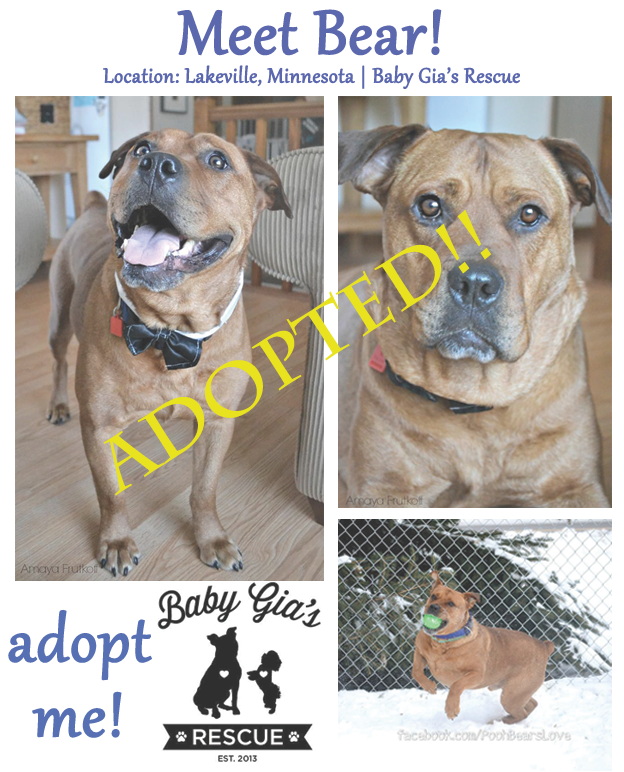 *Update: Bear was adopted on 2/1/14!
Where do I begin?! Bear is a 5 year old English Bulldog Rottweiler mix whose life hasn't been so great up until a couple months ago. Bear had been living in a barn the past three years of his life.
He holds a very special place in my heart because our good friend, Amaya (Tater's mom!) is fostering him. He is one big hunk of love. But don't let his size hold you back, he is super patient, hardly ever even attemps to jump and is just looking for a family to love him. Bear would do AWESOME with kids. He loves attention, seriously loves snuggles and just touching a human body! I guess I can't blame him…
Oh yeah AND he comes with 2,000 facebook fans!
Here is a little more about Bear from his foster:
"Hi! I'm Bear, some call me Pooh Bear or Scooby Doo! I love to learn new things and my main goal is JUST to make YOU happy! When you are happy, I am happy! I am also a REALLY good walker! I need VERY little correction and the correction I do sometimes need is only voice correction!
I don't chew on furniture, curtains or jump on the furniture that much. When I do I get told "off" and sometimes need a little push to get off. I am usually pretty content with laying on my dog bed chewing on a nylabone. Nylabones are my FAVORITE, Antlers make me VERY happy as well!
I am SO okay with people touching my food bowl and even taking food out while I am eating, same as with toys.I also love to give kisses!
I am dog friendly with the proper introduction. I was not around dogs for 3 years and might need a little help with a new introduction. If you do have another dog I would prefer that he/she doesn't try to dominate me by doing things like howling. So far I have been really great around other dogs but have only met one dominant female that was very vocal and we didn't get along too well when playing in a group but were fine in a calm situation with just the two of us. I am currently being fostered with another male dog, which is 'rare' in the rescue world. But we have been like brothers since the day we met! We even cuddle, but don't tell anyone that."
SHARE ON TWITTER:
RT – Meet Bear, Adoptable Bulldog/Rottweiler in Minnesota! @lolathepitty https://www.lolathepitty.com/bear-adoptable-dog-of-the-week/ #adoptme [Tweet this!]