My Writing Process: Blog Tour!
If you're wondering what a blog tour is – welcome! This is a fun tour that you may have seen on other pet blogs that will allow me to (1) introduce you to a couple other pet bloggers &  (2) share my writing process!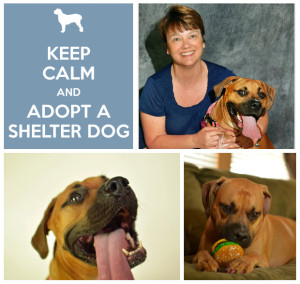 You may have seen a similar post on The Lazy Pit Bull. We are honored to be invited by Christina to participate!
So before we start, if you're not familiar with Christina and Nike a.k.a 'The Lazy Pit Bull', head on over and say hello (and check out Christina's Writing Process)!
Next up, a little behind-the-scenes look into my writing process:
1. What am I working on?
Well, *ahem*, I'm working on about 16 different blog posts. I've really perfected the process of starting a blog post with my initial ideas and then letting it sit in draft-mode for quite some time before it's really had time to brew and is ready to go 'live'. Also known as procrastination to some.
So with that being said, I'm working on tying up those loose ends, coming up with a tagline for my blog (any suggestions?) and also working on becoming more efficient when it comes to writing a blog post.
2. Why do I write what I do?

I have been in the blogging 'world' for just about five years. Last year I decided to start a blog about my passion: dogs and more specifically animal equality, rescue, and breed advocacy. I often share tips that we've learned from being dog owners, what I'm passionate about as well as adventures in our day-to-day lives!
My intention is never to publish a ton of content, but rather share a few quality posts that our fans will enjoy!
Below is a photo of my lavish 'office'. Also known as my living room. Or rather, the dog's living room.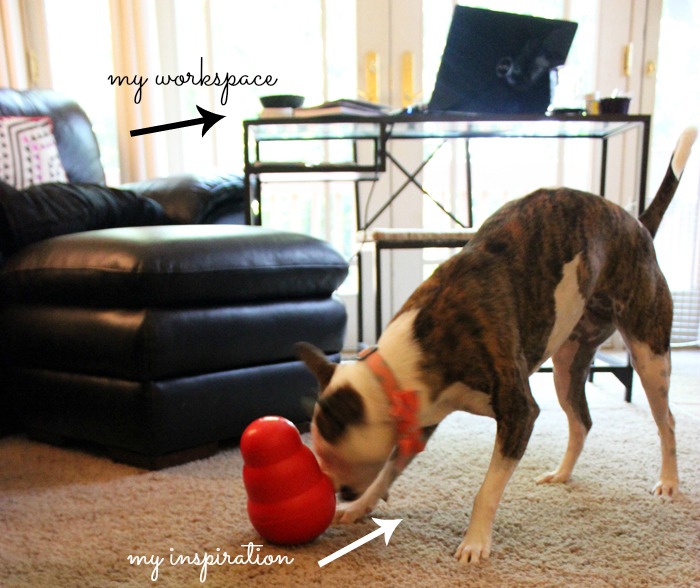 3. How does my writing process work?
Most often I come up with my best ideas while driving or about to fall asleep. Hence why I always keep a pen and paper nearby. But I'm often inspired by a situation I may encounter with the dogs or something that we run into while out and about. But really, I just try to entertain our followers and write from the heart.
It may go something like this:
Brainstorm >> scribble down notes >> draft post >> add finishing touches such as corresponding photos >> publish!
I wish it went as fast as it sounds…
---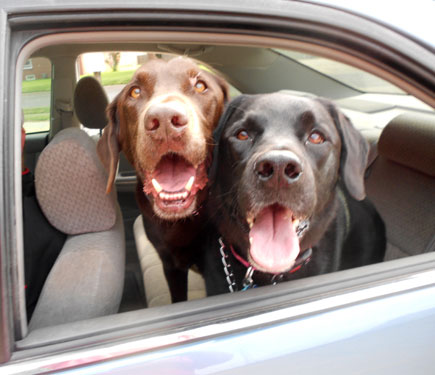 Meet Emily, Boomer & Dottie!
Emily's blog, Adventures of a Dog Mom was one of the first dog blogs I stumbled upon.
And hey, they live in Colorado & have a dog named Boomer, so they already have my approval!
You'll find all kind of goodies on Adventures of a Dog Mom, including a few favorite posts:
---
I hope you've enjoyed this little sneak peak into our blog life; please be sure to check out our The Lazy Pit Bull & Adventures of a Dog Mom and tell them Lola the Pitty sent ya!