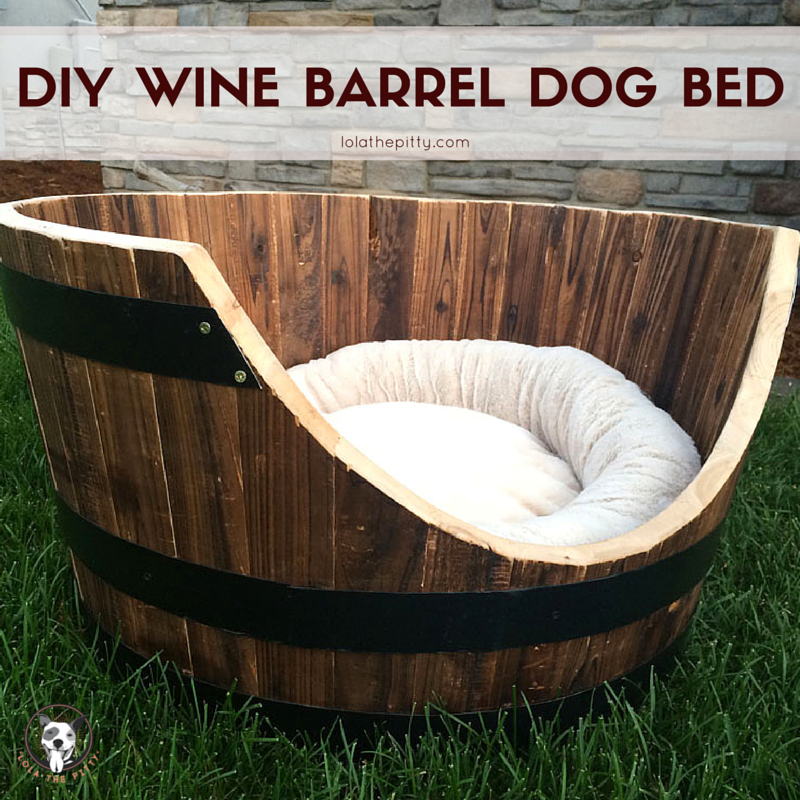 Wine barrel, whiskey barrel, you get my drift. They're adorable. And the perfect size for any dog under 50 pounds-ish. You may have seen them on Pinterest or elsewhere, but once I saw these wine barrel dog beds I knew I had to have one.
That is until I saw the $150-300 price tag. That's not going to happen. We've got a house to buy. New mission: find a wine or whiskey barrel and make my own dog bed.
The first struggle was finding a whiskey or wine barrel that wasn't $100 itself. I eventually found a full size half-whiskey barrel at The Home Depot for $39 – not bad (although when I went back to buy another they were sold out).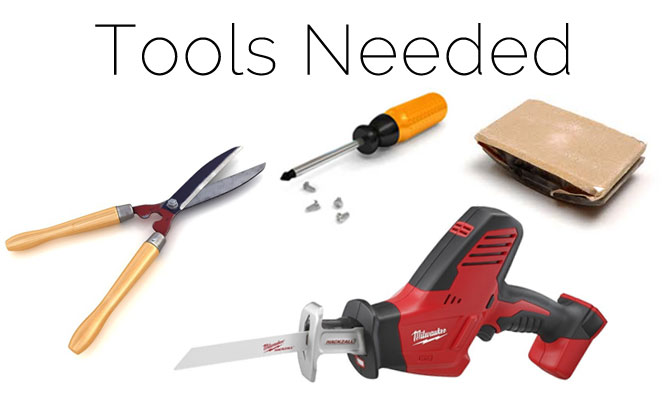 To turn this into a dog bed was fairly simple. Here's how:
Remove the top metal band (this one was held in by a few screws) and we had to use a wedge and hammer to push it down.
This barrel was fairly tall so we decided to take 3″ off the top so we used a marker to measure 3″ down around the diameter where we would make our cut.
From there we drew our line with a Sharpie marking where the opening cut would be made. To get a smooth curve we used a very thin, long piece of wood and bend it to form a "U" shape. My dad held it while I drew the mark on the barrel.
We then turned the barrel on its side and used an electric saw to cut our opening.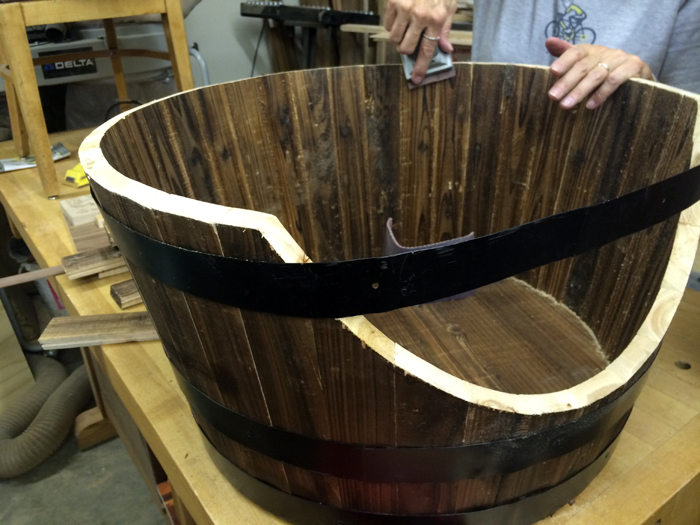 After the cuts were made it was smooth sailing! We grabbed a couple pieces of coarse sandpaper and smoothed the edges so that no pups were left with wood splinters.
Finally, we used a pair of garden shears to cut the metal band at an angle to follow the curve of the opening and secured it to the side of the barrel with two screws on each side.
Top it off with a $10 bed that you can find at TJ Maxx and you're ready to go!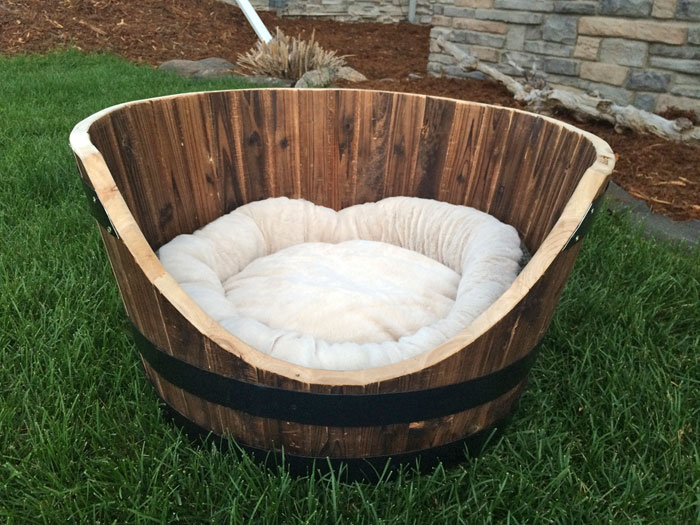 If you're spoiled, you'll even get your name burned in the wood…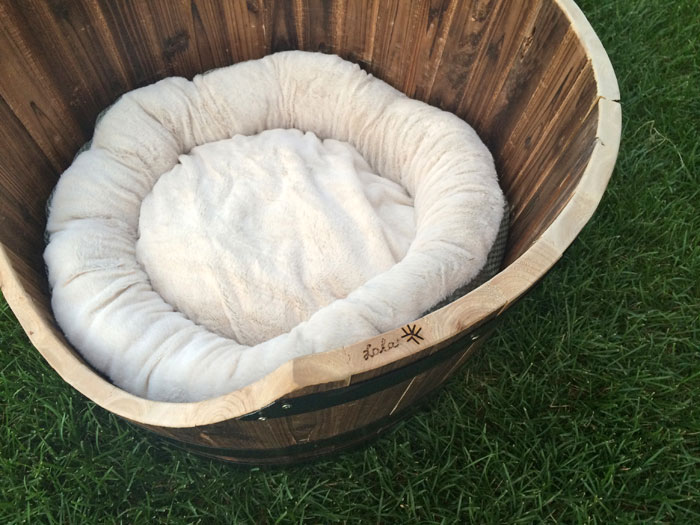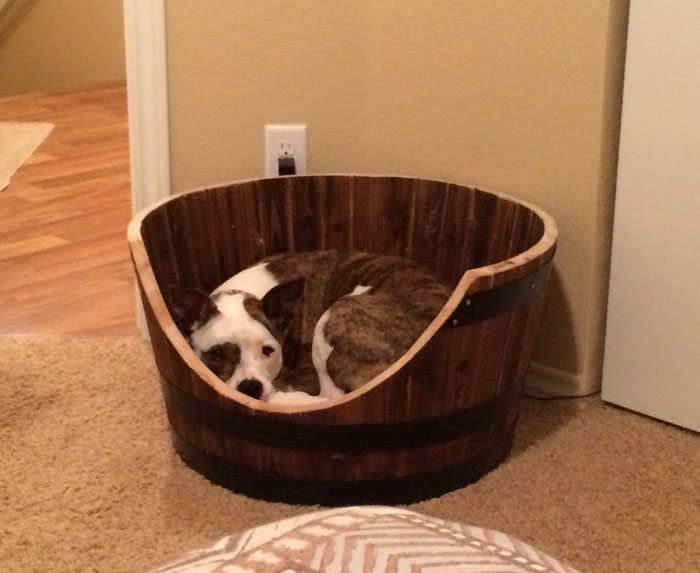 Life is good!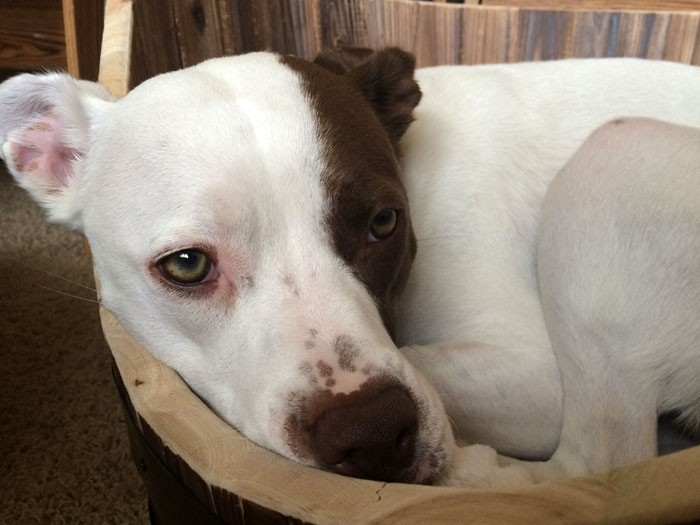 Until your brother steals your bed.