I was taking a long walk with Lola and Rio and began brainstorming new blog post ideas. I always find it best to step away from the chaos of the television and computer to clear my head and allow my thoughts to transform.
And since pumpkin-everything is in full force I wanted to do some sort of recipe involving it – for our four-legged friends of course. Well, I thought of the perfect use for it!
Pumpkin Puppuccinos. Yes, you read that right.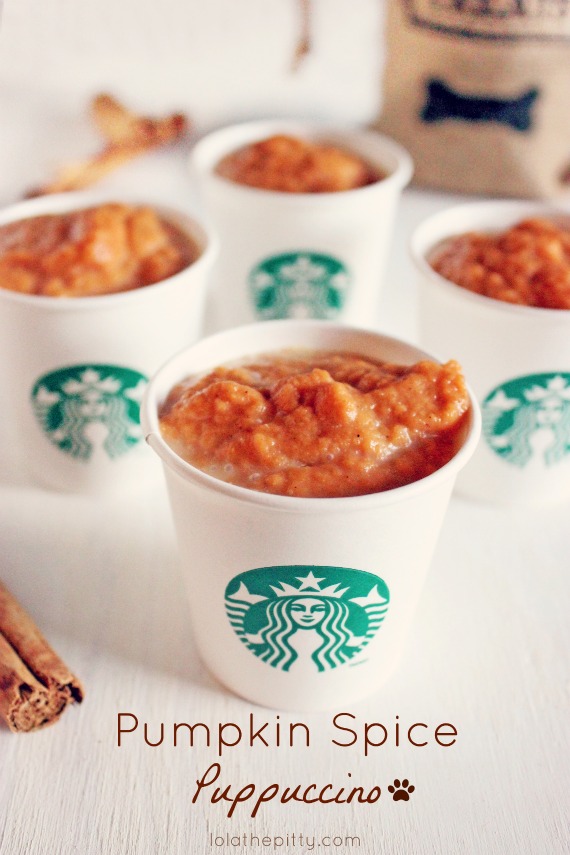 How to make Puppuccinos:
-Walk into Starbucks wearing your "All I want to do is drink coffee, save pit bulls and take naps" t-shirt.
-Chat with the cashier about said t-shirt.
-Order a latte for yourself.
-Ask kindly if you could have a few sample cups for a dog recipe that you are going to make for your blog.
-Smile when the cashier gives you a weird look and says, "Ummm, sure!" and hands you several sample-sized (adorable) Starbucks cups.
-Come home, break out the blender, a few ingredients and VOILA.
Even better yet, if you have your own small cups, those would work great as well. Trust me, if I didn't need to take photos of these, they would've ended up in the scattered assortment of little ramekins I have.
Otherwise these are great frozen as well! Simply pour mixture into ice cube tray (filling about halfway) and give as a yummy snack (TIP: these are great stuffed into a Kong)!
Enough jibber jabber, onto the real how-to:

Pumpkin Spice Puppuccinos
Homemade dog-friendly Pumpkin Spice 'Puppuccinos'!
Author:
Sarah of Lolathepitty.com
Ingredients
¾ cup (unsweetened) coconut milk (sold in the half-gallon cartons. Can sub with almond milk or goat milk)
¼ teaspoon ground cinnamon
1 cup pure pumpkin
Instructions
Combine all ingredients in blender.
Blend until well mixed.
Pour into small serving cups (or freeze using ice cube trays).
Notes
*Add an extra splash of coconut milk for a thinner consistency (or if not blending smooth).

-Recipe from LolathePitty.com. All images and content are copyright protected. If you want to republish this recipe, please re-write the recipe in your own words & simply link back to this post for the recipe. Thank you.-
Clearly they enjoyed theirs!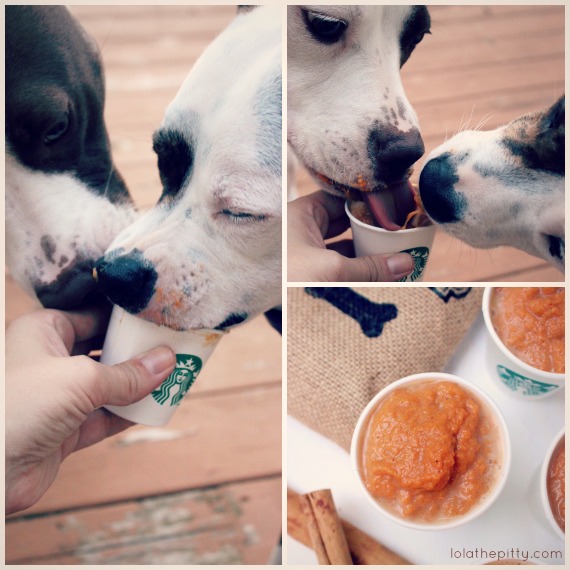 Other recipes your pup will love:
Blueberry Dog Cookies (grain free recipe)