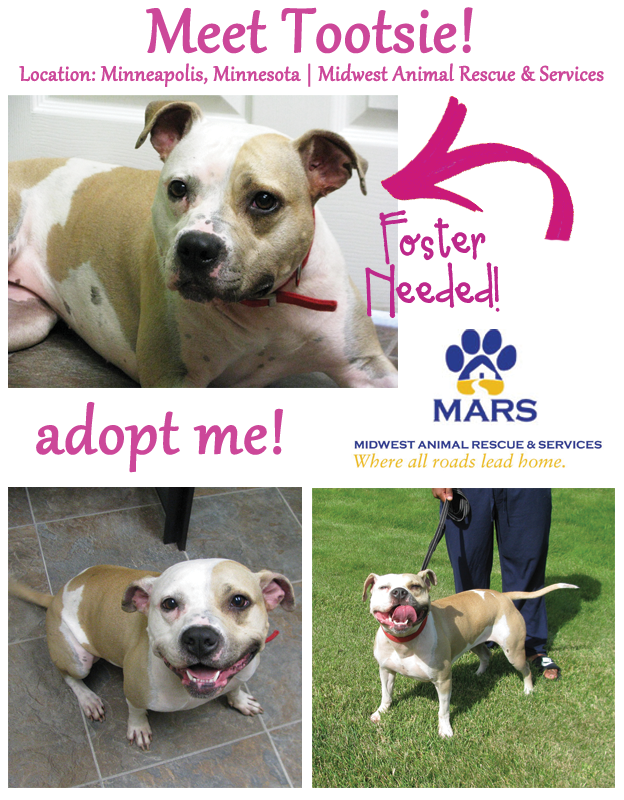 View Tootsie's profile and fill out an application on the MARS site here.
I could not believe it when I heard that Tootsie has been in rescue for over THREE YEARS. Three whole years! As in, tres AÑOS. And on top of that, she has spent the last FIVE MONTHS in boarding because she does not have a foster home.
We need to get this baby the exposure she needs and get her into a foster home at the very least! She is super sweet and great with kids and people. No dogs or kitties for this girl. But I just know there is a family out there for her!
Here's a little more info about Tootsie (hehe, I just love her name):
Breed: American Staffordshire Terrier
Sex: Female, Size: 50 Pounds
Current Age: 3 Years 5 Months (best estimate)
Activity Level: Moderately Active
Good with Dogs: No
Good with Cats: No
Housetrained: Yes
"Tootsie is a sweet cuddle bug. Her favorite thing is snuggling with her people. Tootsie is housetrained and crate trained. She loves to play tug and be a big goofball. Tootsie is also good with children she will be their best buddy. Unfortunately Tootsie had a rough up-bringing so she is not good with dogs or cats and needs to be an only dog. Please help this little girl find her forever home. Right now she is stuck in boarding and a cold lonely kennel is no place for a cute little girl."
Find Adoption and Foster Information on Tootsie HERE.

*View previous dogs featured on our site that still need adoption.